Fishing Uinta Mountain Lakes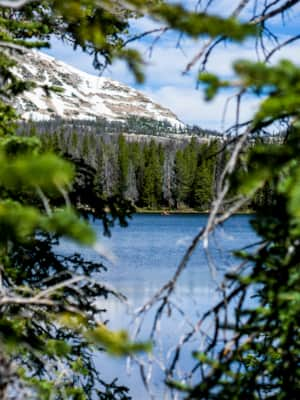 Fly Fishing The Uinta Mountains
Explore scenic lakes and streams right off the Mirror Lake Scenic Byway. Looking for solitude? Casting a fly in the secluded alpine setting of the Uinta Mountains is the quintessential wilderness fishing experience.
Don't Miss Fishing Spots
Regardless of where you choose explore, you are guaranteed some good fishing and camping. Don't miss these areas on your next fishing excursion into the High Uintas backcountry.
The Highline Trail
One of the most popular trails to get from lake to lake is the 78-mile Highline Trail, which traverses the crest of the Uintas. The trail not only provides spectacular views, but also the opportunity to find the perfect, quiet spot to cast your line. The many lakes along the Highline Trail each have a different personality and vibe. The ones requiring shorter, easier hikes are more crowded. But there are other longer and more burly routes that will bring you to remote lakes and solitude. Highline starts just off of Highway 150, also known as the Mirror Lake Highway, near Butterfly Lake, but it's not long before the trail enters the designated wilderness area.
West Fork Blacks Fork
The 22-mile, out-and-back hike along the West Fork Blacks Fork trail is perfect if you are looking for a fantastic multi-day backpacking adventure with great fishing. Situated in the northwestern part of the Uintas, this trail is one of the most scenic around with views of mountains to the east and west. Hike 11 miles one-way to Dead Horse Lake, where you can fish and camp in a beautiful setting — it's worth noting that the U.S. Forest Service requires camps to be at least 200 feet away from any water source so be sure you don't set up camp too close to the shore. The trail itself follows along the West Fork Blacks Fork drainage and has great fishing and camping along the way up as well.
Four-Lakes Basin
Access the Four-Lakes Basin — comprised of lakes Dean, Jean, Dale and Dane — via a popular 16-mile hike along the Highline Trail. You'll pass at least 10 options for fishing along the hike, but stay the course. Four Lakes Basin offers varied fly-fishing in a modest area, and one lake or another may fish better, depending on pressure. Generally, if you go further from the trailhead, the less pressured the fishery. Look for trout and cutthroat around here. The best camping can be found at Dean Lake, but there are plenty of beautiful spots to camp in between the lakes.
Round, Sand and Fish Lakes
If you are looking for an overnighter or a multi-day adventure, then Round, Sand, and Fish lakes should be on your itinerary. While the 9-mile, round-trip hike along the Dry Fork Trail in the Weber Drainage is rugged, you will be rewarded with beautiful views and great fishing, especially for Arctic Grayling. The trail will bring you first to Round Lake, a great spot for fly fishing and there's a small camping area; Sand Lake follows, about a half-mile later — fly fishing is trickier here as the steep shores are challenging and while there is camping, it's not abundant or all that great. Fish Lake is about 4.5-miles from the trailhead, and has good camping and fly fishing. You can catch grayling, brook trout, and cutthroat trout in these waters. The best fishing here is from late June through September.
Naturalist Basin
There are, of course, shorter options as well if you would prefer to focus on fishing rather than hiking. The five-mile hike (one-way) along the Highline Trail to Naturalist Basin is a great out-and-back. There are a variety of lakes to check out on the way, including Scudder and Packard. Once you reach Naturalist Basin, you can hike from lake to lake and decide where you want to cast a line. Choose from Jordan, Blue, LeConte, Morat, Faxon, and Shaler lakes. Please note that the five-mile trail gets you to Naturalist Basin, but hiking in and around the lakes can add a significant amount of mileage to you hike — 17-plus miles. This trek is best made between mid-summer to mid-fall when there is little to no snow.
Right out of the Car
There are also numerous lakes that are easily accessible from the Mirror Lake Highway, including Trial Lake, Butterfly Lake, Lost Lake, Washington Lake, and the most popular of all, the one that provides the name for Highway 150, Mirror Lake itself. You can catch some combination of rainbow trout, brook trout, cutthroat trout, tiger trout, albino trout, and Arctic Grayling in each of these lakes. Because this area is so easily accessible from Salt Lake City, be prepared to share the lakes with others.
Planning Resources
Learn more about fishing in Utah