Mountain Reports, Road Conditions and Live Web Cams
Check daily. Check often. Monitor snowfall and road conditions, then practice safe snow driving and ensure tires have proper tread and pressure (or better yet, ride the UTA Ski Bus). Resort roads may close — oftentimes at a moment's notice — due to unsafe driving conditions, natural avalanches or avalanche mitigation efforts.
Traffic and Road Conditions
Utah's canyons serve as gateways to a high-elevation wonderland, offering panoramic, breathtaking views of Utah's magnificent peaks for the entire journey. Still, these canyon roads can become dangerous in winter conditions and require extra care and attention.
Many of Utah's canyon roads, such as Big Cottonwood Canyon and Little Cottonwood Canyon, legally require four-wheel drive and snow tires for entry during the winter months. Closures for avalanche mitigation or dangerous road conditions are also common.
Real-Time Alerts
Do what the locals do. Follow alerts from Utah's trusted travel experts:
"This science behind The Greatest Snow on Earth® can be boiled down to a single word: flotation."
– Jim Steenburgh, Atmospheric Scientist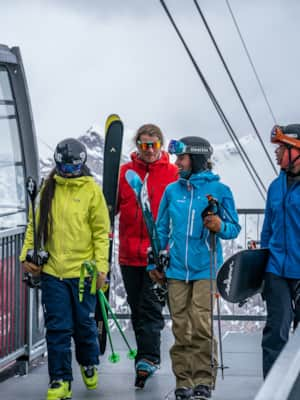 How to Prepare for a Utah Ski Trip
Follow these five simple tips to take full advantage of The Greatest Snow on Earth®.