Flood Safety
Due to record snowpack and high amounts of spring runoff, please be advised of potential flooding that could impact travel plans.
Learn more
Hiking & Backpacking
The hiking in Zion National Park is world famous for its views of sweeping vistas, clear pools, natural arches, and narrow canyons. Trails range from half-mile paved hikes to multi-day backpacking routes, so hikers of all abilities will have days worth of hiking to explore. The majority of the popular trails like Angels Landing and Emerald Pools are in Zion Canyon, but there are many other fantastic (and less-traveled) trails in the Kolob and East Zion regions of the park. Plus, the region surrounding the park is home to a sprawling desert reserve and coveted multi-use trails that shouldn't go unseen.
Remember, consult with a park ranger at the Visitor Center and use the free shuttle service from Springdale to make the most of your trip. Start building out your to-do list today by learning more about Zion's best hiking trails.
Camping
Hotels and lodges are great, but if you really want to immerse yourself in the natural wonders of Zion National Park, then camping is a great way to do it. The park houses three established campgrounds, along with a handful of camping areas available just outside the park. It is recommended that reservations be made well in advance for Watchman Campground and South Campground at recreation.gov.
Watchman Campground, named after a famous rock formation called The Watchman that stretches 6,545 feet into the heavens, is situated on a bench above the North Fork Virgin River in Zion Canyon and is nicely shaded. Watchman is the largest and busiest campground in the park with more than 200 reservable campsites.
The slightly smaller South Campground is also located along the river, offering 117 reservable campsites.
Lava Point Campground is smaller (6 sites, no reservations and no water) and more primitive, ideally suited to tent campers, vans, and truck campers. The campground is located in north-central Zion and sits at 7,900 feet of elevation. For a magnificent view of the park and beyond, you can walk to the Lava Point Fire Lookout a few hundred yards to the east. From the lookout you can see the Pink Cliffs, The Narrows, and features such as The Sentinel in Zion Canyon. Don't forget to bring your camera because this is one view you will want to bring home from vacation.
Canyoneering
From above, Zion looks like a picture of fractured red rock expanse, split by a network of narrow slot canyons. These canyons have become some of the most sought after destinations in the country for canyoneers, with routes available for any ability level. Descending the park's narrow canyons is a serious endeavor, one that often involves rappelling, swimming, navigational skills, and some climbing; but for the thrill-seeker, canyoneering in Zion National Park may just be the experience of a lifetime.
To get started, you'll want to contact a local guide. Canyoneering requires a permit, specialized gear, and familiarity with the area; all of which can be provided on a guided trip. Start by learning the foundational techniques, then head into the park with your guide and explore some of Utah's greatest routes like The Narrows and Orderville Canyon.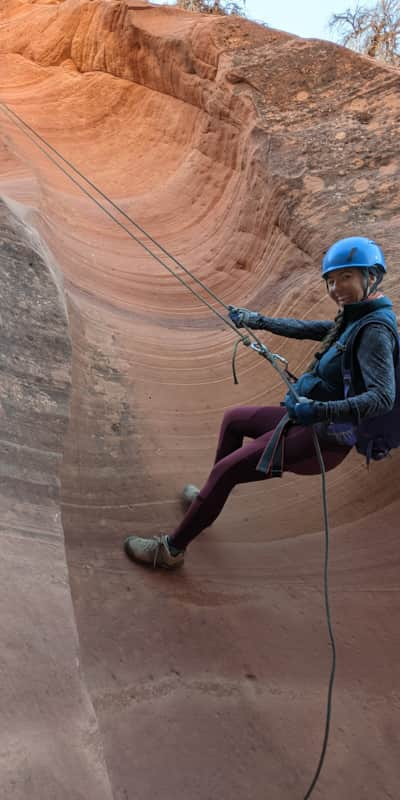 Rock Climbing
Anybody who has ever stood beneath a sheer rock wall in Zion National Park and gazed up at a climber scaling the heights like a lizard has felt the tug of curiosity: What would it be like to do that? Could I do that?
The answer is yes.
Make no mistake, Zion National Park is a true adventure climbing arena. The big walls are serious endeavors, and the bushwhacking approaches through inhospitable terrain are legendary.
But you don't need to get that extreme to get a taste of what rock climbing is all about. Several companies in Springdale can introduce you to rock climbing at areas just outside the park (guided climbs are not allowed inside the park). For example, Zion Mountain School and Zion Adventure Company offer a full range of lessons and guided climbs for people with zero experience — even for kids as young as six. And Utah Adventure Center offers an Above Zion Via Ferrata near Kolob Terrace for guests as young as eight.
Stargazing and Night Photography
After the sun sets and the orange glow leaves Zion's canyon walls, the park falls under a dark sky of endless stars. Zion is certified as an International Dark Sky Park by the International Dark-Sky Association, and many visitors may gaze into the night sky here to find more stars than they've ever seen before. When you enter the park, you leave the ambient light of every-day life, making every detail of the night sky more visible.
If you can, plan some time during your trip to see Zion's dark skies. The park gets dark at night, so be sure to pack some form of lighting and warm clothes, and stay off the roads. The campgrounds are a great place for stargazing, along with the park's various viewpoints. (Read: "How to Stargaze in Utah")
Scenic Driving
It's not necessary to venture off the road to experience the wonders of Zion National Park. Zion Canyon National Scenic Drive is a beautiful road that follows the North Fork of the Virgin River upstream from Canyon Junction through some of Zion's most outstanding scenery. This road is closed to private vehicle traffic in the summer and fall, but regularly scheduled shuttle busses provide a great way to relax and enjoy the scenery, or stop to take a hike and then catch a later bus back down the canyon.
The Zion Park National Scenic Byway (54 miles one way) follows Highway 9 from its western terminus at exit 16 on I-15 to its eastern junction with U.S. 89 at Mount Carmel Junction. The road east from Zion to Mount Carmel Junction, completed in 1930, was considered one of the great road-building accomplishments in history at the time. As you climb switchbacks from the canyon floor to the two high plateaus to the east, passing through two narrow tunnels blasted through the cliffs, you will understand why it created such a sensation.
The Kolob Fingers Road Scenic Byway (5 miles one way) in the northwestern corner of Zion National Park features the same dramatic desert landscape associated with the main section of the park: towering colored cliffs, narrow winding canyons, forested plateaus and wooded trails along twisting side canyons. What you probably will not find here are the crowds of visitors, so this is a great place to explore if you are seeking solitude.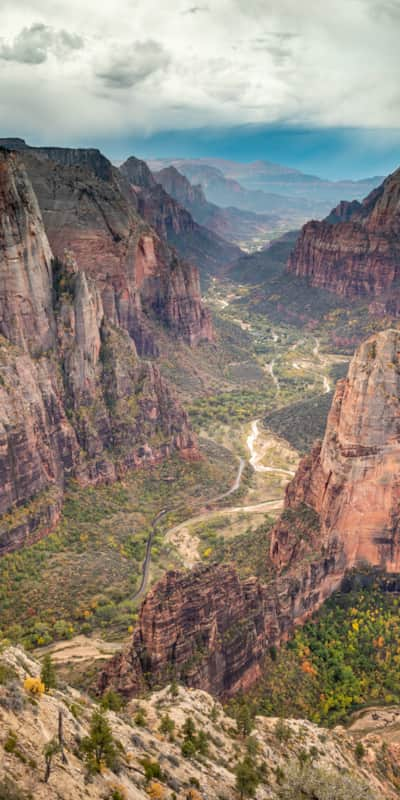 Birding and Wildlife Watching
With more than 200 species of birds, Zion National Park is a birder's paradise. The Peregrine falcon, the bald eagle, and the California condor are all found in the 232 square mile sanctuary of Zion, nesting and resting in their native habitat without being disturbed. The threatened Mexican spotted owl also calls Zion home.
Zion National Park is an official global and state IBA (Important Bird Area), and Zion has been an important part of the recovery effort for the majestic Peregrine falcon, a species which was almost lost from the United States in the 1970s due to the use of DDT and other pesticides.
The park bird list is available at the visitor centers. So grab your best pair of binoculars and start looking toward the sky! Who knows what birds you might see and check off your life list. And while searching for birds, make sure you take time to observe other flora and fauna while walking along the trail, including the more than 1,000 plant species found in Zion as well as dozens of species of mammals, reptiles, and amphibians — even fish! Learn more about nature and wildlife at Zion National Park.
Mission to Mars: Riding Gooseberry Mesa
You haven't truly ridden a mountain bike until you've visited the stunning slickrock of Gooseberry Mesa. Learn more about this spectacular Utah trail.