Utah's Artists Say: 'The Arts Will Help Us Heal'
Arts Organizations Have Reopening Ambitions to Match the Mountains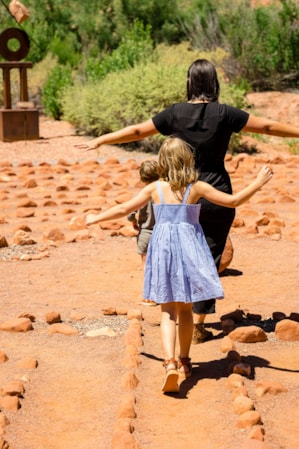 St. George's outdoor sculpture gallery seems so well-suited for a social-distancing season that art lovers might assume it's one of the silver linings of the pandemic.
Yet this year's newly installed slate of 31 3D artworks — which transforms downtown into an outdoor sculpture gallery — is the resumption of a 17-year-old tradition that signifies the area's creativity, according to leaders of the Art Around the Corner Foundation, an artist-led nonprofit. "It's always gratifying when you're walking around Town Square and you see people stopping and taking selfies and pictures," says Marianne Hamilton, chair of the foundation's board. "People are blown away that we have this remarkable public art program."
The new outdoor sculptures are one of this season's appealingly ambitious arts events taking place across Utah, programming to relaunch events while carefully following public health guidelines. With each performance, exhibition and restructured festival, Utah's cultural organizations are sending the message: The arts will help us heal.
The arts can be a secret asset to kickstarting local economies as they reopen, says Jay Dick, of Americans for the Arts, a national lobbying group. That's especially true in Utah, where arts leaders like to announce we're the No. 1 state in the nation for people creating art. Or No. 3 nationally in live event attendance, according to a recent National Endowment for the Arts' survey.
"I think the arts are uniquely positioned to help the world recover from the global pandemic," says Gretchen Detrich, executive director of the University of Utah-based Utah Museum of Fine Arts, which reopened last August (requiring masks and reservations) after a five-month closure. "It helps us to think and process and talk about the really joyful parts of being a human but also the really sorrowful part."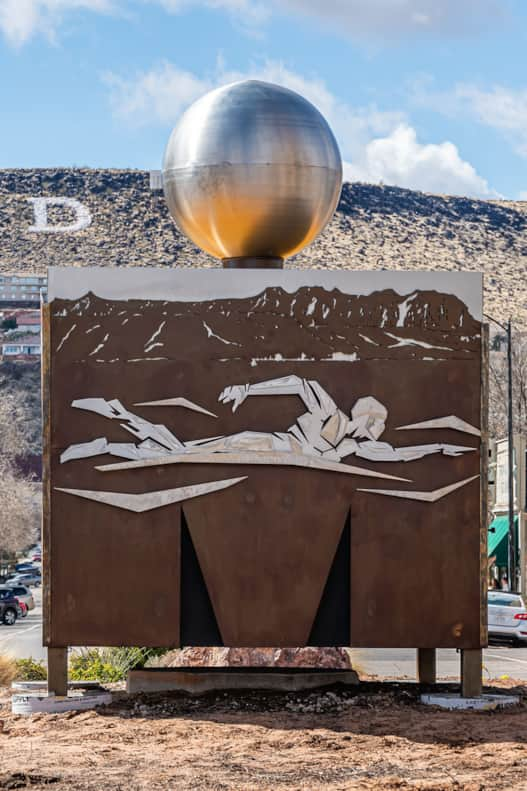 "The arts are like human-made art, and then you look out on the mountains and the red rock, and that's natural art right there. I think of the mountains as drama."
– Arts advocate Susan Jarvis
Where the Mountains Serve as Dramatic Backdrops for the Art
So Whatever Happens! Let's Begin ("Newsies")
One intriguing statistic that hints at the scope of the cultural scene is to consider that Utah boasts 248 museums of all sizes — and in a uniquely Utah twist — 150 of those are affiliated with Salt Lake City's flagship Daughters of Utah Pioneers Museum on Capitol Hill.
During the pandemic, the Utah Legislature invested in the state's creative industries — which contribute $7.2 billion to the state's economy annually — through Create in Utah grant funds of more than $19.6 million. Utah was a national trailblazer in identifying and responding to the needs of the cultural community early in the pandemic, arts leaders say. "That is not the story in other communities," Dietrich says, adding that the value the fiscally-conservative state and legislature place on the arts is what is "so special about Utah."
"My sense is that things are percolating back," says Wendi Hassan, executive director of the Cache Valley Center for the Arts. "We are coming back faster than anyone else I have talked to across the country," which she attributes to the high percentage of Utahns who make art or are musically trained.
Visitors regularly express surprise when they encounter Utah's creative vitality, says Susan Jarvis, a St. George real estate agent and arts advocate. She explains the synergy this way: "The arts are like human-made art, and then you look out on the mountains and the red rock, and that's natural art right there," Jarvis says. "I think of the mountains as drama."
In the local arts world, the state's landscape offers plenty of inspiration. As Adam Sklute, artistic director of Ballet West, likes to say: "Our dancers are as tall and dramatic as the mountain range we represent here in Utah."
"When the sun goes down, the lights go up," is how Hassan spins the draw. "Come for the trails, but also the theater, the orchestra, the ballet and the music events."
Or as one commenter posted on Instagram with a photo of an artwork from the recently sold-out "Black Refractions" exhibition at the Utah Museum of Fine Arts (UMFA): "Apparently There Are Things To Do in Utah that Don't Involve Mountains."
"I think the arts are uniquely positioned to help the world recover from the global pandemic."
– Gretchen Detrich, Executive Director of the Utah Museum of Fine Arts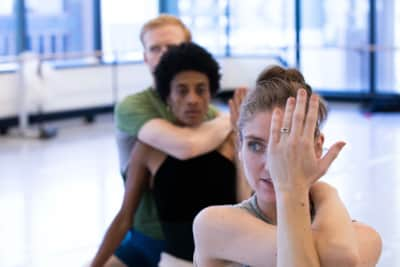 New Works, New Formats
Not Just a Story Mama Told But a Village in Ooh-Tah ("Book of Mormon")
One summer highlight will be an August tour by the Utah Symphony — only the orchestra's third outdoor-celebration road trip ever — with free concerts in a handful of locations in partnership with the Utah Office of Tourism. The event is part of Thrive125, the state's year-long 125th anniversary celebration.
"It's a gift to local communities, and it's about showcasing communities to visitors inside and outside of the state," says Jonathan Miles, vice president of marketing and public relations for the Utah Symphony | Utah Opera.
In mid-May, Ballet West will offer its groundbreaking Choreographic Festival, showcasing new works, including its first-ever collaboration with the Sundance Institute. Composer Katy Jarzebowski, an alumni of the Institute's Music Film Program, is collaborating with Emily Adams, a Ballet West principal artist, to premiere a new ballet with an original score. (The dance company is also streaming a new backstage documentary. "In the Balance | Ballet for a Lost Year" focuses on the unusual work of producing a dance concert during the pandemic.)
In Salt Lake City
Many of Utah's festivals and concert series will feature new formats this year. The season kicks off with Living Traditions, the music and folk arts festival, presenting performances in May and June at various locations, with video streaming offered for home viewers. The Twilight Concert Series has announced it will be offering shows this year, although lineup and details have not been made available yet. The Red Butte Garden concert series lineup will be announced in June, with tickets on sale to members on June 21, and to the public the following week. Concerts will take place in August and September.
The Utah Pride Center announced a new format for the annual Pride Festival: more days — June 1-7 — and activities including a socially distanced march and a ticketed "story garden" in Washington Square. The live events of the state's largest arts party, the Utah Arts Festival, are slated for Aug. 27-29. The festival will be smaller and reconfigured for safety, but will also include an online art sale.
Just south in Sandy, performances of Hale Center Theatre's "Les Misérables" are mostly sold out, but tickets are available for the next big-cast show, "Guys and Dolls," with the run starting in July. With its year-round schedule, Hale draws larger audiences than any other family-focused community theater in the country. The technology designed into the company's custom-built, $80 million stage prompts theatrical wizardry.
In Ogden
The Ogden Twilight Concert Series is planning ten shows in August and September at the Ogden Amphitheater. The First Friday art gallery strolls continue with an added virtual component, while the Farmers Market will return this year, with a Harvest Moon Festival scheduled for mid-September. In October, the city's looking forward to opening the Dumke Arts Plaza, designed for art installations and hanging sculptures, as well as concerts and readings and street festivals. "I feel like August, September and October are going to be crazy," says Lorie Buckley, city arts coordinator. "It's going to be a whole lot to do in a short period of time." (Read: "Mountains, Markets & Music: Spend 48 Hours Exploring Ogden")
In Park City
The Utah Symphony is planning to return to its summer home, presenting outdoor concerts originally scheduled last year, including a Kristen Chenoweth concert and the orchestra's traditional rendition of the 1812 Overture on July 31. Another highlight will be the seven shows presented by the Park City Institute, now planned for the indoor Eccles Center for the Performing Arts. (Tickets will be on sale as state and county public health regulations allow.)
In Cedar City
Utah Shakespeare Festival celebrates its 60th anniversary in a season dedicated to the mountain-scaled ambitions of its late founder, Fred Adams. On the docket are four Shakespeare productions rescheduled from last year ("Pericles," "Richard III," "The Comedy of Errors" and "Cymbeline"), as well as three more contemporary shows ("Ragtime," "The Comedy of Terrors" and "Intimate Apparel.")
At Utah Shakespeare, "the bulk of our communications from patrons is: 'We miss you. We need you,'" says Donn Jersey, development and communication director. "So many people have been coming here for so many years, and that's just the theme. They need to get back. We want to get back, too. The arts are going to help us heal emotionally and financially." (Read: "24 Hours in Cedar City")
In Washington County
Tuachan's Amphitheatre and Center for the Arts — located just northwest of St. George — is thought to be one of the country's first theater companies to earn Actors Equity approval to produce shows with 40-to-50 member casts on its outdoor stage, according to Tony Piersanti, marketing relationship manager.
The company will perform Broadway musicals, such as "School of Rock," as well as family classics like "Annie" and Disney's "Beauty and the Beast." But the most arresting attraction is a rare production of "The Count of Monte Cristo" — a blockbuster hit with Utah audiences in earlier premieres at Pioneer Theatre Company and Brigham Young University. Tuachan's production will feature new music by Tony-nominated composer Frank Wildhorn ("The Scarlet Pimpernel," "Jekyll & Hyde" and "The Civil War"), who will travel to Utah to help restage the show.
Showcasing Utah Artists
Hey, Kids, Let's Put on a Show ("Babes in Arms")
As Broadway theaters remain closed, touring shows across the country, of course, are dark, too. But in Utah, audiences will have the chance to see a rare run of "The Music of Andrew Lloyd Webber," produced by the Park City-based presenting company, MagicSpace Inc., which presents national and international touring shows.
It's a showcase for Utah performers and crews, says MagicSpace president Steve Boulay, and a reopening of Salt Lake City's Eccles Theater, with safety restrictions in place. Boulay says they hired "25 fabulous Utah people with Broadway chops," (including Dallyn Vail Bayles, David Osmond, Lisa Hopkins Seegmiller, Nicole Riding and Lexi Walker), along with local stagehands, musicians and sound and lighting technicians.
Music directing the show is composer Kurt Bestor — an Emmy winner known in Utah for his popular annual Christmas shows. (Also on tap at the Eccles: A rescheduled Jason Isbell and The 400 Unit concert, with "very special guest" Lucinda Williams, on July 31.)
The Andrew Lloyd Webber tribute will also play two shows (May 21 and May 22) at Logan's historic Ellen Eccles Theatre. Hassan, who oversees the nearly 100-year-old theater, "has made that facility so safe from the very beginning," says Julie Hollist Terrill, director of the Cache Valley Visitors Bureau. "She was able to keep the theater open when so many others were closed because her team followed safety protocols so strictly that germs were probably too scared to think about coming inside."
"The bulk of our communications from patrons is: 'We miss you. We need you.' So many people have been coming here for so many years, and that's just the theme. They need to get back. We want to get back, too. The arts are going to help us heal emotionally and financially."
– Donn Jersey, Development and Communication Director, Utah Shakespeare Festival
Rolling Out a Welcome Mat
Summertime, and the Livin' is Easy ("Porgy and Bess")
Nationally, industry experts are warning of the possibility of sweeping museum closures, but at the UMFA, renewal numbers are exceeding last year's. "It's a Utah thing," Dietrich says. The museum's recent exhibition sold out, attracting younger and diverse audiences. About 30 percent of ticket-buyers were first-time UMFA visitors, Detrich says.
The exhibition's themes proved especially resonant this year, although the director signed the contract for the show back in 2017, one of only six museums in the country to host the traveling show from Harlem's Studio Museum. ("We had to fight for it," she says. "They didn't think there were any Black people in Utah.")
Across the state, large and small venues are opening their doors to summer visitors. For example, Ephraim's Granary Arts — named as one of the country's top DIY arts spaces by "USA Today" in 2019 — is mounting two particularly resonant regional events, according to Amy Jorgensen, executive director. "Evaporated," a focus on the Bonneville Salt Flats, developed out of a years-long partnership between geoscientist Brenda Bowen and artist Wendy Wischer. Another draw is "Our Valley Speaks: The Sanpete Experience," a collaboration of 40 artists, field experts and local historians. The show is headquartered at the arts center's CCA Christensen Cabin, but will be viewed via a digital app, designed so people can learn about each relevant spot while standing on the ground where something happened. It's a well-timed art exhibition that breaks the traditional fourth wall of the gallery space and lends itself to social distancing.
Up north, in the college town of Logan, there's a history of rolling out the red carpet for visitors, thanks to Utah State University's Summer Citizens program, which draws more than 800 seniors to town for extended learning vacations. One major draw is the arts, with Utah Festival Opera & Musical Theatre and Utah State University's Lyric Repertory Company performing rotating shows in the town's historic theater district. This summer, two community theater companies are planning July shows in downtown Logan's Eccles Theatre, as well.
Most summers, Logan is alive with free concerts from Broadway talent, says Terrill. In 2019, for instance, the town hosted more than 240 free performances and concerts from June to August — in addition to the ticketed performances offered by the theater companies nightly.
This season, in late April Utah Festival Opera announced a pared-down July season, with five small-cast shows and repertory casts featuring founding director Michael Ballam, his daughter Vanessa Ballam and son-in-law Stefan Espinosa. Joining them will be other festival favorites: Suzan Hanson, Joy Hermalyn, Michael Corvino and conductor Jerry Steichen. (On the schedule: "The Fantasticks," "I Do! I Do!," "Souvenir," "33 Variations" and "Sentimental Journey: Ol' Blue Eyes," a Frank Sinatra tribute.)
We've had Summer Citizens calling us since February, saying they're already vaccinated," Terrill says. "They're calling to tell us that they are ready to come."