8 Utah Hikes for Leaf Peeping and Natural Splendor
These top high-elevation forested hikes are opportunities to more than slow down and appreciate Utah's scenic splendor: They ask you get out of the car and set out on foot to wander deep into the natural landscapes and vast wild places that give definition to our lives.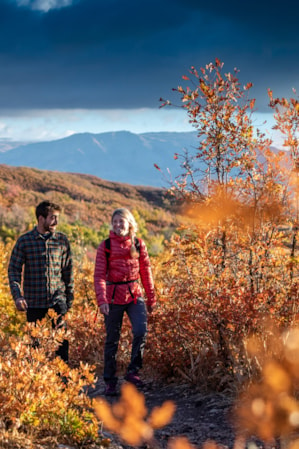 When the leaves change, road trips through Utah's mountains and forests take on a colorful new glow. Unlike their well-trodden counterparts on the East Coast, Utah's fall foliage and trails are less well known among the broader leaf-peeping community.
These hikes are opportunities to more than slow down and appreciate the scenic splendor: They ask you to get out of the car and set out on foot to wander deep into the natural landscapes and vast wild places that give definition to our lives. In other words, you become more than a leaf tourist: You become a leaf traveler. Once accomplished, it's time to head back into town for a bite and share your experiences with the locals.
1. Mountain Oasis
Cascade Springs | Alpine Loop Scenic Backway (S.R. 92) | Near Provo and Heber
Bubbling brooks surrounded by gorgeous glacier-carved mountains and dotted with the changing leaves of fall. Behold: Cascade Springs. Nature lovers will enjoy this easily-accessible and handicap-friendly jaunt as a wonderful side trip off of the Alpine Loop Scenic Trail. The naturally-terraced cascades and pools of this artesian spring are simply stunning.
The hike along the paved trail is about a half mile in length and consists of three loops — the lower two are wheelchair accessible. The area is located on the east side of Mount Timpanogos, and provides an excellent vantage of the mountains. Fall colors in the area are nice from September through October, and are punctuated with aspens, maples, and oaks.
Fee: A recreation pass must be purchased if stopping at trailheads or using facilities along this byway. The passes are priced at: $6, good for three days; $12, good for seven days; $45, annual pass. The recreation pass is also good for use along the Mirror Lake Scenic Byway.
2. One Tree Hill
Lakeshore National Recreation Trail | Fish Lake Scenic Byway (S.R. 25) | Near Capitol Reef National Park
What is Pando? Pando, a clonal colony of a single Quaking Aspen spread across a 106-acre thicket in Fishlake National Forest, is believed to weigh more than 6,600 tons. Consisting of approximately 47,000 trees in the grove that are genetically identical, all the trees in Pando share a single root system. This makes Pando the heaviest organism on Earth. At 80,000 years old, it's also one of the oldest.
For expansive vistas of the colorful Pando in the fall, hike along the Lakeshore National Recreation Trail up to 15 miles or hike 3 or 4 miles up Mytoge Mountain on the south end of the lake for aerial views.
3. Above the Red Rock
Fish Creek Reservoir (Great Western Trail) | All-American Road: Scenic Byway 12 | Between Boulder, Utah and Capitol Reef National Park
On Boulder Mountain, the multiple-use Great Western Trail heads south from Torrey through the forest, up Fish Creek drainage, and eventually to the trail's highest point in Utah, Boulder Top. Start this jaunt at the Fish Creek trailhead. It's a meandering hike, but the spot is also popular for ATV and OHV riders. Head south through epic scenery, where evergreen is pitted next to aspen and other color-changing shrubs. Fish Creek Reservoir not only majestically reflects the colors of all in its placid water, it is one of the top Boulder Mountain spots for fishing.
4. Still Untamed
Skyline Trail/Great Ogden Divide | Near Ogden
Ah, the North Ogden Divide Trailhead. Here at the top of the North Ogden Divide Canyon Road choose from one of five area summits, including Ben Lomond, Willard Peak, Chilly Peak, Eyrie 8136 and Lewis Peak. These hikes range from easy to difficult for hikers and share the trail with mountain bikes, horses, dirt bikes, and ATVs.
For the biggest adventure, point towards Ben Lomond. The area's highest peak will allow for the best views, naturally. It is about eight miles each way to Ben Lomond Peak, and the climb is 3,500 vertical feet. Hike from the trailhead up switchbacks and then continue along the North Skyline Trail. You'll pass through forests and have ample opportunities to take in the fall colors. Eventually, you'll intersect with the North Fork Park trail at 8,794 feet. Continue further still till you hit the peak and enjoy all the autumn glory below!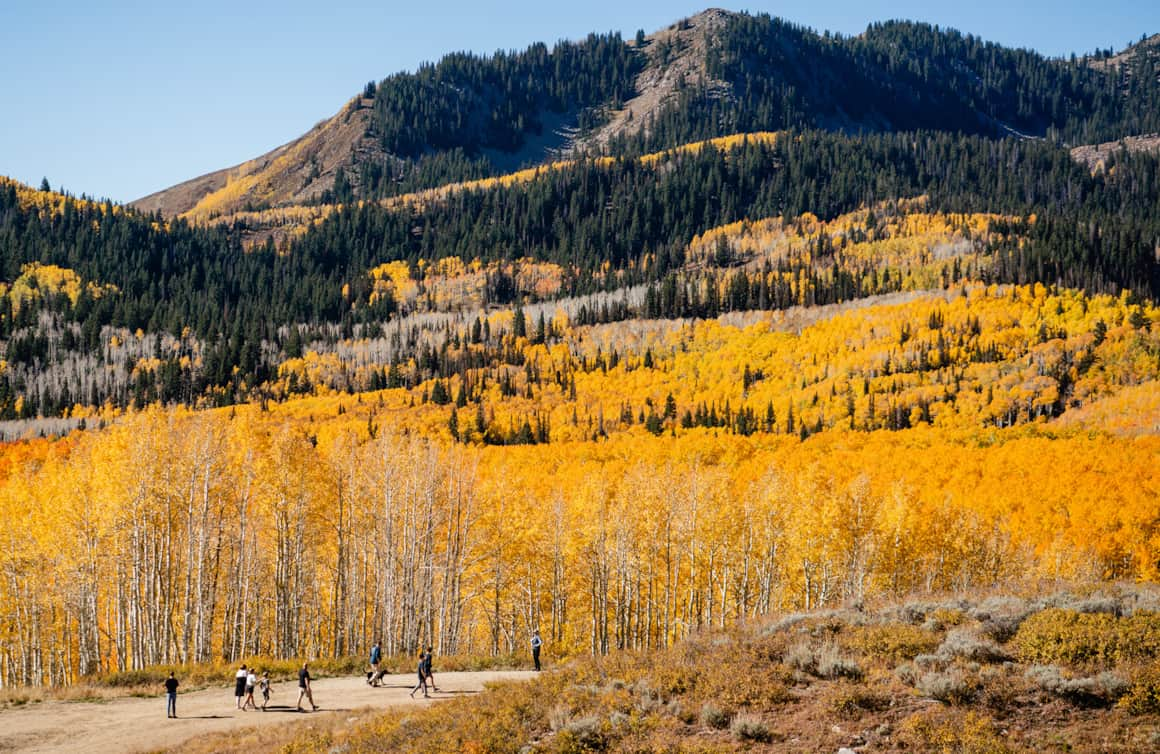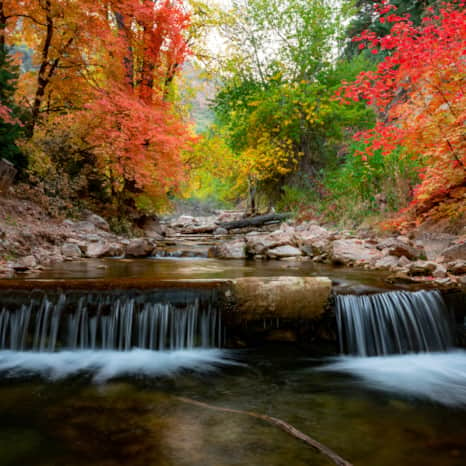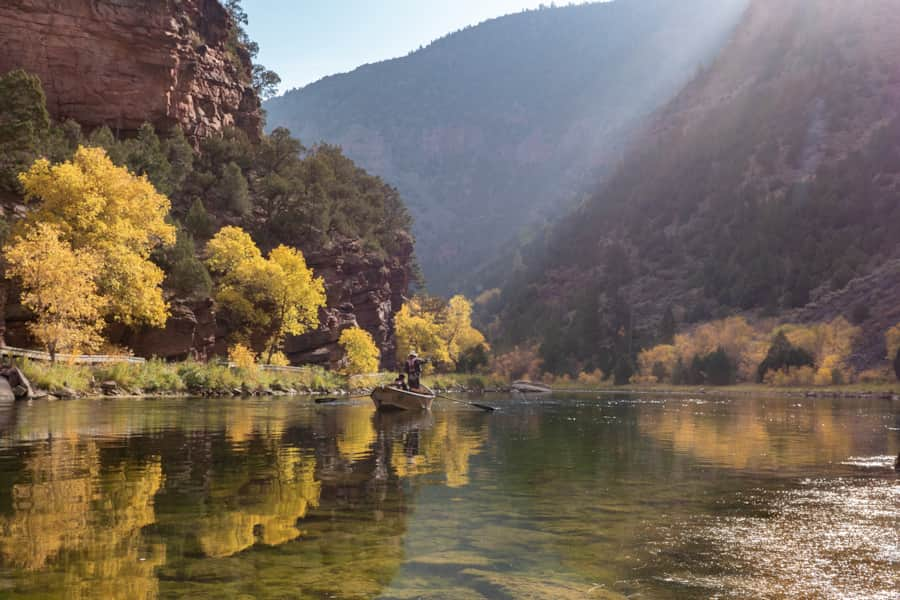 5. A Sure Thing
Wind Cave Hike | Logan Canyon National Scenic Byway (U.S. 89) | Top of Utah
About 5.3 miles up the Logan Canyon National Scenic Byway, on the Wind Cave trail, you'll hike along the the north side of Logan Canyon into the forest to a limestone crag with a delicate triple arch and natural cave. It's a moderate three-mile round-trip hike, which gains 2,300 feet and peaks out at about 7,000 feet above sea level. When you're not watching for bats around the cave, keep an eye open for rare native plants such as Maguire's primrose or Maguire's rockcress. You'll also get a clear view of China Wall and Crimson Trail and of the fall foliage in Logan Canyon — one of the most stunning places in Utah during this season. The hike takes about 2 hours, including some time to enjoy the caves.
6. Green River/Red Canyon
Little Hole National Scenic Trail | Near Flaming Gorge–Uintas National Scenic Byway (U.S. 191) | Eastern Utah
A brilliant section of the Green River called Red Canyon captures the colorful majesty that led explorer John Wesley Powell to bestow the name Flaming Gorge upon this geologically wonderful corner of Utah. To see it on foot, take the Little Hole National Scenic Trail, where you'll discover the best in fall foliage alongside anglers, naturalists and photographers. In other words, should you encounter anyone, you'll be in good company. Find the Little Hole trailhead downstream of the boat ramp. Continue on, and after six miles, you'll exit Red Canyon as you approach Little Hole.The moderate trail is 7.2 miles each way, but you can turn around at any point. Enjoy the turning of the leaves as framed by the lovely hues of the towering canyon walls (up to a height of 600 feet) and the ponderosa pines.
7. Reach a New Plateau
Aspen Mirror Lake Hike | Markagunt High Plateau Scenic Byway (S.R. 14) | Near Cedar City and Zion National Park
Take a short, scenic hike to Aspen Mirror Lake and be mesmerized. This tranquil, small mountain lake just off state Route 14 is so named because it is surrounded by aspen trees, which makes it, of course, a spectacular destination in the fall. The photographer's paradise is especially lovely because of the yellow leaves on the white trees reflecting so perfectly on the water's surface. But if you must ripple the water, do so with your fly rod, because the lake is fully stocked with rainbow trout all too eager to take your bait.
Aspen Mirror Lake is approximately three surface acres and sits on a high mountain plateau at about 9,500 feet above sea level. The hike is easy and a scant round trip of less than one mile. Because of the mellow approach, Aspen Mirror Lake a great place to bring the kids to enjoy the fall colors of Utah's mountains.
8. Metro to Mountain
Big and Little Cottonwood Canyon Scenic Byways (S.R. 190, 210) | Near Salt Lake City
Hike along babbling creeks through pines, navigate your way through aspen groves to high alpine lakes, and scramble your way to a peak to enjoy stunning vistas of the reds, oranges, and greens in the canyons below.
The glacially carved Big Cottonwood Canyon, home to Brighton and Solitude, offers immaculate alpine scenery. There are plenty of hiking, biking, and picnicking opportunities to take in the views. You can head straight for the Brighton area or a number of stops along the way. Continue to Guardsman's Pass — located 15 miles up the canyon — to really have your mind blown as you travel onward to Park City and Heber.
Don't miss a trip up Little Cottonwood Canyon. Named because it is smaller and more narrow than it's sister to the north, river-carved versus glacier-carved. With few pull-offs to take in the views, get out of the car and head up to a high alpine lake. If hiking isn't on your agenda, you can always drive to Snowbird and take the Aerial Tram to the top of Hidden Peak.
=