Discover the Shape of Utah's Coffee Community
Watch "More Than Coffee," find the shops then read our Utah Coffee (G)roundup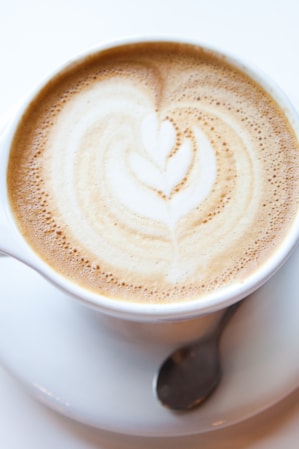 Locations in the Video
From the outside, a huge window sets the scene of Three Pines: a smattering of bar seats, various pastries, and killer coffee technology. A once-exterior marquis hangs above the bar reading "COFFEE," a dramatic symbol of their small beginnings. From the inside, the window forms a frame for Salt Lake's bustling Main St. A group of science-driven yet incredibly genuine baristas, Three Pines is, without a doubt, a welcome addition to the center-point of Utah's largest city.
165 Main St.
Salt Lake City, UT 84111
(805) 395-8907
@threepinescoffee
Emulating a classic Art-Deco hotel lobby, La Barba's Salt Lake location is a twist on European café vibes. Fresh pastries and diverse bottled beverages dance backup to third-wave espresso and pour-over headliners in a moody, warm environment. Slow morning downtown? Let La Barba put on a show.
Downtown (Original Location)
327 W. 200 S.
Salt Lake City, UT 84101
(385) 355-4071
The Gateway Mall
9 S. Rio Grande Street
Salt Lake City, UT 54101
(385) 429-2401
@labarbacoffee
The grandchild of Utah's OG third-wave shop (Nobrow), Coffee Room feels far-removed from its pioneering origins, reinventing itself as one classy joint. Situated conveniently along the Trax Light Rail, the Coffee Room is perfect for a get-together with an old friend or hunkering down on a term paper. Try the refreshing dark horse of their menu: seasonally rotating, house-made shrubs!
179 W. 900 S.
Salt Lake City, UT 84101
(385) 222-7046
@bluecoppercoffee
As clean as a whistle, Publik's behemoth roaster and cafe feel far from public. In a sleek renovated warehouse, it's an elite carnival of taste with no entry fee (except for the prices on the menu!). The open environment is a modern hipster big-top. Cirque Du Au Lait! The main attraction: responsibly sourced, environmentally friendly coffee, and all the energy you need for a day of productivity (the sideshow: excellent people watching from the upper deck).
Roaster and Cafe
975 S. West Temple,
Salt Lake City, UT 84101
(801) 355-3161
Avenues Location
502 3rd Ave
Salt Lake City, UT 84103
(385) 229-4836
Publik Kitchen
931 E. 900 S.
Salt Lake City, UT 84105
(385) 229-4205
@publikcoffee
Note: CoffeeLab has closed, but the owner is working on his next wildly-inspired undertaking.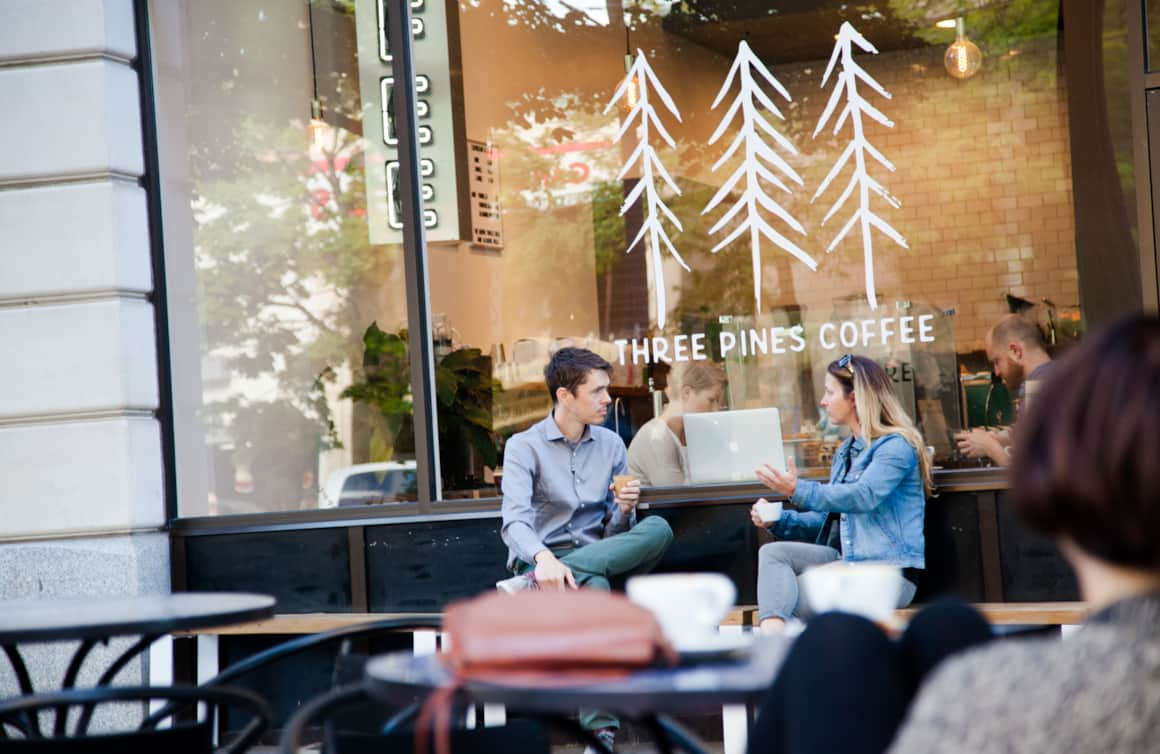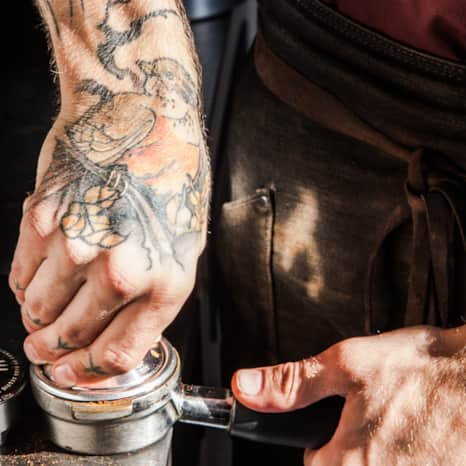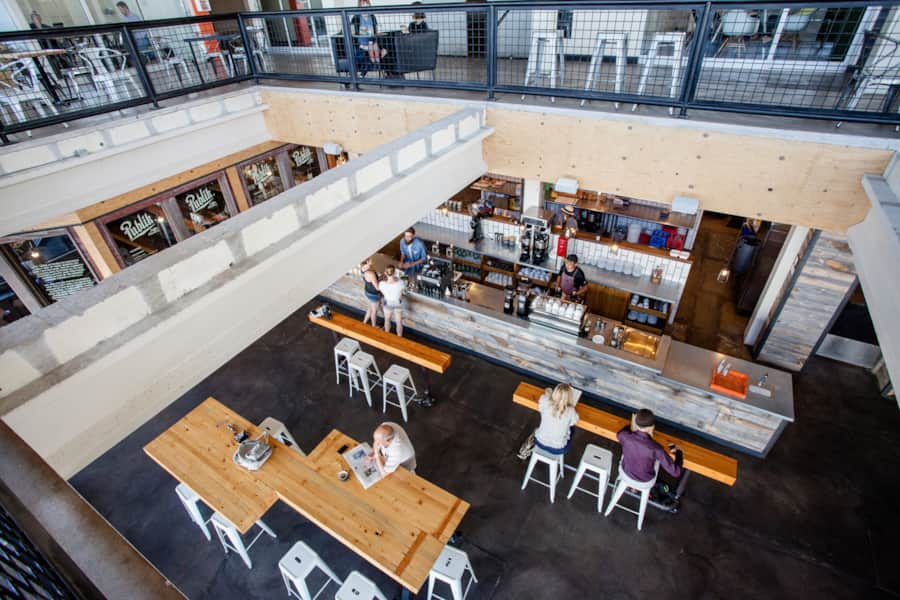 (G)roundup: More Cups to Fuel Your Utah Adventure
Coffeeshop descriptions here and above by Austin Wright (except where noted), author of the accompanying article, More Than Coffee: The Caffeinators of Salt Lake City
If you come for the thoughtful, local lunch menu, you'll stay for the stimulating coffee offerings, made possible by Sweet Bloom Coffee Roasters from Denver. The Rose Establishment's motto? Coffee goes with everything: morning, noon and night. For a group of cool cats that think so highly of coffee, you best believe they've perfected everything about it.
235 S. 400 W.
Salt Lake City, UT 84101
(801) 990-6270
@theroseestb
A "Jack Mormon" is a Mormon who believes there is too much life to live to live without the fun things that make it feel like life. In other words, they drink coffee and alcohol, and do it proudly. This coffee shop is a staple of Salt Lake's earlier coffee days, and remains an anchor at its Avenues neighborhood location. Jack Mormon serves up a touch of sass with a classic cup of joe, and they make no apologies for either.
82 E Street
Salt Lake City, UT 84103
(801) 359-2979
@jackmormoncoffeeco
Do you remember 1981? Millennials slurping up third- and fourth-wave coffees at artisan coffee shops should include the Salt Lake Roasting Company (RoCo) among their must-taste stops to the coffee pioneers that started it all. A fair analogy is that the Salt Lake Roasting Company is what Starbucks was to Seattle or Peet's to Berkeley and San Francisco. It's the company that introduced specialty and craft coffee to Utah's capital city and, on the back of its globe-trekking and direct-trading founder, John Bolton, built a wide following.
820 E. 400 S.
Salt Lake City, UT 84102
(801) 363-7572
@slroastingco
—visitutah
On a tree-lined street of Ogden, Kaffe Mercantile is the perfect example of Utah coffee shops in one of Utah's growing communities: a gathering place where food and beverage unite people around a common table. This café knows what it means to foster a truly welcoming vibe. That homespun tone is so important to the shop, they also offer the attached Victorian home for guests on Airbnb! "Bed & Breakfast" just got three times cooler.
1221 26th St.
Ogden, UT 84401
(801) 393-0443
@kaffemercantile
When Sundance Film Festival rolls into Park City, celebrities have to find their "green juice" somewhere. Perched halfway up the colorful stretch of Main St, Pink Elephant is a cold-pressed juice and coffee purveyor gone wild, roasting their coffee and humbly serving it in a high-end destination. Ride the Town Lift from the slopes, strut the street in some cute snow boots and oversized sunglasses, and visit them on the second floor of a retail space. Now those A-listers have another option. Starbucks: you've been warned.
509 Main St.
Park City, UT 84060
@pinkelephantcoffee
Two tropical marvels, the cacao and coffee fruits, in one stop (Read the story: Mountain Lifestyle Calling). The bar has officially been raised, Park City. Sample perfectly crafted El Salvadoran chocolate and an El Salvadoran espresso in the same breath. Serving top-tier coffee beverages in an attached café, Ritual Chocolate's world-class facility will bar-none stop you in your tracks. Buy a chocolate bar — at the coffee bar — and bar all doubt that the two fruits are meant for each other.
1105 Iron Horse Dr
Park City, UT 84060
(435) 200-8475
@ritualchocolate
One of Utah's original pioneers ... in coffee roasting, Caffe Ibis brings an unabashed commitment to environmental stewardship with its triple certified organic, Fair Trade, and Smithsonian Shade Grown "Bird-Friendly" coffee from around the world. While Caffe Ibis is widely available around Utah and even the nation after 40+ years of building an audience for its signature dark roasts, visitors to the top of Utah should plan a trip to The Gallery Cafe and Deli in downtown Logan if not just for a cup, but for their terrific breakfast and lunch menus and University-town vibe.
52 Federal Avenue
Logan, Utah 84321
(435) 753-4777
—visitutah
Three cups of sugar. Three cups of flour. Three cups of magical powers. Voila! Holladay's best cup of coffee also happens to be the home of an amazing traditional pastry team. Erika, Gina, and Jeff keep up with Simon's grandma with their own ingenious café pastries and cakes beneath the purview of Mt. Olympus. If you've been roasting in the sun while breaking in your hiking boots, Three Cups is the convenient multi-roaster café for you, with a gorgeous environment, to boot.
4670 S Holladay Village Plaza #104
Holladay, UT 84117
(385) 237-3091
Happiness Within is not just a feeling in the historic and artsy town of Helper, Utah. It's an oasis of great coffee, smoothies and fresh baked goods in the central part of the state, a welcoming shop with an upbeat vibe that builds from and feeds the unique community. Like almost every space along Helper's Main Street, there's art to enjoy and it's within walking distance of galleries, the river walk, the Western Mining and Railroad Museum and more. No drive from Salt Lake City to Moab is complete with a stop here.
153 S. Main St.
Helper, UT 84526
—visitutah
The pride and joy of sustainable culinary arts, Hell's Backbone shines on a national level as a pillar of the farm­-to-table movement. Situated in the tiny town of Boulder, Utah, the restaurant and lodge is a not-to-be-missed stop for anyone enjoying the Grand Staircase–Escalante National Monument and Capitol Reef National Park areas. Their coffee is coffee at its purest — and the culinary experience is a perfect match. An experience at Hell's Backbone is sure to make any cup of coffee taste as bright and exciting as the sky under which you drink it. (The nearby Burr Trail Outpost, also fervently local-minded) is another great stop in the tiny town.
20 S.R. 12
Boulder, UT 84716
(435) 335-7464
@hellsbackbonegrill
If you're looking for quality organic beans (roasted daily onsite) and espresso shots poured the old-fashioned way, check out Moab Coffee Roasters. This charming coffee shop located along Main Street in Moab also offers gelato, smoothies, Italian sodas and fine teas as well as pastries and snacks to fuel up for your red rock adventure.
90 N Main Street
Moab, UT 84532
(435) 259-2725

Just past the curve of the highway south of Moab, Wicked Brew is an icon of the "road-trip" lifestyle so appropriately associated with the never-ending scenic routes along Utah's Road to Mighty. The locals love it, the hikers love it. Open early mornings until 2 p.m., Wicked Brew, barely seven miles from the popular Arches National Park, is one of the best spots in town for a quick caffeine stop. Drive through and grab the coffee you will absolutely need to fuel an extended, thoughtful and introspective tour of one of Utah's best parks, the way it's meant to be seen — and have a shot for old Ed Abbey.
1146 U.S. 191
Moab, UT 84532
(435) 259-0021
This is coffee with a view. Red rock travelers can count on fair trade, environmental sustainability and locally sourced ingredients whenever possible as bedrock foundations so they can focus on the sweeping Zion National Park–caliber backdrop. Whole bean coffees carry the name of their country of origin or reflections of the area's geology and heritage — Canyon Ritual, Moqui Java and Nephi's Twist lead the lineup of blends.
394 S. State St.
La Verkin, Utah, 84745
—visitutah
When you're in Tropic, Utah, you're a long way from anything tropical. Blame the name on an anomaly of weather at the time of settling. But you're not far from Bryce Canyon National Park, so a stop here before your adventure might be just the ticket. The menu at the Bryce Canyon Coffee Co. includes an entire line of beverages from the espresso bar plus fresh ground coffees, teas, smoothies and frappes. The shop also offers a daily assortment of freshly baked goods and a shared continental breakfast with the motel. And there's Wi-Fi so you can download your regional maps before heading out.
21 Main Street
Tropic, Utah 84776
—visitutah