Flood Safety
Due to record snowpack and high amounts of spring runoff, please be advised of potential flooding that could impact travel plans.
Learn more
Training Pigeons and the Odd Jobs of Artistic Direction
Richie Call and the Lyric Repertory Theater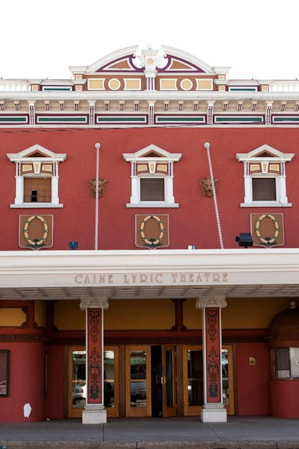 Training pigeons isn't part of a typical intern's job description, but when Richie Call spent his second summer with the Lyric Repertory Company in 1999, he embraced his unusual assignment. Though he never quite mastered the art of pigeon-training, he worked with his avian charges all summer long, doing his best to train them for their role in "Sherlock's Last Case."
"I had two pigeons that lived with me all summer," he recalled. Apparently, even pigeons need understudies.
Today, Call is the company's co-artistic director, along with Dennis Hassam. Theater isn't just a job and way of life for Call — it's also the family business. His grandfather, W. Vosco Call, founded the Old Lyric Repertory Company in 1967, and he is still active in the company at the age of 88, acting and directing.
Four generations of the Call family are involved with the theater. Richie Call's aunt designs costumes, his sister runs a children's theater company, and his dad was even his high school drama teacher.
Richie even met his wife in the theater in 1999, though they didn't become a couple until later. When they became reacquainted several years later, she was the scenic designer and he was the props designer, and the two worked closely during the day. They also acted in a show together in the evenings, coincidentally playing the roles of husband and wife.
"We spent all day together at the shop and all evening together [at the Lyric]," Call says. "We were spending 18 hours a day together. Halfway through the summer, I asked her to marry me. I asked seven times before she said yes.
The couple has now been married for 14 years. Their four kids are also starting to get involved in the family business. The oldest two have both had a turn on the Lyric's stage, and their 6-year-old performed in a children's theater show.
"My 8-year-old has got the bug," Call says. "She's been in nine shows now and is ready for the next one."
During the summer, Call spends most of his time at the Lyric, but during the school year he also teaches acting and play script analysis at Utah State University. But his Lyric duties last year-round, whether he's casting, hiring, or working on the productions. His devotion to the theater is inspired by his passion for performing.
"Part of it is the sense of it being the family business," Call says. "I literally don't remember a time I didn't want to be an actor. The camaraderie of the theater world… doesn't exist in a lot of other places. It's creating something from nothing in six weeks. The energy you get from the audience is always incredible."