COVID-19 Travel
Please adhere to local guidelines for safe and responsible travel, including following the statewide mask mandate.
Read more
Seven Must-Ride Mountain Biking Trails in Utah
To help you plan a Utah mountain biking trip, we've assembled a list of seven of Utah's best mountain biking trails.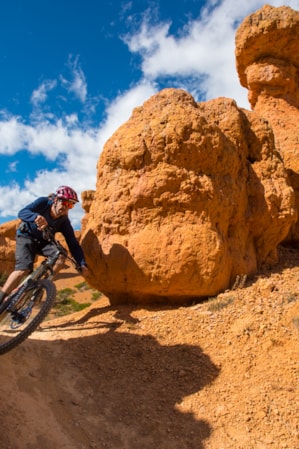 1. The Slickrock Trail | Moab
Quite possibly the most famous trail in Utah, the Slickrock Trail traces an improbable path over and around a massive landscape of petrified sand dunes.
2. Wasatch Crest Trail | Park City/Salt Lake City (IMBA Epic Ride)
The Wasatch Mountains just outside Salt Lake City divide the Salt Lake Valley from Park City and make a spectacular year-round playground for skiers, snowboarders, mountain bikers and rock climbers who flock to the area for the easy access, superb trails and stunning vistas. The Wasatch Crest Trail is a thin ribbon of singletrack snaking along the top of the mountain range — so, yes, early winter storms and lingering spring snowpack can complicate your singletrack plans. Mostly flowing singletrack through aspen glades and alpine meadows with a single, easily walkable technical section, the trail doesn't disappoint. There are many options for riding the trail, the most popular being a point to point (car shuttle required) from the top of Guardsman Pass along the Wasatch Crest before linking with trails in Millcreek Canyon (even numbered days only). Other riders climb the steep grade from starting points in Park City or Big Cottonwood Canyon to access the start of the crest. Oh, we should mention, riders on the Wasatch Crest have to negotiate a climb lovingly referred to as "puke hill" before reaching the main part of the crest. This little bit of suffering makes the rest of the ride even sweeter.
3. Red Canyon/Thunder Mountain | Panguitch
Located just outside of Bryce Canyon National Park, the Thunder Mountain trail (Watch the video: Knobby Tired Nomads) has spectacular trails, challenging riding and thrilling vistas. Of the 24 miles of established singletrack around Red Canyon, none compare to the Thunder Mountain Trail.
4. Porcupine Rim/Whole Enchilada | Moab
If you fancy yourself a skilled mountain biker who can cover 33 miles of challenging (mostly) downhill trails, step on up to the famed Whole Enchilada, billed as one of the best bike rides in North America.
5. Mid Mountain Trail | Park City (IMBA Epic Ride)
Mid Mountain covers 22 miles of trail traversing the two grand ski areas behind the town of Park City. With numerous options for shorter loops, the Mid-Mountain trail encompasses some of the best riding Park City has to offer. Flowing singletrack guides you through dense stands of pine and aspen trees before breaking out into meadows filled with wildflowers. The trail's greatest difficulty lies in reaching the trail (it is called "Mid Mountain" for a reason). Once on the trail, there are numerous short climbs and descents with very few technical sections, making it an ideal ride for intermediate riders looking for a spectacular experience. Many riders opt to access Mid Mountain from the newly built, uphill only, Armstrong Trail and link Mid Mountain with several other trails to make loops in the 5–10 mile range. And that IMBA thing? That's part of Park City's International Mountain Biking Association Gold-level Ride Center certification — but hit them while you can; The Greatest Snow on Earth® owns these slopes for half the year.
6. Rush Trail — Corner Canyon | Draper
Salt Lake City prides itself on its access to spectacular outdoor recreation. Just a few minutes from downtown, Corner Canyon (CC) is no exception. CC is a compact network of purpose-built mountain bike trails for cross-country and downhill riders. Combine this with the pump track, DH training courses and skills park at the Draper Bike Park and you have access to all types of dirt riding in a location perfect for a lap at lunch, the end of the day, or a longer experience by linking trails. If you were to hit just one trail in CC, the Rush Trail would be it. The embodiment of flow, Rush is downhill only with fast turns descending through open views of the valley at the top into tighter forest at the bottom. Advanced riders will love all the double jumps and gaps, while more intermediate riders can bypass the features by sticking to the main trail.
7. Wheeler Creek to Coldwater Overlook | Ogden
Just a few minutes outside of Ogden, the Wheeler Creek trail climbs steadily out of the valley where the main trail intersects with several possible trail variations. The most popular branches off onto the Art Nord trailhead, becoming singletrack and joining the Maples Trail to guide you through open meadows and dense stands of oak and aspen, beautiful no matter the season but bursting with vibrant colors in the fall. After a short while the trail intersects with Snowbasin Resort's trail system as well as others in the Wheeler Creek drainage providing you with options to extend your ride or take an alternate path back to the car. Check local conditions for early season precipitation or lingering spring snowpack.