U.S. Federal Shutdown Information
At this time, all of Utah's national parks, monuments and recreation areas remain open.
Learn more.
The History of River House (and How to Experience It Today)
A true taste of Southern Utah's storied history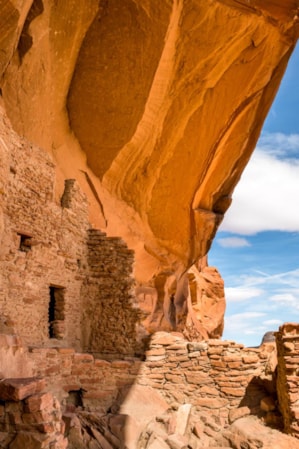 Feel the heated desert sand underneath your feet. Smell the clean, hot, sage-scented air as it fills your lungs, and look upward at walls covered with history — you're standing in the very place the early beings of the desert lived. You're at the River House Site.
Located roughly 12 miles southwest from the small town of Bluff, Utah (pop. 320) near the scenic San Juan River, the River House Site is nestled into the west side of Comb Ridge. It's home to an array of pictographs as well as a kiva and several one- and two-story rooms. The site offers visitors a true taste of southern Utah's storied history — ancient Pueblo sites, pioneer history and stunningly preserved petroglyphs and pictographs. The greater Cedar Mesa boasts a plethora of pictographs and ancient sites located on public lands. This means they can be visited with very few restrictions, offering a first-hand look at the history that shaped the rugged terrain.
Depending on how much of the site you would like to explore, the largely flat trail is less than a mile, and it's easy to make a quick trip to the site. Most people will find themselves spending well upward of an hour exploring River House, however, as the cliff dwelling site and pictographs are uniquely compelling in their own ways.
Experience History Firsthand
The way into the River House Site follows a portion of the route traveled in 1879 by a group of Mormon pioneers as they began the famed Hole-in-the-Rock Expedition. This same route treks through historic San Juan Hill and the Barton Trading Post. Nearly 140 years ago, this initial group of settlers traveled through the area on a mission to establish a farming community. After crossing the nearby Colorado River, they scaled the impressive San Juan Hill — not far from River House Site—with oxen and wagons, persevering onward in a classic tale of American history. In many places, you can still see the wagon wheel ruts from the heavily-loaded wagons.
To experience this history firsthand, climb into your trusty four-wheel-drive vehicle and head to the site, 12 miles from Bluff and only 5 miles from the highway. (Deep sand and impressively rocky ruts require a vehicle capable of off-road driving; if you don't have a four-wheel-drive vehicle, park and walk or bike the remainder of the way in.) The area is easily navigated.
About a mile past San Juan Hill is the River House Site. It is estimated these dwellings were occupied by the Ancestral Puebloans sometime between 900 and the late 1200s.
In modern times, the ancient Pueblo people and their archaeological culture have been referred to as Anasazi. Historians note that the Navajo, who were not their descendants, called them by this term, reflecting historic traditions; the term was used to mean "ancient enemies." Contemporary Puebloans prefer this term not to be used.
Hide-and-Seek with Kokopelli
Exceedingly well preserved, the River House Site is a great spot for families wanting to explore the area and expose children to its rich history. A mellow one-mile hike, suitable for nearly all skill levels, trails along the base of the sandstone cliffs and allows a first-hand look at hundreds of petroglyphs.
Look for the figure of Kokopelli — a fertility deity rumored to oversee childbirth and agriculture, represent the spirit of music, and act as a trickster god. Kokopelli, now a synonymous symbol with the desert Southwest, is often depicted as a hunched figured playing a flute, sometimes with feathers in his headdress. A true spirit of the Southwest, making a game of finding Kokopelli in rock art can be a compelling pastime for children and adults alike.
Explore Responsibly
The opportunity to explore these areas with no supervision also comes with a responsibility. Ranger patrols are infrequent, and it is up to visitors to ensure they view and explore the sites without causing damage.
Leave No Trace means that it's okay to take photos but don't touch or disturb the artifacts. River House is home to a variety of rock structures, art, petroglyphs and other artifacts that have remained in place for decades. Don't climb off the path. Don't disturb the rocks, make rock "mountains" or rub chalk over the image — ensure this piece of history will remain for generations to come! It's a good idea to have a talk with children beforehand to establish appropriate behavior and set boundaries. (Read: How to Visit Rock Imagery Sites Like an Archaeologist)
Area Guides and Experts
San Juan County lists several guide services in the area if you'd like to link a few sites together into an interpretive tour. Regardless of how you choose to experience the River House Site, it promises to be an illuminating experience. Take a moment to look out over the desert landscape, breathing in the hot, dry air, feeling the sun soaking into your skin, and marvel at the strength of those who came before. The desert truly is a remarkable landscape, and those who crafted their lives in it were even more remarkable.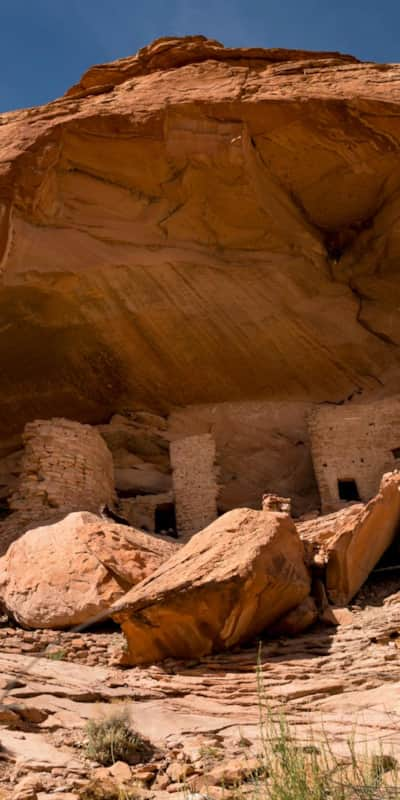 Trail Guide
Difficulty: Easy
Distance and elevation gain: around 0.5 miles, but up to an additional 4-5 miles each way if you don't have a 4WD vehicle. Elevation gain is minimal (less than 100 feet).
Trail type: Wide, flat dirt with some possible scrambling onto rocks to get a closer view of the ruins
Multi-use: Yes — hiking, mountain biking, ATVs, horseback riding
Dog: Yes, on-leash
Fees: Free
Seasonality: Early mornings or evenings in the summer or in the fall (rain or snow might make the road difficult to access)
Bathroom: None
Where to park: There's a lot at the trailhead.
Trailhead GPS coordinates: 37.222713, -109.687764