U.S. Federal Shutdown Information
At this time, all of Utah's national parks, monuments and recreation areas remain open.
Learn more.
"If there's water nearby, I'll go there for solace. Back home, the calming San Juan River current and its light gushes offer me peace in times of disappointment, sorrow, or regret. I grew up on that river, stepping its rapids and floating through my childhood. Both the river and I have changed, but our course remains the same."
– Tacey M. Atsitty, "River Sonnet"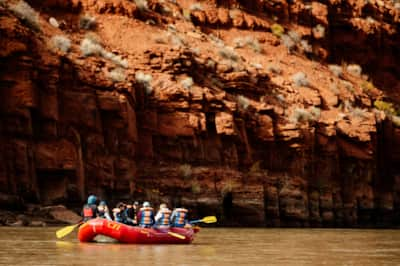 River Trips
Head out on the San Juan River's 26-mile stretch from
Sand Island
near
Bluff
to
Mexican Hat
for such watery bliss. You can hire a guide service, like Wild Rivers Expeditions, or get a permit and head out on your own in a canoe or kayak. Either way, make sure you see all of the wonderful sites as you make your way downstream. This complete section of river can be run as a single day or multi-day trip at an easier pace.
The one-day San Juan River rafting trip offers a high concentration of Class II rapids and boasts one of the finest collections of petroglyphs in the Southwest. There is also an immaculate ruin that you can actually walk around, plenty of beaches along the way to stop and relax, and, best of all, whitewater. After launching at Sand Island, you'll first travel through the open desert of Southern Utah. You'll be able to see moki steps (ancient ladder-like steps carved into the sandstone cliffs for Native American travel) and a few scattered petroglyphs. Following this, you come to Butler Wash. A short hike takes you to one of the biggest and most pristine collections of petroglyphs in the Southwest; there are symbols and renderings spanning centuries.

After poking around at the petroglyphs (but don't actually poke or touch them), you'll board your boat and venture farther down river to the pullout for Riverhouse (Read: How to Visit Rock Imagery Sites Like an Archaeologist). This unique attraction is noted for being one of the largest ruins on the river. Riverhouse, built into the underhang of a massive sandstone cliff, has 14 rooms, including circular rooms for dwelling and a kiva.

Once you've finished checking out the Riverhouse, the boat will continue along the river, and your guide will point out several more historical sites, including places where trading posts once stood and where people came to pan for riches during a gold rush a century ago. You also pass through the impressive geological formation, Comb Ridge, before entering the steep canyon.

After all, this is a whitewater trip, so you finally hit the three Class II rapids. They are short, yet still fun, especially when the cool water splashes up at you and passengers in the raft squeal with delight. These include Four-Foot Rapid, Eight-Foot Rapid, and Ledge Rapid. It's a grand ole time. After the rapids, you will continue along the San Juan River passing the famed Mexican Hat before the pullout to end the excellent day on the river.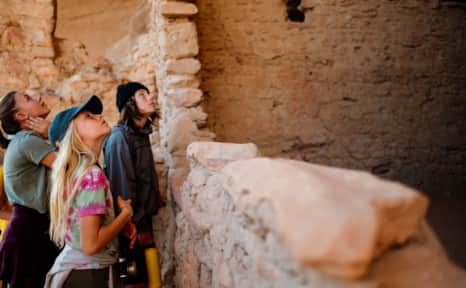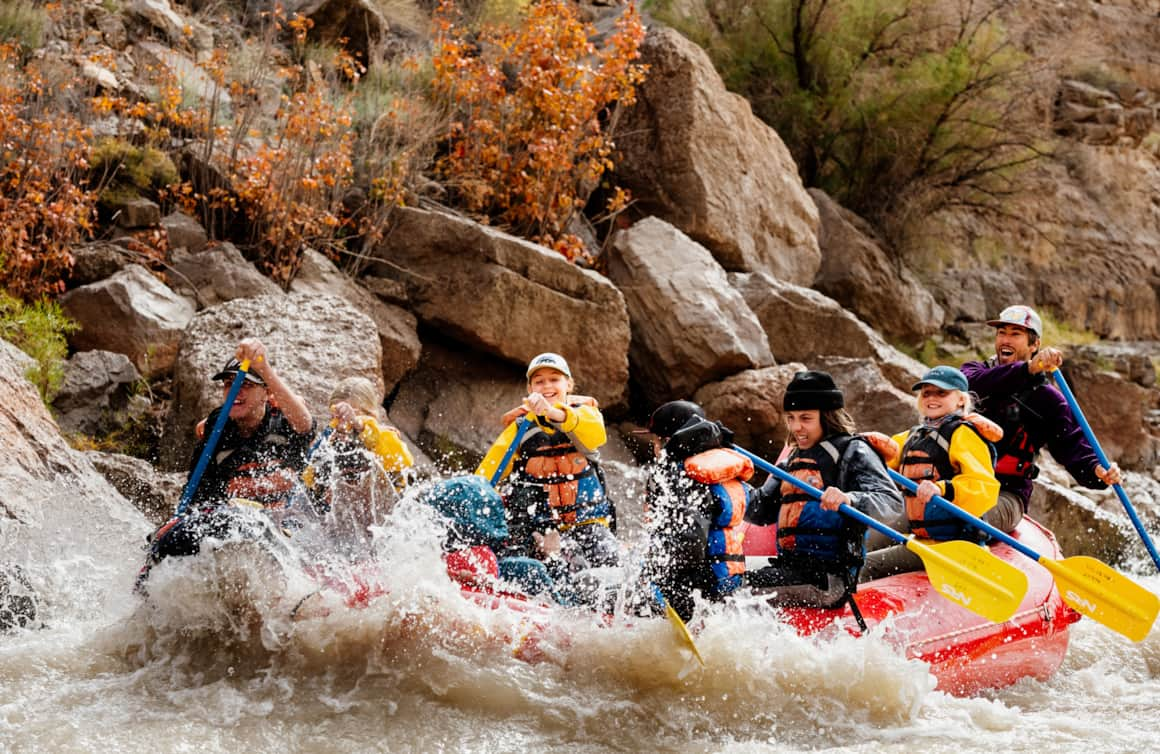 GPS Coordinates, Parking and Regulations
GPS Coordinates:
(37.287736, -109.541792)

Wild Rivers Expeditions are guides for this specific trip. To book a river run with them, visit www.riversandruins.com or call (435) 678-2628. There are also other outfitters and guide services in the area. For the one-day San Juan River rafting trip, park at Wild Rivers Expeditions' parking lot. You will be shuttled in a van with your boat to the put-in at Sand Hills Crossing, near Bluff. When you exit the river at Mexican Hat, the shuttle will be waiting to take you back to your car. Prices for a guided trip vary, and this trip included the permit. You can also run the river with your own gear, but a permit is needed.

You can run the river year-round — it really just depends on your preference. That said, most guide services only offer trips from March to October.

During the winter, there are fewer crowds and the water is much clearer than the normal cappuccino color. The spring and fall are pleasant temperature wise; in the spring, the water generally runs bigger and colder due to melt off from the upper reaches of the San Juan Mountains in Colorado. Summers can be a scorcher, but luckily you can take a dip in the water as you please.

Due to the length of time spent on the river and Class II rapids, the San Juan is not Utah's wildest river, however San Juan River rafting is an adventure that requires good planning, permits or help from a local outfitter.