COVID-19 Travel
Please adhere to local guidelines for safe and responsible travel, including following the statewide mask mandate.
Read more
The Best Restaurants in Moab
Post-fun meals in Moab are an essential part of the adventure. Recharge your energy, enjoy a cold one (or two), and refuel at some of Moab's best restaurants.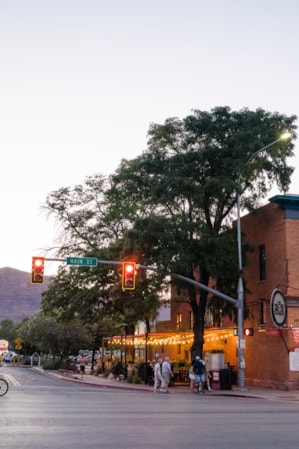 1. Milt's Stop & Eat
There are few things more rewarding in life than a chocolate milkshake, a loaded Cowboy Burger and a basket of onion rings at Milt's Stop & Eat after a long day of playing in the Moab desert. Moab's oldest restaurant has been serving food since 1954 — and has the original Formica counters to prove it. Milt's has reached cult status among tourists and locals. The fries are hand-cut, the malts are made to order and the burgers come loaded with everything from onion rings to grilled pineapple. Eating here is like turning back the clock.
Milt's is conveniently located en route to Slickrock Recreation Area and has a tiny dining room that's typically full. There's also a pick-up window if you choose to eat at the outdoor tables. Along with being stewards of Moab nostalgia, owners BC Laprade and Danelle Ballengee buy local dairy products, grass-fed beef and desert-grown produce. The lines can be very long, but don't get discouraged — the shakes are worth the wait!
2. Eddie McStiff's
Eddie McStiff's is a Moab staple. The restaurant first opened its doors in 1991 and has since become a go-to for bar food, beers and cocktails. It's a great gathering place to watch a game with friends or check out live music. Kids love it for pizza and pasta. Eddie McStiff's is located in the heart of downtown and the bright green exterior paint makes it hard to miss. Yes, the place can get crowded, but a rambling layout — including upstairs lounge — and quick service make it a good bet for even the busiest season.
Eddie McStiff's offers classic bar food, but it's got an upscale side too (entrees cost around $15 each), with dishes like salmon cakes, Burrito Mulege and a miso tofu wrap. They also offer a gluten-free menu. The restaurant sources its food from local producers, like Creekside Lane Farms and the town's Youth Garden Project. McStiff's makes their dough daily from scratch and grinds the meat for their burgers in-house. To top it off, all of the oil the restaurant uses is turned into biodiesel.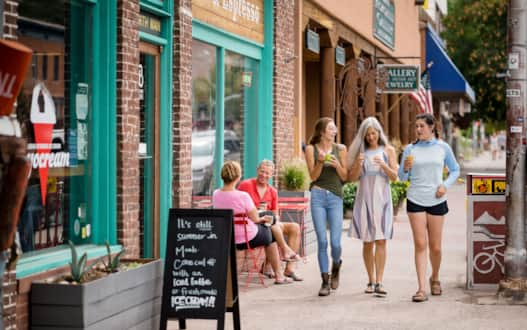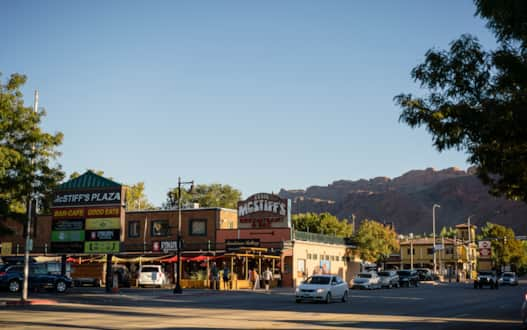 3. Moab Diner
A hearty breakfast at the Moab Diner has powered countless mountain bike adventures, Jeep tours and rock climbing sessions. Known for generous portions, affordable prices and retro-desert-hip vibe, this diner is one of the very best places in town to take in big calories without sacrificing taste or quality. And it's not just a breakfast joint — excellent diner-style food is available until 9 pm. You'll be excused if you partake of a second breakfast after the day's activities are done.
Some of the most memorable meal options include the sourdough French toast, steak burritos and the just-right hash browns. Dinner options like the ribeye steak and the smothered Moab melt (a roast beef, cheese and green chili sandwich) hit the spot, especially when paired with the pie ala mode for dessert. And if you're not in the mood for a full meal — or you have just enough room for a little extra after your meal — the ice cream shop serves an assortment of flavors and sundaes.
4. Thai Bella
Not expecting Thai food in Moab? How about really good Thai food? Thai Bella is a town favorite and it isn't just a novelty. The cuisine is rich, flavorful and authentically Thai. It's also one of the best places for vegetarians to gorge themselves on delicious stir-frys, noodle dishes and a variety of soups. Curry dishes, uncooked spring rolls and tempura dishes are popular. Of course, there are plenty of meat options such as cashew chicken and beef noodles.
Besides the great food, the service is noted for being friendly, quick and attentive. The outdoor seating area has ample shade and is decorated with flowers and very Moab-ish rock gardens. Thai Bella is a nice variation to pub-powered food, but you'll need to be careful when selecting your spice levels — the hottest level is as scorching as Moab's summer sun!
5. Antica Forma
What would an adventure town be without a top-notch pizza place? Antica Forma's wood-fired Neopolitan pizzas are legendary. They are more Italian than American in style, meaning they are big on flavor and less-focused on heavy amounts of dough (they are also available gluten-free). The Funghi and Capanna pies are among the best they offer.
Besides pizza, Antica Forma offers pasta dishes, sumptuous appetizers and crisp salads. The calzones are heaven-sent after a big day of biking or climbing. As a bonus, the restaurant's ambiance (and welcome air-conditioning) is casual but classy, anchored by the impressive woodstove behind the counter. It's a friendly, relaxed place that has become one of Moab's favorites.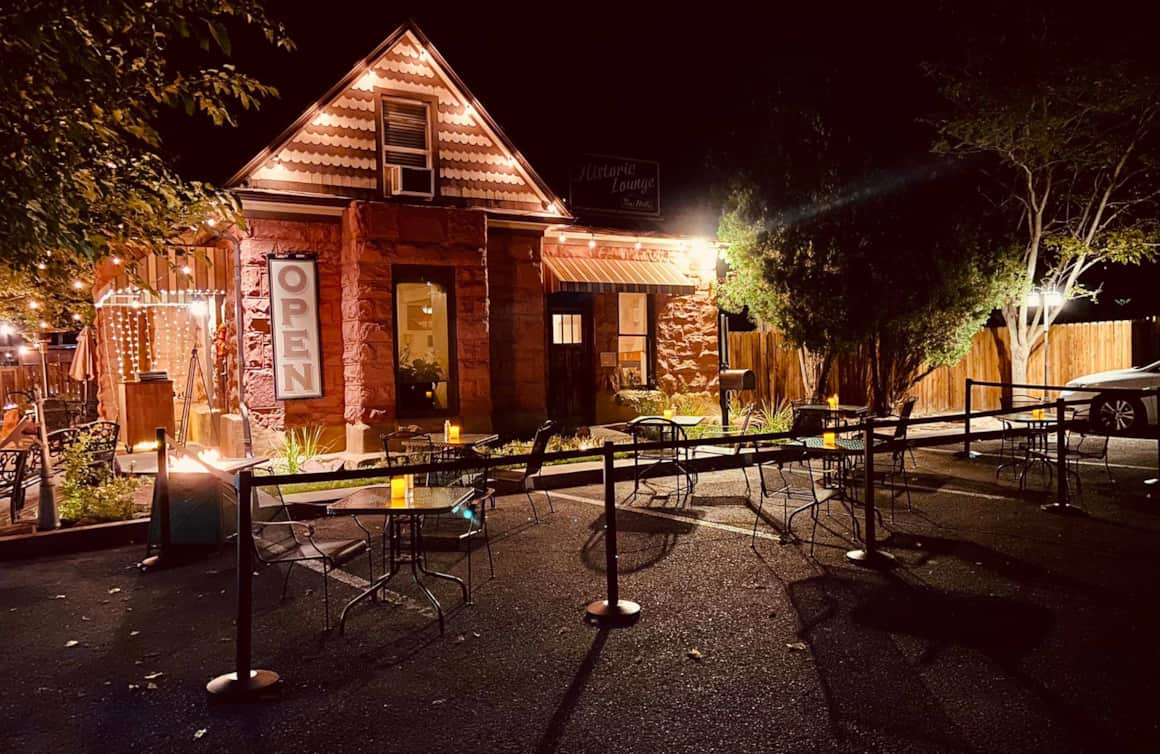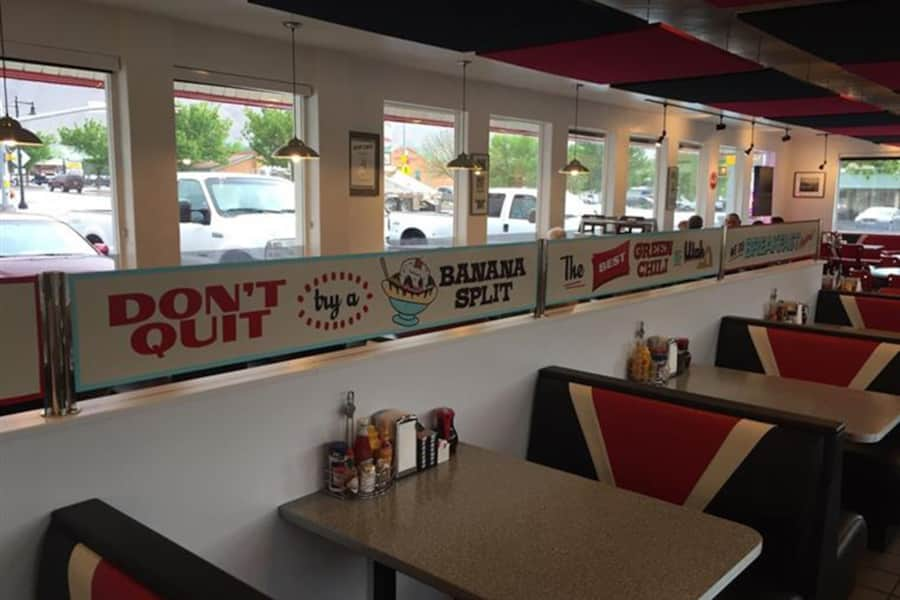 Best Things To Do In Moab
Hiking

Even if you don't visit the nearby national parks, there are enough hikes in Moab to keep your feet busy for ages. Grandstaff and Corona Arch are easy trails near Moab that feature arches. Don't forget to look around as you hike, it's not uncommon to see rock art along the canyon walls. It's important to stay on the trails when you're hiking because the region has a lot of fragile biological soil crust (also known as cryptobiotic soil) that is the foundation of desert plant life. It plays a vital role in the desert ecosystem and stepping on it can cause decades of damage. In addition to protecting the region's biome, unmarked hazards exist so it can be dangerous to veer off the trails. Look for cairn trail markers if you're unsure of which way to go when you're hiking. Cairns are man-made stacks of stones that will show you the way.

Mountain Biking

It's hard not to notice that Moab is a world class mountain biking destination. You'll see an abundance of jam-packed bike racks, riders zooming around town on their way to or from trails, and a baker's dozen of bike rental shops. Moab is not necessarily the best place to learn how to mountain bike unless you hire a guide who can show you the ropes and lead you on the routes. However, if you're a long way away from training wheels and have sufficient nerve, you will not want to miss the chance to ride Moab's most famous expert mountain biking trails like Slickrock Bike Trail, The Whole Enchilada and Porcupine Rim. The Intrepid Trail System in Dead Horse Point State Park is great for beginner and intermediate riders and leads to amazing views of the Colorado River.

Visit Arches and Canyonlands National Parks

National parks enthusiasts appreciate how close the town of Moab is to both Arches National Park (5.2 miles/8.4 kilometers) and Canyonlands National Park (30 miles/48 kilometers). You could easily spend a week at each park and still not see everything. Even if you don't leave your vehicle, you'll be able to see some of the beautiful rock formations that Arches and Canyonlands are famous for, but these parks are best experienced on foot as many of the main attractions, like Delicate Arch and Mesa Arch require visitors to earn their views by hiking to see them.