The All-American Road: Scenic Byway 12
Experience 122.863 miles (to be exact) of pure driving bliss.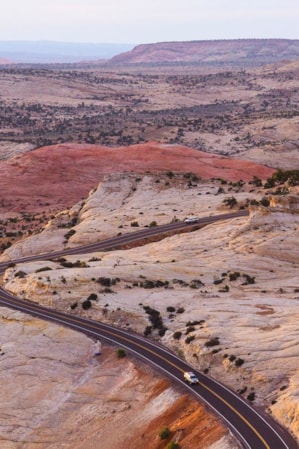 Sometimes you find yourself on a road that you can sense is something truly special.
It is not just the landscapes, though you can't take your eyes off them. It is something about the byway itself, though it's not just the quality of its surface.
It seems to have a history. There's something in the engineering — the vertiginous "Hogsback" stretch comes to mind — and in the thoughtful lay of the road.
The way the road connects with the land, feels somehow a part of the landscape, embedded in the slickrock, even though it was once an intrusion into the space. Like the way a lightning strike can ignite a fire in a forest and sweep out gnarly, dense undergrowth competing for sunlight, there is a period of adaptation and recovery. It virtually becomes part of the ecosystem. Utah state Route 12 is such a road.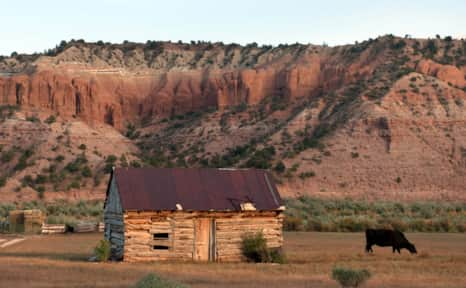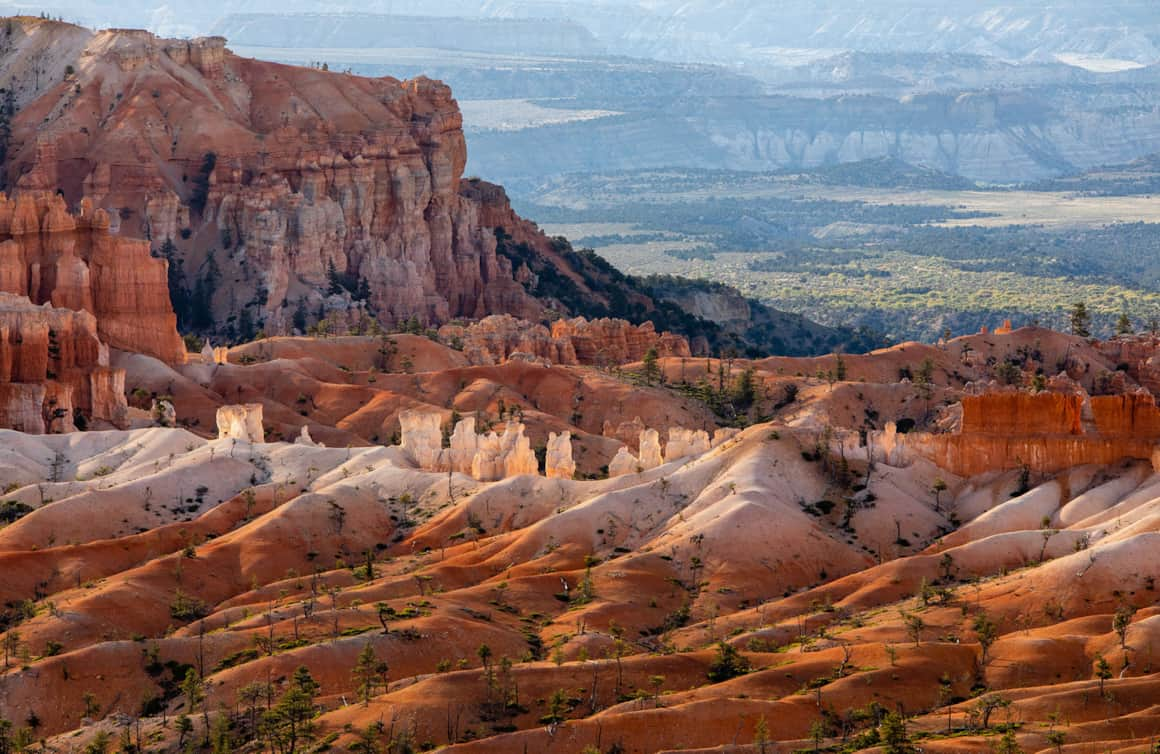 An All-American Road
This is 122.863 miles (to be exact) of pure driving bliss. Welcome to Utah's Scenic Byway 12, also known as "A Journey Through Time Scenic Byway." What's more, this stretch of pavement is also designated an All-American Road. Only one-third of America's scenic byways get this distinction, and it's given because these roads offer unique features that you can't find elsewhere making these byways tourist destinations unto themselves.
The All-American Road: Scenic Byway 12 connects U.S. 89 near Panguitch on the west with S.R. 24 near Torrey on the northeast. It is not the quickest route between these two points, but it far and away the best. Hitting the road, travelers often have a destination in mind. That destination quickly takes a backseat to the journey as they climb into the Dixie National Forest from Torrey.
A stop at the scenic overlook near the road's summit at about 9,000 feet puts it all into perspective. Atmosphere envelopes distant lands, the Henry Mountains, Grand Staircase-Escalante and the shimmering red rock of Capitol Reef National Park. Contrasting stands of subalpine fir and aspen decorate the immediate surroundings.
Here, likeminded travelers, warriors of the road of all backgrounds come together: RV, motorcycle, convertible, classic roadster, sedan. This is auto and motorcycle tourism at its best, where everyone coexists in complete harmony, out of respect for the byway.
"These roads offer unique features that you can't find elsewhere making these byways tourist destinations unto themselves."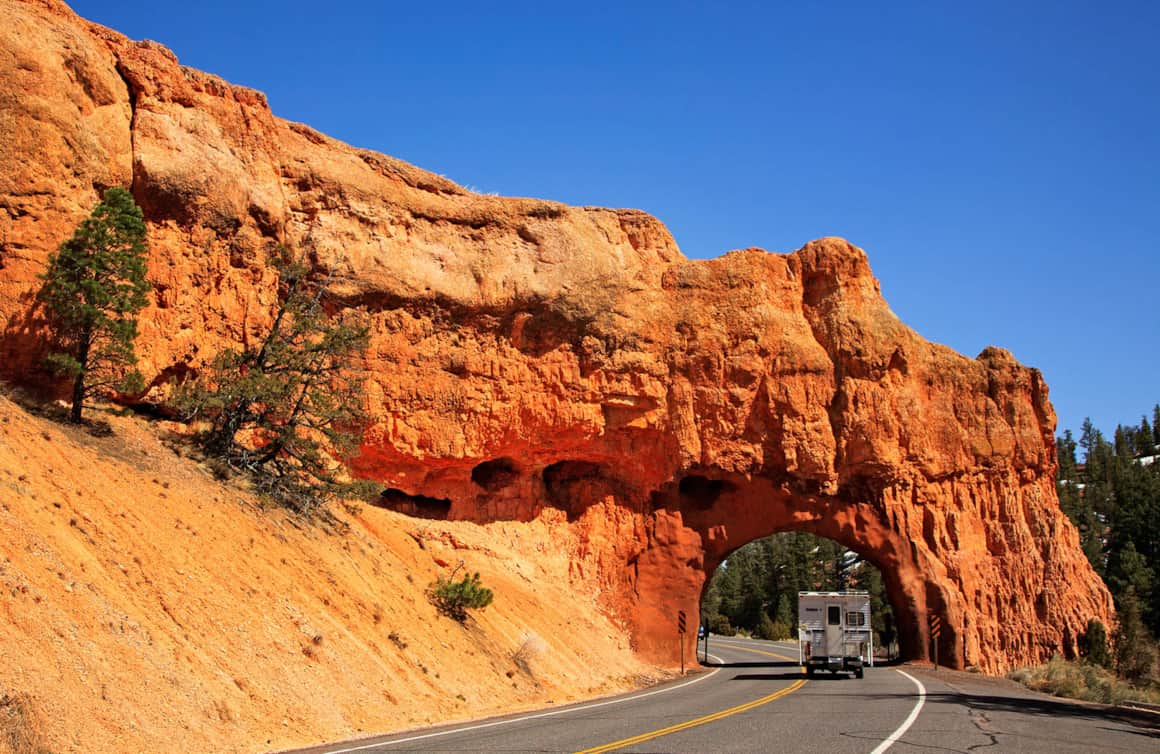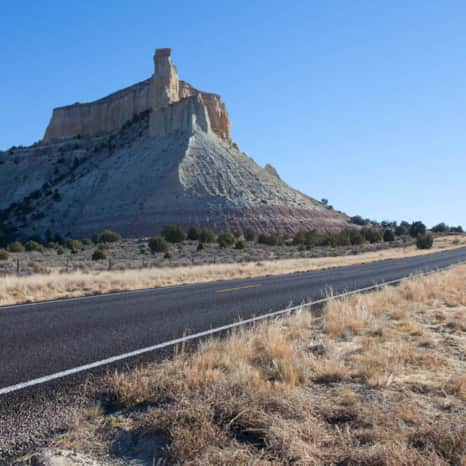 Exploring Scenic Byway 12
This is one pretty epic road. Sure, the whole drive can be completed in three hours if you're just passing through. But even a four-day itinerary would just scratch the surface thanks to the byway's proximity to multiple state parks (Kodachrome Basin, Escalante Petrified Forest, Anasazi State Park Museum), national parks (Bryce Canyon and Capitol Reef), scenic backways for well-prepared travelers (Cottonwood Canyon, Hole-in-the-Rock, Burr Trail, Hell's Backbone) and virtually endless outdoor recreation options on the expansive Dixie National Forest.
For now. Let's focus on the road ahead: Hit the pedal straight through to the various geological oddities along the Grand Staircase-Escalante National Monument or check out the many other stops along the way. Scenic Byway 12 begins to the west in Panguitch and ends in Torrey to the northeast. It connects Bryce Canyon and Capitol Reef national parks, and, of course, brings visitors to a number of other amazing destinations along the way.
What You'll Remember
As you proceed east from Panguitch, you'll enjoy driving through the two red arches in Red Canyon. Then, you'll be in awe as you lay witness to the actual "stairs" in the Grand Staircase-Escalante National Monument just past Henrieville — a different color of sandstone to the north and to the south. Along the "Hogsback" between Escalante and Boulder, hairpin turns dare you on a road that drops off drastically from the shoulders down into deep canyons below. You'll yet again change geography as you traverse through the aspen and pine groves, and meadowlands of Boulder Mountain before finally heading back to the desert near Capitol Reef. Don't worry, there are plenty of pull-offs and scenic overlooks so you don't have to take pictures while driving (not recommended).
In short, fans of scenic driving, motorcycle touring, epic bike rides and people with eyes with love this journey. It's even better if loved ones don't mind you saying "wow" a thousand times over the course of the 122-mile drive.
What Makes it Great
The sheer diversity of geography is incredible and unique to Utah and the United States. Scenic Byway 12 affords access to a number of national parks, state parks, national monuments, scenic overlooks, and plenty of great restaurants and shops. You can enjoy the highway over the course of your vacation as you make stops along the way, or you can drive the entire expanse in one 65 m.p.h. whirlwind of beauty in a day.
GPS Coordinates and Driving Conditions
Utah's Scenic Byway 12 begins in Panguitch (37.749625, -112.376541) in the west and ends in Torrey (38.298762, -111.402073) to the northeast. It can be enjoyed by driving either east or west — or both, multiple times. The road is open year-round, but after major winter storms, sections might be impassible until plowed, and ice can make some sections white-knucklers especially on the Boulder Mountain stretch during the winter. There are no fees to drive on Scenic Byway 12, although some destinations and attractions along the way — off of the highway — have an entrance fee. Feel free to bring a dog, but most areas and trails along the highway require the pup to be on leash.