Volunteer and Vacation at Best Friends Roadhouse and Mercantile
Take a trip with your best furry friend! Stay at the Best Friends Roadhouse and Mercantile and volunteer at the Animal Sanctuary in Kanab, Utah.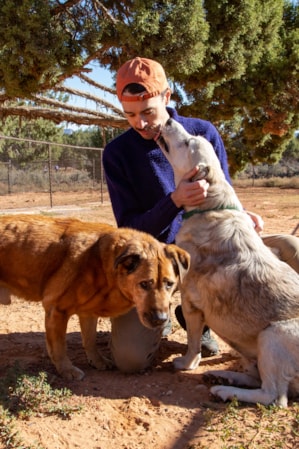 Abbie Mood Lang was on a solo trip to the Best Friends Animal Sanctuary in Kanab, Utah, one of the country's largest refuges for companion animals on 3,700 acres of property. She was exploring the desert of southern Utah on a unique kind of vacation, one where she'd spend her time hiking and adventuring but also helping animals in need. She volunteered a few hours a day, mostly walking dogs and playing with cats.
"I had heard that Best Friends had all kinds of animals: dogs, cats, bunnies, pigs, horses," Lang says. "I knew I wanted to check it out. If you're an outdoor enthusiast, and you want to do some volunteering and some hiking, there's no better place to go. Just be warned: If you're an animal lover, it's hard not to want to take all the animals home with you."
Sure enough, at the end of her trip, Lang wanted to adopt a dog. But she had two dogs at home already, and her husband didn't particularly want a third. So she decided to bring home a pair of guinea pigs instead. She named them Kip and Baxter, and they quickly became part of her family. As far as souvenirs from a trip go, these two were pretty unforgettable.
Volunteer vacations, or voluntourism, as it's often called, is a growing phenomenon, with more and more travelers choosing to take trips that give back to the communities they're visiting. The experience can be helpful for the place you're traveling to and beneficial for you, too: Research shows that volunteering can lead to improved mental and physical health, by reducing stress, increasing social interaction and giving volunteers a sense of purpose.
Choosing the right place for a volunteer trip might be the most challenging part: How do you pick a destination or organization that will benefit from your help and can also provide a getaway for you? Best Friends Animal Sanctuary in Kanab, Utah hits the mark on both of those things. Rescued animals need your love and attention, while the healing power of the desert can be a much-needed sanctuary for you, too.
You can also choose to rest near animals at night, too, by staying at the sanctuary's lodging or RV sites. Or discover the newly opened Best Friends Roadhouse and Mercantile, a boutique lodge five minutes away in Kanab, which welcomes pet sleepovers. (See the "Stay here" section below)
How To Volunteer at the Animal Sanctuary
Denny Erardi loves dogs. She and her husband have two dogs at their home in California's Bay Area. And they've taken on additional pups for long-term fostering, including an energetic boxer-lab mix named Harvey, who Erardi met and fell in love with while volunteering at Best Friends.
Erardi made her first trip to Best Friends in 2013, at the suggestion of an animal-loving friend she knew from her corporate finance days. Nowadays, she visits the sanctuary three times a year or so — sometimes for a few days and as long as three weeks. She often works in Dogtown Admissions, where dogs are brought in for evaluation or medical rehabilitation when they first arrive. Many of these animals come from traumatic pasts or home lives where they were abused. So, Erardi's face might be the first kind of person that animal has seen in a long time.
While she helps the animals, the animals also comfort her. "My life is fast-paced, materially oriented, wrapped up in the doing, achieving, accelerating," Eradi says. "Coming to Best Friends stops all of that in its tracks. It's simple and antithetical to my normal life. There's nothing for me to prove and everything for me to gain."
The animals at Best Friends range from dogs and cats to potbelly pigs, horses and goats. They are either being rehabilitated and hopefully adopted, or they'll live out the rest of their lives at the Utah sanctuary. Pets left homeless by Hurricane Katrina in 2005 ended up at Best Friends, as did many dogs from the dogfighting business owned by NFL quarterback Michael Vick.
The animals live in separate parts of the property, which have names like Horse Haven, Cat World, Dog Town, and Piggy Paradise. The names are fitting, considering how well the animals are treated here: You'll find a dog fitness area, electro-pulse therapy treatment for horses and screened-in strollers for taking cats on walks.
Visitors of all ages can join a guided tour of the facility during normal operating times (you'll want to make a reservation ahead of time). But if you want to really get a feel for what they do here, volunteering for a couple of hours or days is a great way to see the inner workings of the sanctuary and spend quality time with animals. Kids as young as six are welcome to volunteer, alongside a guardian, with select animals. Many families come together to spend time with furry friends in the desert on a trip that's as feel-good as it is fun.
As a volunteer, you'll get to walk or help socialize dogs, make toys for bunnies, help with feeding and grooming, give parrots a shower or rub the belly of a pig. There's even an overnight option where you can bring an adoptable dog, cat, or bunny to your pet-friendly accommodations for a sleepover, a nice trial option if you're considering adopting.
About Best Friends Roadhouse and Mercantile
The Best Friends property, located in a picturesque gorge filled with juniper bushes and red-rock cliffs called Angel's Canyon, has miles of hiking trails and undeveloped wilderness for the animals — and you — to roam. The sanctuary offers lodging for a limited number of volunteers in eight cottages, four cabins, and six RV sites on the property (camping from $30 a night; cabins from $60 a night).
Or stay five minutes away in the charming town of Kanab at the 40-room Best Friends Roadhouse and Mercantile (from $179 a night), which opened in 2019 and doesn't just allow pets but welcomes them with open arms. The hotel comes with pet-washing stations, doggy beds, and a fenced-in park with a splash area. The Kanab area has plenty of other lodging options, too, from hotels to vacation rentals to camping.
Make Kanab Your Basecamp
Shari Wolf first visited Best Friends in June 2012 after a Rim-to-Rim adventure in the Grand Canyon. A colleague of hers had recommended the sanctuary, so she spent four days volunteering with the animals and hiking around the area. Since then, Wolf has returned nearly every year, sometimes twice a year for longer stays each time. Her most recent visit was 17 days.
"Kanab and Best Friends are without a doubt my happy place," says Wolf, who lives in a high rise in Chicago and celebrated her 60th birthday with pals at the animal sanctuary. "The combination of the incredible caregivers, staff, volunteers, the animals and the area gives me a feeling of happiness and contentment like nothing I can get elsewhere."
Although Wolf says she feels calm and at peace at the sanctuary — a welcome respite from her normally high-strung life — mostly she loves how active she gets to be on her vacations in Kanab. "Walking our sleepover dog in the morning, taking dogs for walks during my morning shift, taking our sleepover dog for a hike in the late afternoon — it's fresh air, the outdoors, animals, and committed caregivers who give their hearts and souls for the animals," she says.
If you're visiting Best Friends, make Kanab your base camp to explore greater Kane County and Southern Utah. This is the heart of the famed Grand Circle, a loop through the most legendary national parks in the Southwest. Zion National Park, Bryce Canyon National Park, the North Rim of the Grand Canyon, and Grand Staircase-Escalante National Monument are all within reach. The soft, pink sand dunes of Coral Pink Sand Dunes State Park are less than 30 minutes down the road. Want to visit during winter? Kanab makes a great winter getaway that's less busy than other Utah hotspots during the wintertime.
In Kanab, you can go glamping, explore old Western movie sets, ride horses, hike through slot canyons or sign up for a dark sky tour. For foodies, award-winning chefs have taken up residence in Kanab. (Read and watch: 5 Road Trip-Worthy Restaurants in Kanab) Don't miss pastries and coffee at Kanab Creek Bakery, enchiladas at the Rocking V Café and the foraged mushrooms and avocado toast at Sego. That should fuel you for all the work and play left in your day. (Read: 15 Must-do Adventures in Kanab)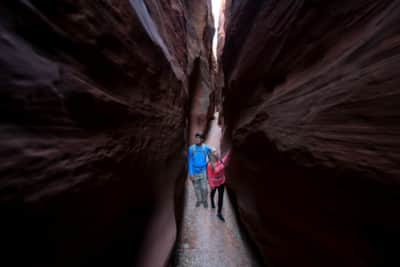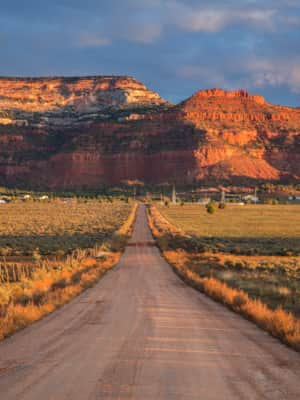 The Creature Comforts of Kanab
Visit Kanab, a welcoming town with classic Western roots and modern-day amenities sitting smack in the middle of Southern Utah's greatest outdoors.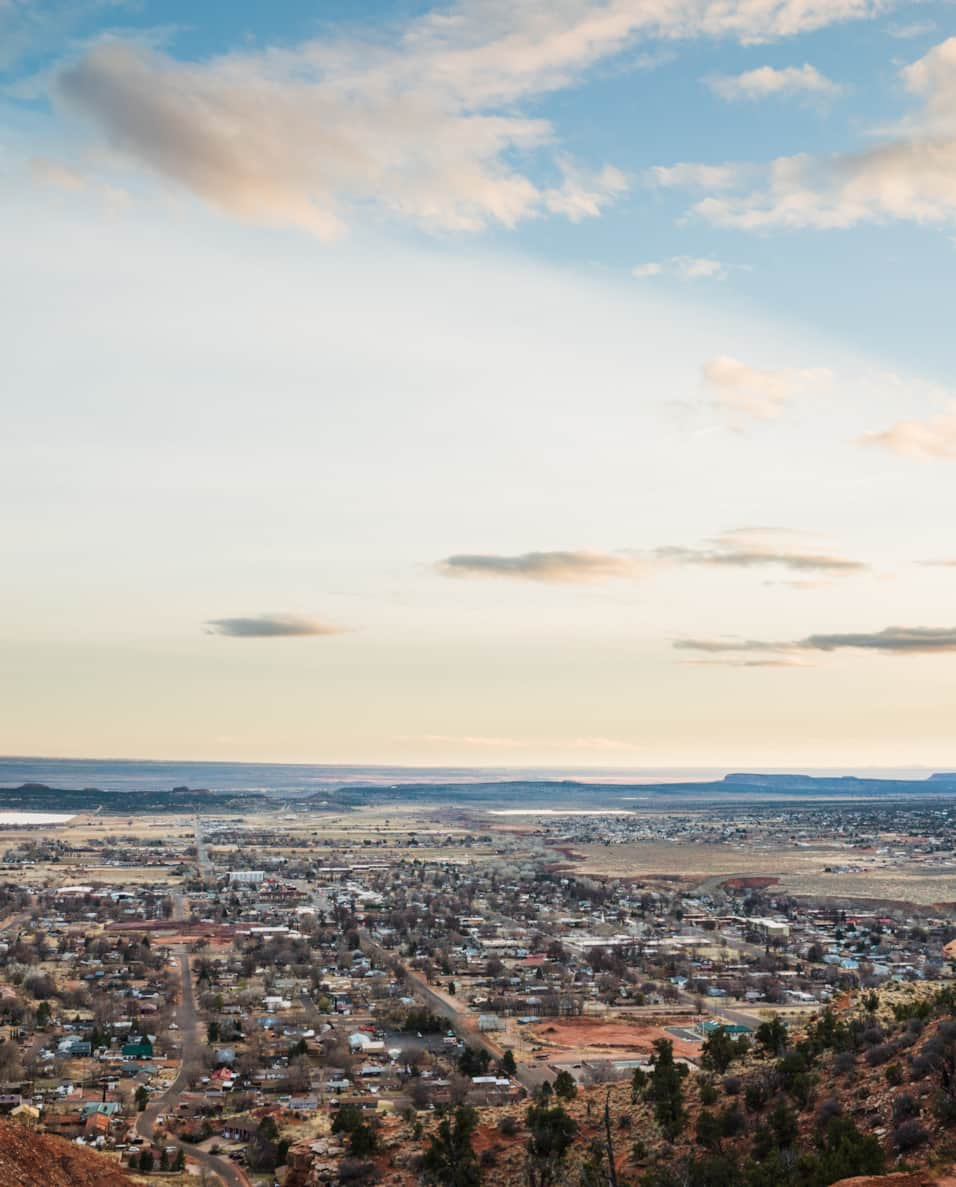 Base Camp Kanab
From the vermilion, white and pink cliffs and wide expanses of Grand Staircase–Escalante National Monument, to the twisting sandstone bottlenecks of Buckskin Gulch, even the vertigo-inducing views of Zion National Park if you've never been, this six-day itinerary will show you why Kanab is the perfect base camp for adventure.
Highlights
Grand Staircase–Escalante National Monument
Lake Powell
North Rim Grand Canyon
Zion National Park