U.S. Federal Shutdown Information
At this time, all of Utah's national parks, monuments and recreation areas remain open.
Learn more.
4 Tips to Prepare for Utah's Winter Backcountry
If you're seeking solitude, adventure or just some untracked snow, the backcountry undoubtedly has a lot to offer. But it's a playground that's not without risk, so here are four tips to help get you prepared.
Each winter, Utah's mountains play host to layer upon layer of The Greatest Snow on Earth. This motto refers to our unique combination of quality and quantity of snowfall. With 15 ski areas to choose from, stretching from the northern border to the southern red rocks, there is no shortage of lift-serviced options for skiers and snowboarders. Our famous powder, however, does not end at the ski resort boundary. In fact, outside of the resorts, there are seemingly endless expanses of public land to be explored. This area, in skiing parlance, is called the backcountry.
For anyone seeking solitude, adventure or just some untracked snow, the backcountry undoubtedly has a lot to offer. But it's a playground that's not without risk — namely avalanches — and there is a lot to know before you venture into its depths. For more than 40 years, the Utah Avalanche Center (UAC) has been giving backcountry users the best forecasts, data and education about navigating Utah's backcountry areas safely. So however you're planning to recreate — be it skiing, boarding, snowmobiling, hiking or hunting — here are four tips to help get you prepared.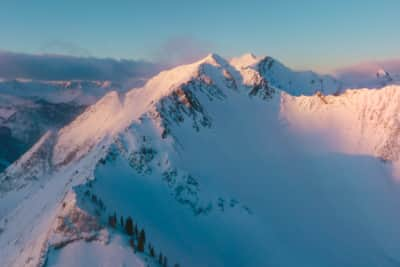 1. Know the Safety Gear
If you're heading into the snowy backcountry, there are four absolute essential pieces of safety gear you'll need: an avalanche transceiver (beacon), shovel, probe and a backpack to carry your gear. There are also additional items that the UAC recommends, but acquiring the gear is only half the equation. You must also familiarize yourself with how to use it in the event of an emergency. At the beginning of every winter, I make sure to do a practice day at one of Utah's beacon parks. This helps ensure my gear is functional, and it's also a great refresher on how to efficiently operate each piece of equipment. Every second counts during an avalanche rescue, so before an emergency arises, make sure you know how to use your safety gear.
2. Take an Avalanche Safety Course
Before venturing into the backcountry, I cannot emphasize enough the importance of formal training. Thanks to our active backcountry community in Utah, it's easy to find and register for a local avalanche education course. These classes are available for all levels, and are instructed by trained backcountry and avalanche safety professionals. They will teach you how to navigate the backcountry, what to look for when identifying hazardous terrain or snow conditions and how to perform effective rescues in the event of an emergency. Since taking my first course more than 15 years ago, I try to take a refresher course every few years to refamiliarize myself with the fundamentals of avalanche safety. There is always more you can learn!
3. Check the Forecast
As a weather forecaster myself, I know the critical factor weather can play in backcountry and avalanche conditions. While storms that bring heavy snowfall to the mountains of Utah often lead to the best powder skiing conditions, they can also create unstable snowpack that is more likely to result in avalanches. There are many meteorological variables that can affect the snow's stability. A few of these factors include the amount of snow, the density of the snow and the wind both during and after a storm. Even the specific types of crystals formed within snowflakes can be a key component for determining snow stability in the backcountry. While my expertise as a weather forecaster can help guide skiers to powder, it's often what happens after the snow accumulates that is essential to assessing risk in the backcountry. The UAC has a team of snow science experts who release daily forecasts that detail the risk levels associated with recreating in the backcountry. Each elevation, slope angle and aspect (direction) of the mountain can have its own unique risks on each day. The UAC forecast is a crucial piece of the puzzle that every person entering the backcountry should read daily throughout the snow season.
4. Start Slow
Once you've got the gear, training and forecasts in hand, I still advise easing into the backcountry. Diving headfirst can be overwhelming and can lead to accidents. You may even want to start out by hiring a backcountry guide. My personal approach was to find ski resorts with an uphill policy — providing a controlled environment for me to get comfortable with my gear and build cardiovascular fitness. Once I felt confident in my abilities, I moved onto backcountry "green routes," hiking and skiing slopes with angles less than 30 degrees. Avalanche risk increases with slope angle, and staying under 30 degrees can reduce your risk. I still utilize this strategy on days when the avalanche forecast indicates elevated risk.
Just remember that winter recreation in the backcountry has a lot to offer, but it is essential to be prepared. And whether you're a new or experienced backcountry recreationist, keep practicing your skills, monitoring forecasts and expanding your knowledge so that you can help mitigate risks for yourself and those around you.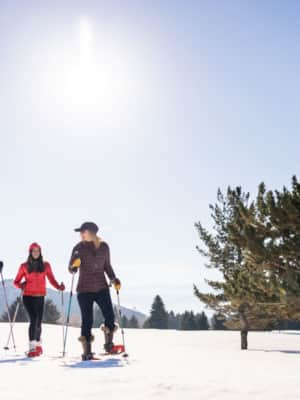 Winter Activities
Winters in Utah may be known for having The Greatest Snow on Earth®, but there is so much more to explore off the slopes.