U.S. Federal Shutdown Information
At this time, all of Utah's national parks, monuments and recreation areas remain open.
Learn more.
Turning Carbon Into Culture
Art, Amtrak and a riverwalk anchor Helper, Utah's new identity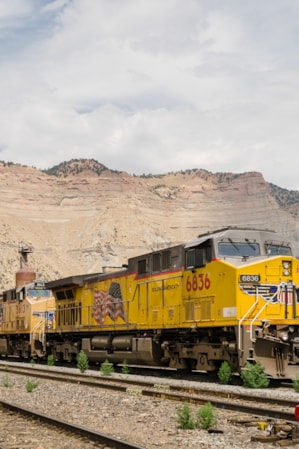 Along the rolling river parkway, sunlight strobes through breaks in the canopy. I'm on a rented electric bike so pedaling feels barely more strenuous than sitting in a chair tapping my foot. A family of four has gathered by the Price River. The kids, Evey and Paul Rodriguez, ages 4 and 6, are playing in the pooling, rushing water at the pilot beach. The water is chilly — it has traveled from high-elevation Scofield Reservoir — but the sun is bright and warm on the late August morning.
Paul is eager to discuss the beach; he observes how it is their favorite place to go and that they come here three times a week. Their parents, Paul and Desiree, keep an eye on their kids.
They, too, were born and raised near Helper, in Central Utah's Carbon County.
The scene is quite a turnaround given that just a couple of years earlier, this beach was obscured by piles of scrap metal and tires, the river forgotten. Now, the river is reemerging. A friendly, tree-lined parkway marks its path. And barely one block away, the historic, rural town of Helper is building something that feels unique in America today.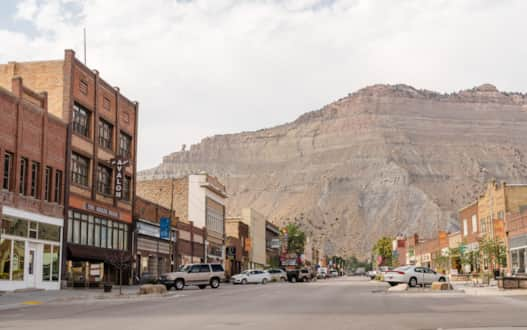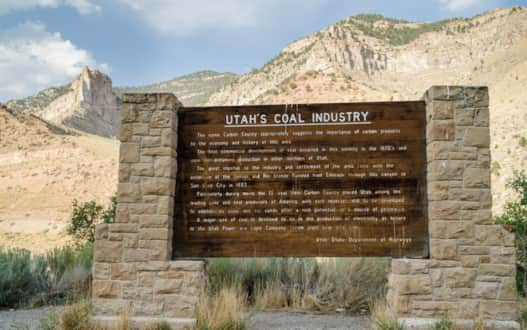 Same Town, Different Outlook
In 1881, surveyors for the Denver and Rio Grande Railroad anticipated coal would be unearthed. That same year, Helper was settled. In a matter of years, the rugged mountains and canyons of the aptly named Carbon County yielded countless veins of coal that became the foundation of an industry that has seen fortunes built and catastrophic disaster. (Read: A Walking Tour of Helper)
I get the feeling that Helper's residents have not been this energized about its future since coal was discovered. A new economy is emerging from the bedrock of the old mining town, and only a portion of it has to do with removing rock from the earth.
The community-built Western Mining and Railroad Museum remains an anchor of historic Main Street, but the buildings around it are no longer vacant. There are Utah artists occupying multiple studios — a decades-old original J.C. Penney facade and minimally changed interior displays fine art and down the street a distinctively modern space has taken over the former corner grocery store, yet somehow blended in. Other renovations are in progress.
Meanwhile, across the street, sits an old-timey bar with a pay phone that can only receive calls, not make them.
The rugged backdrop of the seemingly impermeable wall of the Book Cliffs mountains sweep across the north side of town, a fixture in this town's physical landscape. Looking at a map, the topography of the cliffs seem to swallow the town up in the river valley between the Western Tavaputs and Wasatch plateaus. The railroad passes through here, as it always has. There is no wrong side of the tracks and the tracks are integral in the town's identity.
For everything that has stayed the same, a lot has changed. A little luck and timing preserved this town's architectural heritage — and that same character will lead it into the coming decades thanks to an effort to blend tradition with fresh thinking.
And, appropriately, women are leading the charge.
When visitors stroll Helper, chances are they'll be greeted by locals. One more recent transplant who might welcome you? That's Mayor Lenise Peterman. Mayor Peterman initially got involved in the Helper Arts Festival, but soon got the idea to run for office to support the town's revitalization efforts. She is matter-of-fact in conversation and while she knows her values and talking points, she is not scripted.
In 2017, Peterman became the town's first female mayor. Factor in the predominantly young, female city council, and Helper feels ahead of the times and in control of its destiny — maybe for the first time since coal was king and lured a diverse and international populace to the Central Utah town.
"Like so many Utah towns with so much to offer visitors, Helper is rightfully preoccupied with preserving and protecting the tight weave of that community."
Restoration and the Labyrinth
In recent years, many cities and towns have stepped up to reclaim their diverted and broken rivers to reintegrate them back into the community.
Helper's river restoration has been several years in the making and has phases yet ahead. The several miles of river walk we ride today reveal only progress: easy access points to the water, clean river banks cleared of invasive species, charming bridges. On my previous visits to Helper I had no idea this river existed. Now, it's a showpiece. At the end of our ride, Councilwoman Malarie Matsuda shares the product of her first foray into public life: the seven-circuit Helper Hope Labyrinth built with rocks repurposed from the water infrastructure project.
These restoration efforts recapture the town's historic identity. Meanwhile, the year I visited, every building on Main Street had been purchased and twelve renovation projects were in process. It doesn't sound like a lot until you see the size of the town. And, like Mayor Peterman, many owners came initially as visitors and were lured to stay by the town's promise and authenticity.
Leaving Happiness Within, the town's spacious and welcoming coffee shop, I swivel when I hear a car honking and I immediately see a cyclist. Being a city dweller, I'm ready to roll my eyes at a perceived aggression, but the motorist is only waving at the guy on the bike, who waves back.
I'm heading to Clear Creek Adventures to pick up the electric bike. Co-owner Mallory Dunn tells me what started as a plan to offer road biking tours throughout the community quickly expanded when she and husband Johnny jumped on the opportunity to occupy a storefront on Main Street. They added outdoor gear rentals and expanded their tour offerings, quickly filling a need given the small town's growing visitation and its proximity to a wide array of outdoor recreation — the river, the canyons and the trails for hiking, mountain biking and ATVing.
While visiting with Mallory, an impromptu town meeting to discuss the First Friday gallery stroll crops up among Dunn, Councilwoman Matsuda and Mark Montoya, the community's mailman for more than 20 years, as he pauses along his usual route.
Everyone has their hands in everything. It's as if the community creates a wholeness from a circuitous yet intentional pathway, at the center of which is enlightenment.
Or is that the Labyrinth?
I was in town the day after they've wrapped their quarter-century-old Helper Arts, Music and Film Festival and am told 30 minutes of intense bursts of wind that hit the area after midnight on Saturday tore apart and flattened 47 tents, canopies and booths lining Main Street. But the town rallied and volunteers had everything back in order by opening the next day.
The community stepped up in a moment of need. This is small-town America at its finest, and it's a spirit worth preserving. Like so many Utah towns with so much to offer visitors, Helper is rightfully preoccupied with preserving and protecting the tight weave of that community.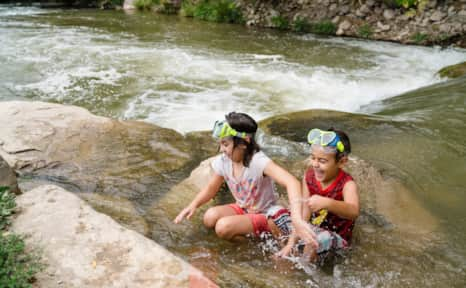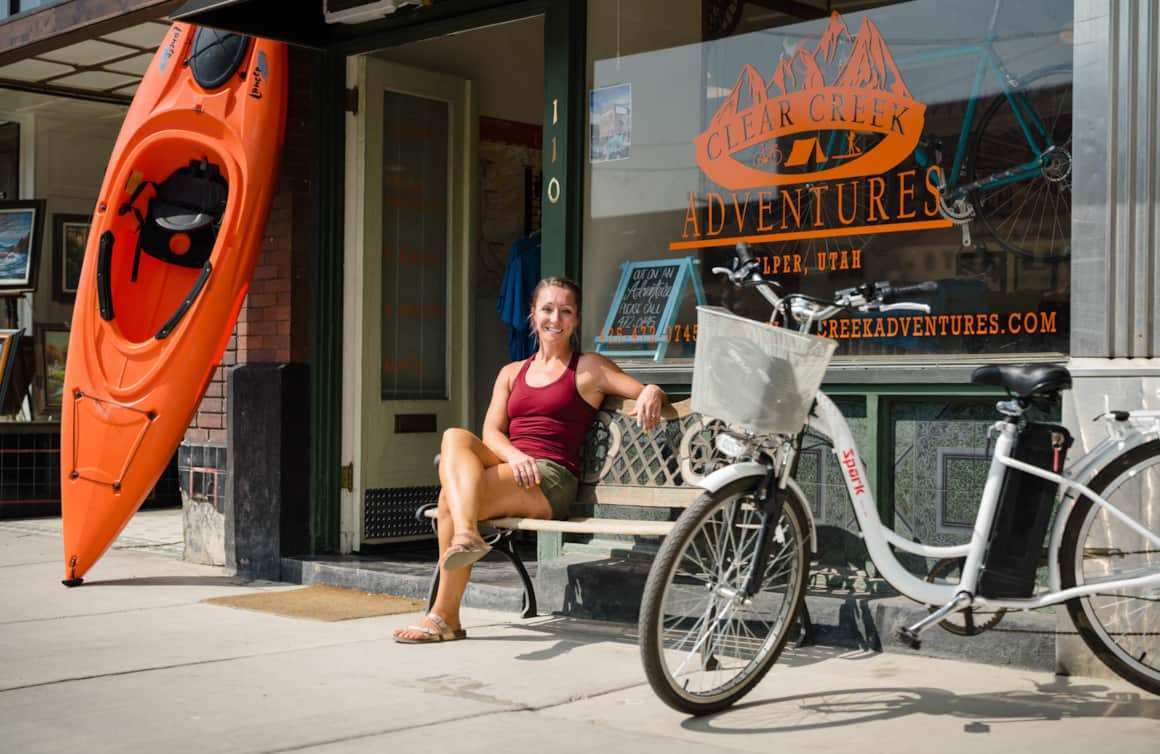 "It's a strange sensation to feel instantly transported from the old railroad town into these modern environs, yet through the exhibition, stay firmly rooted in an aesthetic definitively Central Utah."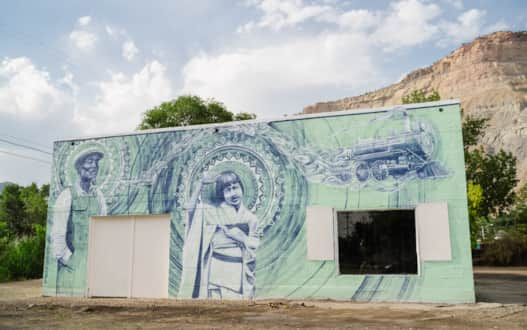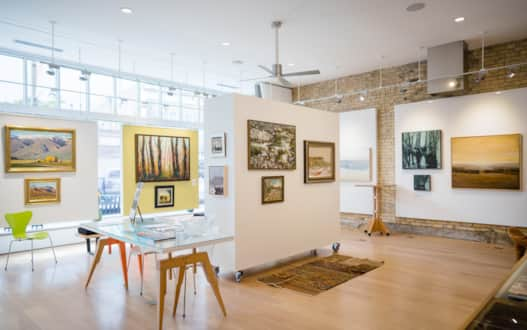 Rise of the Arts
David Johnsen always knew that growth would happen. He, along with Tom Williams, work out of the Boxcar Gallery painting an array of realist and social scenes, Johnsen lately with the palette knife in rich textures and colors and Williams capturing the Works Progress Administration style of working-class people within the rugged setting of the town. They split time in the studio by mornings and afternoons, leaving alternating time to draw inspiration from the world around them. Johnsen wears a neat beard, is warm and zen-like and lines bunch around his eyes when he smiles. He shows us the back patio of their gallery. It's the east-facing side of the row of buildings with the iconic view of the Book Cliffs along the West Tavaputs Plateau in the near background, and the railroad lines in the immediate foreground.
Something about this place draws and catches the eye. Johnsen, Williams and co-arts-pioneers David Dornan and Marilou Kundmueller bought buildings here and launched an arts festival when no one else was looking at Helper.
Now, people are looking and more artists are joining the community.
Steven Lee Adams had been driving 60 miles into Helper from Mapleton to work at his studio for about six months before realizing his heart was in Helper and he permanently relocated. In his gallery's basement Adams runs an intricate 22- and 12-karat custom framing operation, representative of just how elevated the art here is. And it's one of two custom frame operations in the small town because of the extremely high value and quality of the art being produced.
Adams smiles easily when he enters descriptions of his paintings, and I get the feeling that nostalgia and sentiment breathe through the plein air vitality of his work, even where the palette is muted. With deep greens and dark woods, the gallery space is moody. But if Adams is a tormented artist, he hides it well.
Adams shows us the mismatch collection of original light fixtures that a previous tenant had removed, only to be returned by the person hired for the job who felt they'd someday serve out their original purpose. It's how things work here. Adams says people in the community pick things up as they see them — serendipity has a lot to do with how things come together. He says that it's really hard to force these things well and still be authentic. Matsuda says that happens a lot around here and points to the recently restored vintage gas stations.
As if to accentuate the point, while touring restoration expert Gary DeVincent's storefront north of Clear Creek Adventures — where his personal collection of vintage Harley-Davidsons are now displayed — Carolyn Kendall from Elmo, Utah, stopped by with a flat of empty vintage glass Coke bottles, just in case he might be able to use them. Visitors to Helper can see his work on either side of the main drag in the form of those retro service stations. They're non-operational but meticulous, authentic recreations of their former lives. DeVincent reconstructed these sites from his personal passion and extensive collection of relics that, once he discovered Helper, all just seemed to fit better there than anywhere else.
In Helper, these things found their purpose and fit in. DeVincent points out a small structure outside his workshop that he intends to house a classic soda shack, ice cream or hot dog stand — something family friendly and an extension of the era and quality of his work. (The nostalgic "Filling Station" opened in 2020.) DeVincent remarks that there's a community in Helper unlike anywhere else he's been. He says it's a camaraderie you can feel.
At the Adams gallery, we had stepped out back to see the very view that Adams had captured for the Anne Jespersen Fine Arts Gallery's recent "Helper and the Landscape" exhibition. Gallery owners Anne and Roy Jespersen bring a wealth of world-class design and international humanitarian leadership to their gallery, which is also their home.
When I enter the gallery, I am instantly struck by the decor. There's exposed brick, metal fixtures, and light spills in from the mostly glass facade, itself set-in flush with the historic red-orange and burgundy brick of the historic building. There's a drum set inside, and a living area set deeper in the structure. Lou Monte's quasi-Italian "Bella Notte" elegantly fills the gallery. While the space itself feels thoughtfully designed and curated, it's all in support of the main attraction: The artists on display are truly outstanding, curated from 109 potential contributors who capture the Helper vibe. It's a strange sensation to feel instantly transported from the old railroad town into these modern environs, yet through the exhibition, stay firmly rooted in an aesthetic definitively Central Utah.
With a white silky mane of hair and round, black spectacles, Roy Jespersen is perfectly at ease welcoming us into their gallery and home as he explains the objective of The Helper Project to support the revitalization, beautification and cultural enhancement of its namesake town. In just the year or so it's been active, the nonprofit already has nearly two dozen projects under its belt. It points to a promising present and future for the town and its visitors, and all thanks to a love for Helper and the vision of its pioneer artists.
Return to Rail
They say the railroad built this town. That, I'm told, is literally true. Helper's historic Main Street came to life as a company town, created by the railroad for its employees. No story about Helper is told without calling out the "helper" engines to assist heavy loads up Soldier Summit. Railroad could yet again be a key to Helper's future.
The small town is a stop along the Amtrak route from Chicago to San Francisco known as the California Zephyr. Locals such as David Johnsen have long utilized Amtrak for quick day trips into Colorado, but these days the city is imagining elevating the profile of the stop both for visitors setting a base camp in Helper and as a stop along the route.
Helper is in early planning stages for a potential Helper depot pedestrian corridor, development that would create a clear interface between the train station and backside of Main Street. Anne Jespersen is at the forefront of the conversation, looking for the path forward.
Helper is one of those very few Utah towns not founded by members of The Church of Jesus Christ of Latter-day Saints. Historical numbers like "27 native languages" and "17 bars" suggest that the town has always been a little different. Today, it prides itself on its inclusiveness and progressiveness, making it attractive to artists and welcoming to visitors. And Helper residents are just stubborn enough to protect their heritage without depending on it.
When I visit, there's a lot on the horizon, but it's no longer just dreams. By the time I return, I anticipate new restaurants and a bakery, expanded gallery hours, more shopping, additional rooms and maybe even an overhauled passenger station to ground Helper firmly back into its identity as a railroad town — but a living, breathing railroad town tied to an enchanting history and nurtured by leadership without a personal agenda. This town has a future, and it is one built by the community, through hard work, love for place and a touch of serendipity.