How to Maximize an Afternoon at the Natural History Museum of Utah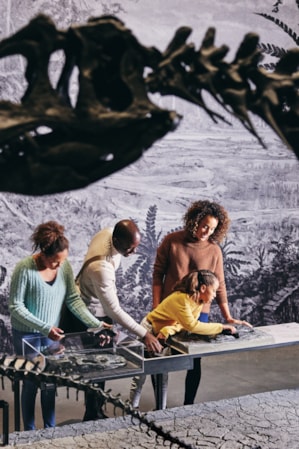 "Let's start at the top and work our way down," I say. My mom and I are standing in the Canyon, Natural History Museum of Utah's grand open atrium, located on its second floor.
We skip the Museum Café, Store, and Utah Futures exhibits — for now — and take the elevator up to the fifth floor Rooftop Terrace and Native Voices exhibits. This quiet level offers panoramic views of the Salt Lake Valley and is the perfect place to start your afternoon at the Natural History Museum of Utah.
Location, Location, Location
Staring out from this outdoor deck, you can see much of the city, but little of the impressive building the Natural History Museum of Utah is housed in — the Rio Tinto Center. Spanning five floors and tucked along the foothills of Salt Lake City's Wasatch Mountains, the museum is adjacent to Red Butte Garden, the Intermountain West's largest botanical garden and part of the University of Utah campus.
The Rio Tinto Center's building was uniquely constructed with 42,000 square feet of shining copper mined from local Kennecott Utah Copper's Bingham Canyon Mine. Its brilliant edifice is designed to mimic Utah's famous layered rocks and has made the center a striking sight since its 2011 opening.
"I could spend hours walking along the elevated ramp that showcases dozens of reconstructed dinosaur skeletons and real fossils."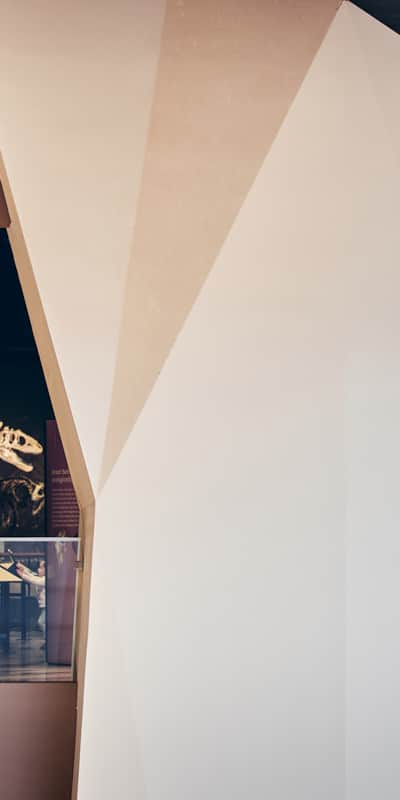 Native Voices: Utah's Tribes
Back inside, we learn about the traditions of Utah's eight federally recognized Indian tribes in the Native Voices area through audio and artifacts before continuing downstairs to the Life exhibit. Local tribes were consulted on the creation of this exhibit.
Life: DNA to Ecosystems
This fourth floor has so much fascinating information that it can be a bit overwhelming. See the web of life illustrated through DNA, Utah ecosystems, preserved butterflies and local animals. Hit the highlights before moving along to the next floor where dinosaurs await.
Land: First Peoples and Past Worlds
The museum's crowning jewel is its third floor, which we reach by following a winding ramp down Level 4's west side to the land ancient people, dinosaurs and geology galore.
Start exploring Land by touching rocks from Utah's three distinct regions: the Middle Rocky Mountains, Basin and Range and Colorado Plateau. We step out onto the outdoor terrace to see one of these regions in the wild: Utah's Middle Rocky Mountains. The towering mountains and surrounding foothills showcase this diverse area of Utah geography.
Back inside, there's a can't-miss natural disaster area focused on earthquakes. As Utahns, we've been taught our whole lives that the "Big One" is coming any day, which makes this exhibit on earthquakes and plate tectonics fascinating. If you're not into end-of-the-world scenarios, continue to the Great Salt Lake exhibit.
Great Salt Lake: The Remnant of an Ancient Lake
Can you believe the entire Salt Lake Valley was once completely underwater? The Great Salt Lake exhibit is the place to learn about the world's second saltiest lake — a remnant of Lake Bonneville. If you've recently visited the lake, walking under the display of flying seagulls and critters that call it home felt like a realistic way to experience it again. (Read: Great Salt Lake Needs Your Visit)
Past Worlds: Dinosaurs Come to Life
The Past Worlds exhibit is definitely a museum highlight. Utah is known for its diverse and plentiful dinosaur species, and fossil digs uncover new species all the time.
I could spend hours walking along the elevated ramp that showcases dozens of reconstructed dinosaur skeletons and real fossils. There's a Gryposaurus, a duck-billed dinosaur, a Utahraptor found in Moab, an Allosaurus from Utah's late Jurassic period, and a huge Stegosaurus from Utah's Dinosaur National Monument or Cleveland-Lloyd Dinosaur Quarry — just to name a few.
This gallery also displays the world's largest collection of horned dinosaur skulls and is an excellent place for geeking out on paleontology and imagining what life was like in Utah 150 million years ago.
Gemstone Central
You might be running out of time, but make a stop at the Gemstone and Minerals exhibit — across from Past Worlds in O.C. Tanner Hall. Diamonds might be a girl's best friend, but I loved all the sparkling gemstones in this collection. See rough mineral forms and beautifully cut, colorful gemstones found in Utah in a 12-foot vertical display as well as minerals from around the world in the "All the Colors of the Rainbow" exhibit.
Special Exhibits
NHMU also hosts special exhibits throughout the year, with topics ranging from chocolate to poison to predators. A recent exhibit, Nature's Ultimate Machines, showed the natural powers of plants and animals.
Canyons, Cafés, Cookies
The third floor winds down to the second where we pass the Paleo Prep Lab and see paleontologists actually working on fossils to display. (Find play areas next door in Our Backyard where tiny tykes can climb, explore and don costumes.)
The Utah Futures exhibit concludes the exhibition galleries, and I like visiting this section to learn about the implications of global issues and changing environments for Utah. The focus on sustainability and making Utah a better place makes it one of my favorite stops.
By now, you've probably worked up an appetite. We make a beeline to the Museum Café where a sunny terrace awaits. The paninis made with Utah bread and local ingredients are my go-to late lunch, but you also can't go wrong with a cup of Utah's own Silver Bean Coffee paired with an iced dinosaur cookies — they're not just for kids! Sip and snack on the terrace that looks out on the valley and distant Oquirrh Mountains or settle in at a table inside if the weather looks dicey.
Before you go, pick up one-of-a-kind only-in-Utah gifts and souvenirs at the Museum Store. Local artists craft unique jewelry for the shop, and you can also find dinosaur toys and collectible items.
Bonneville Shoreline Trail
Once you've wrapped up your museum tour, step outside and take a walk on the Bonneville Shoreline Trail, which follows the shoreline of ancient Lake Bonneville for just over 100 miles. The trail runs right in front of the museum and is open to bikers, runners, walkers and pets.
Tip: Fill your water bottle at the drinking fountain outside NHMU before hitting the trail.
There you have it! With this trusty guide, you can hit the Natural History Museum of Utah's highlights in an afternoon, giving you plenty of time to add other stops to your itinerary for a fun-filled day.