U.S. Federal Shutdown Information
At this time, all of Utah's national parks, monuments and recreation areas remain open.
Learn more.
Conquering the Deep Canyon Trail
A steep and beautiful hike in the Wellsville Mountains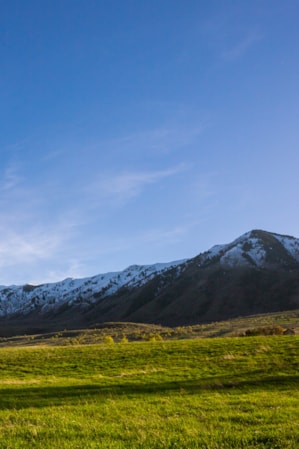 Trail Guide
Difficulty: Very Challenging
Distance and elevation gain: 3 miles and 3,300 feet
Trail type: Some bushwacking, but mostly even terrain with some hills to climb
Multi-use: No
Dogs: Yes, but must be on-leash.
Fees: No
Seasonality: Late Summer, Fall
Bathroom: No
Where to park: There's a small parking area at the trailhead.
Trailhead GPS coordinates: 41.713677, -112.016682
In late summer, hiking up the Deep Canyon Trail can feel more like bushwhacking. In fact, at first glance, the sprawling undergrowth looks like a scene plucked from Jurassic Park, a glance to the sky offers a reminder that you're not in a prehistoric era — you won't see any pterodactyls, but you'll likely spot a hawk soaring overhead.
Utah's Wellsville Mountains are some of the steepest in the country, a distinction you won't soon forget as you tackle the Deep Canyon Trail, a three-mile trek whose elevation gain — 3,300 feet — makes it a formidable outing. This northern section of the Wasatch Range between Brigham City and Logan is just three or four miles wide at its base but stays above 8,000 feet for its entire 20-mile length, which means the peaks drop off steeply on either side.
As Utah became more populated over the years, the rugged Wellsvilles were in danger of being overgrazed. Eventually, Congress created the 23,750-acre Wellsville Mountain Wilderness Area, which now protects most of the range from being grazed. It also means the Wellsvilles are exceptionally quiet: No motorized use (including bikes) is allowed within the boundaries of the wilderness area.
The Deep Canyon Trail is particularly quiet, even for a wilderness area. Bird watchers and backcountry skiers make use of the region, but for the most part, the Deep Canyon trailhead is often empty. Pull up on a weekday, and you'll likely have this lungbuster workout all to yourself.
A Challenging Trek
From the lush bigtooth maple forest at the trailhead, it's hard to see what all the fuss is about up high. This is doubly true during the summer, when you'll want to get a pre-dawn start in order to make it above treeline and get back down before regular summer storms roll in.
Whatever time of day you start this hike, you won't have much time to think about the view until much later: After dipping slightly into the forest, the challenge begins in earnest. The Deep Canyon Trail gains just under 3,000 feet in elevation in the three miles between the trailhead and the saddle at 8,120 feet, which means you'll be climbing steadily the whole time.
Fortunately, the trail provides plenty of opportunities for a quick break to catch your breath as you ascend toward the saddle. The trail heads west for about a mile, then crosses gorgeous, wide-open meadows dotted with aptly named firecracker penstemons and wild roses in early summer. Then you'll cross a dry stream, and from here, the forest gives way to delicate aspen trees.
The trail sometimes feels almost impossibly steep, but it's a solidly class I hike the entire way, meaning you won't need to do any scrambling. When you get to the base of the switchbacks, grab a drink and get ready for one last push — you're almost to the saddle! Don't worry if you still need to catch your breath a few times on your way to the top; the sweeping views of the Cache Valley behind you are a great excuse to stop occasionally.
North or South?
You'll know you've reached the saddle at the top of Deep Canyon when the distinctive Saddle Rock comes into view. This is your decision point: Are the panoramic views of the valley below enough, or will you continue on to bag Mendon Peak, one of the steepest peaks in North America?
Once you've taken in your fill of valley views (of both the Cache and Salt Lake valleys) and the unique Bear River oxbow, choose a direction and continue your journey. Heading either north or south will both get you higher up.
Head north to get to Peak 8585, also known locally as Hawk Watch Peak. The later in the season you do this one, the better, especially if you're into wildlife, as hawk migration season is at its peak in September and October. Don't forget the binoculars to help you hone in on the birds of prey that catch thermals and flock past the summit.
For a longer Wellsville tour, head south from the saddle instead. About two miles of moderate hiking along the ridgeline, along with two more summits, Mendon Peak and Scout Peak, will take you to Stewart Pass (look for a tall cairn). Another 2.5 challenging miles (not to mention a summit of Wellsville Cone) will bring you to the summit of 11,101-foot Box Elder Peak, the highest point in the Wellsville Range.
How to Get Back
From your high point, you can either head back down the Deep Canyon Trail (a word of warning: It's just as hard on your knees on the way down as it was on your lungs on the way up) or opt for the Coldwater Canyon descent, which leaves from Stewart Pass. If you plan to take the latter route, make sure you've got a shuttle vehicle at the trailhead, because the two trails don't meet up.
Regardless of your descent, it won't be long before you forget the adventure of hiking 3,000 feet up and start planning your next visit to the Wellsvilles.
Written by Emma Walker for RootsRated Media in partnership with Utah Office of Tourism.