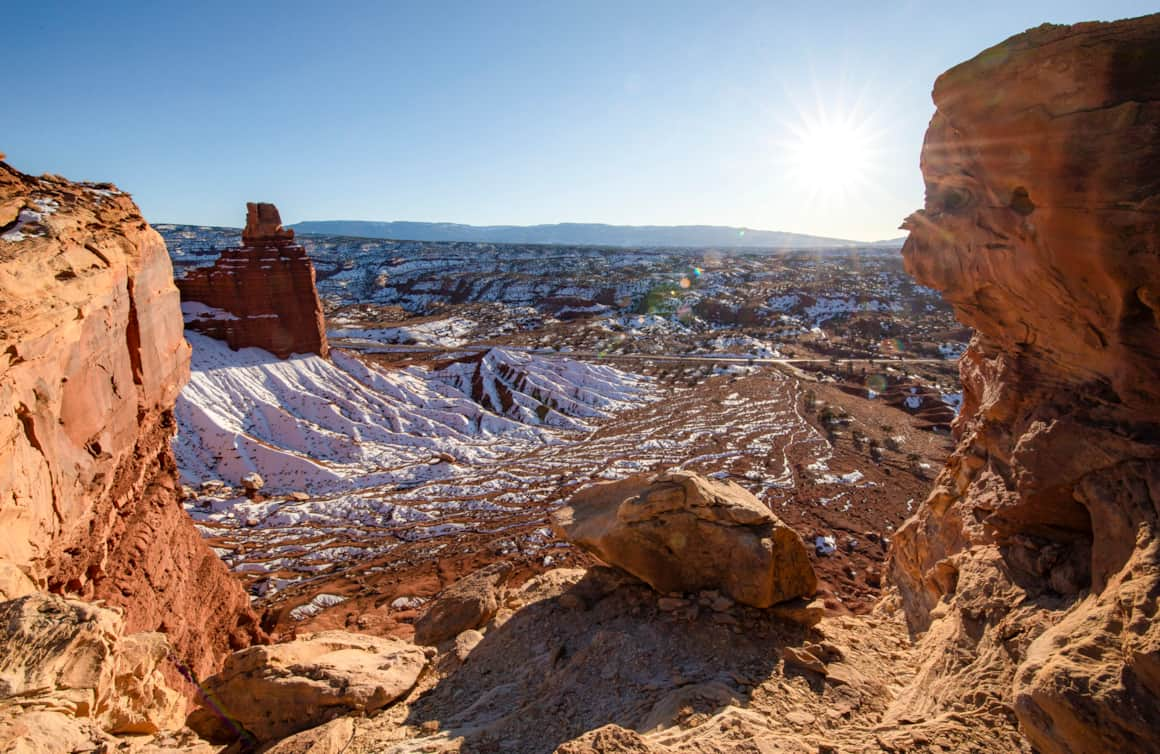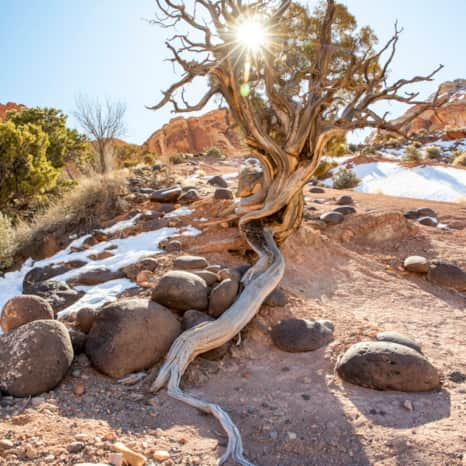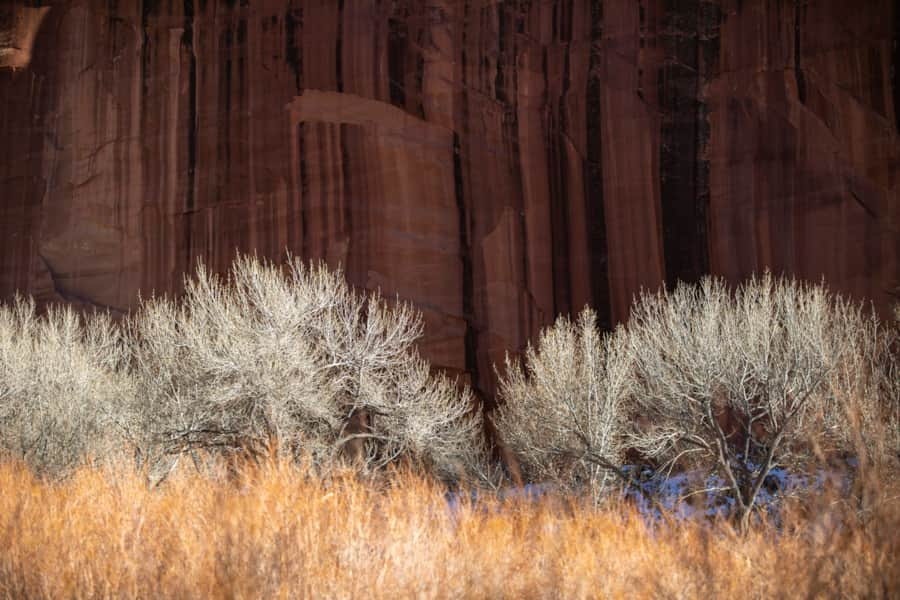 Winter Hiking Gear
Carrying winter-appropriate gear and clothing with you on your hike is the most important aspect of enjoying your hike. Without warm attire and gear that helps keep you warm your quiet, scenic hike may turn into a swampy sufferfest. So, before you hit the trail be sure you're prepared with these items:
Waterproof Boots: Know the conditions of the trail you're planning to hike before choosing your footwear. It's likely that your summer hiking shoes won't keep you warm enough, but you may not need a heavy, insulated boot either. An all-season waterproof hiking boot is generally enough to keep you warm and toasty on most moderate winter trails.
Layers: Layers, not one heavy winter coat, are the key to keeping warm when recreating in the cold. You may be surprised by how warm you get once you're climbing a steep, snowy trail. This guide from REI can help you select the right layers for the conditions you'll be hiking in.
Sun Protection: Sunscreen, hats and sunglasses are great items to bring on any hike, but they're even more important with snow on the ground. Although it's cold, and the sun may be behind clouds more often, the blanket of snow beneath your feet acts as a reflector for sun rays.
Water & Food: Like any hike, be sure to pack more than enough water and food to keep you energized. Insulated water bottles are a great way to keep your water cold without freezing, and they're also an excellent way to bring a warm, celebratory drink with you. Be advised sometimes your water reservoir's hydration tube can freeze. Remember that hiking is generally more strenuous in the winter months, so those energy snacks or a light lunch are even more important to have with you.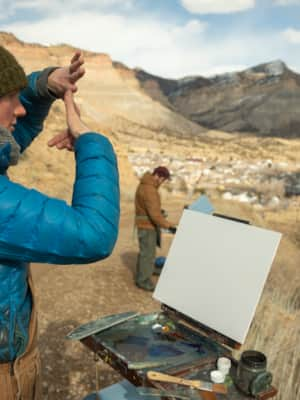 Gravity and Water: Mark Making in a Winter's Desert with Anne Kaferle
Finding Helper at a time when she "needed it the most," landscape artist Anne Kaferle has put down roots in Utah, thanks to plein-air painting and the healing power of time alone in the landscape.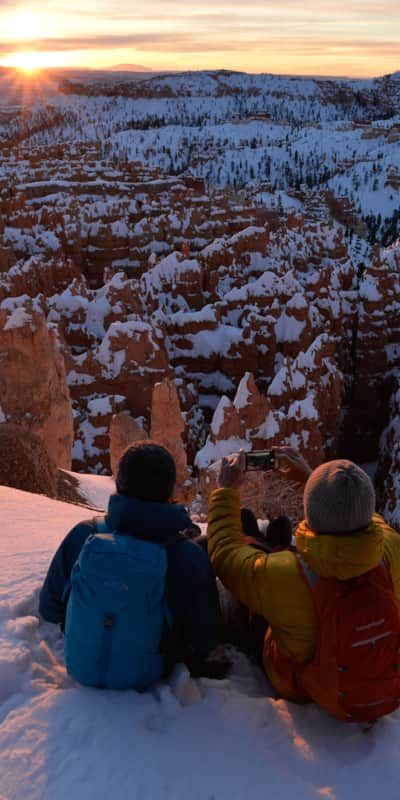 "You might think the cold is unavoidable and the terrain impassable, but if you can surpass these doubts you might just be rewarded with your best hike of the year."
Utah's Best Winter Hiking Trails
Unless at high altitudes or far away from access, most of Utah's popular hiking trails are still accessible during the winter months. Only now they're less trafficked, the views are a bit more vivid, and the snow lends a wonderful sense of quiet to the trail. You could argue that many trails are more enjoyable in the winter, but these hikes are known as bucket-list winter destinations.
1. The Narrows, Zion National Park
One of Zion National Park's most popular excursions, The Narrows, is an out and back day hike in water with mystifying sheets of ice that hang over the canyon's red rock cliffs. The canyon still has water obstacles, so you'll need to dress warm with waders and river shoes, including drysuits. Pick up gear and advice from local outfitters in Springdale.
2. Rim Trail, Bryce Canyon National Park
This Rim Trail is an easy route that connects two of Bryce Canyon's most popular overviews, Fairyland Point and Bryce Point which overlook snow-capped hoodoos in the famed Bryce Amphitheater. If photo opportunities and scenic overlooks are a must for you, then add this trail to your to-do list.
3. Corona Arch Trail, Moab, Utah
A lesser known trail in the Arches region, Corona Arch Trail is a moderate out and back trail that visits a 140-foot wide natural arch. This is a great hike for the entire family, including pets. Be sure to wear footwear with plenty of traction though, the slickrock can get icy.
4. Pine Hollow Trail, American Fork
North of the snowy red rock terrain, the Pine Hollow Trail is a 4.3 mile loop that winds through a high alpine wonderland. Picture dense sections of tall aspen trees standing quietly over a snowy forest floor. Best of all, this hike is less than an hour from Salt Lake City which makes it a great afternoon option.
5. Silver Lake Loop, Salt Lake City
Silver Lake is one of the most popular destinations along the Wasatch. The trailhead lies in the mountain town of Brighton at the top of Big Cottonwood Canyon. Expect a short, relatively mild loop that walks the border of Silver Lake and keep your eyes peeled for wildlife.
Tips From Local Hikers
Start Early: Daylight hours are much shorter during Utah's winters, and the desert gets cold quickly at night. The sun can go down as early as 5 p.m., so set your alarm a bit earlier and you'll be rewarded with a brisk start to your hike and plenty of sunshine while you're out and about.

Bring Your Camera: Winter trails are often much less crowded, which means you may have the opportunity to grab that perfect picture of landmarks like Delicate Arch without the crowds. Plus, on the higher alpine trails you may have a better chance of seeing large wildlife.
Hike Slowly and Find Traction: Certain trails can get very icy, especially in the red rock regions of Southern Utah. Some areas recommend packing crampons or microspikes. Otherwise, just make sure your footwear has plenty of tread and you take time to plant each step.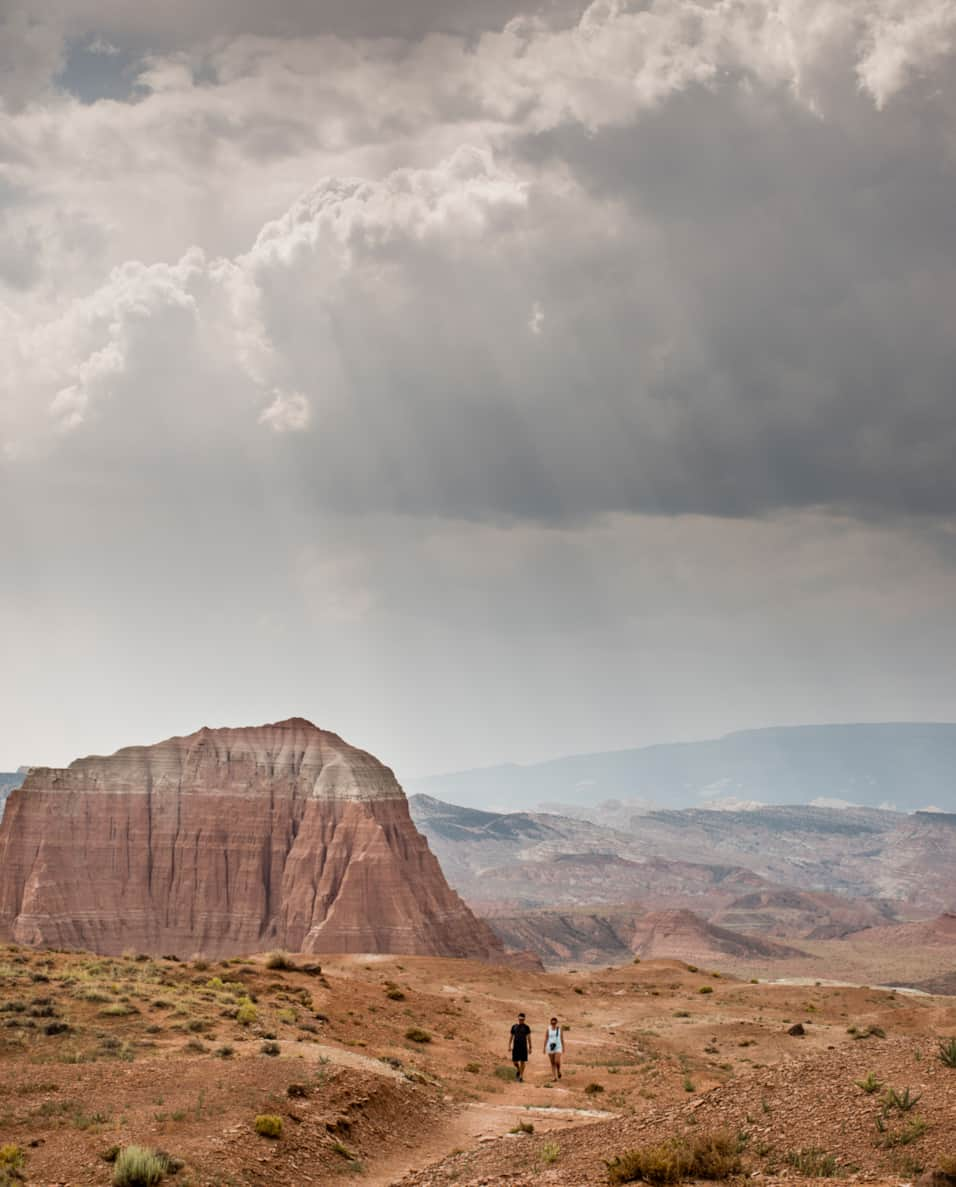 Farther Away From It All
Searching for solitude? Follow this six-day itinerary to find unspoiled wild places, hidden trails, open spaces and perfect peace.
Highlights
Red Cliffs National Conservation Area
Under-the-Rim Bryce Canyon
Monument Valley Navajo Tribal Park
The Needles District Canyonlands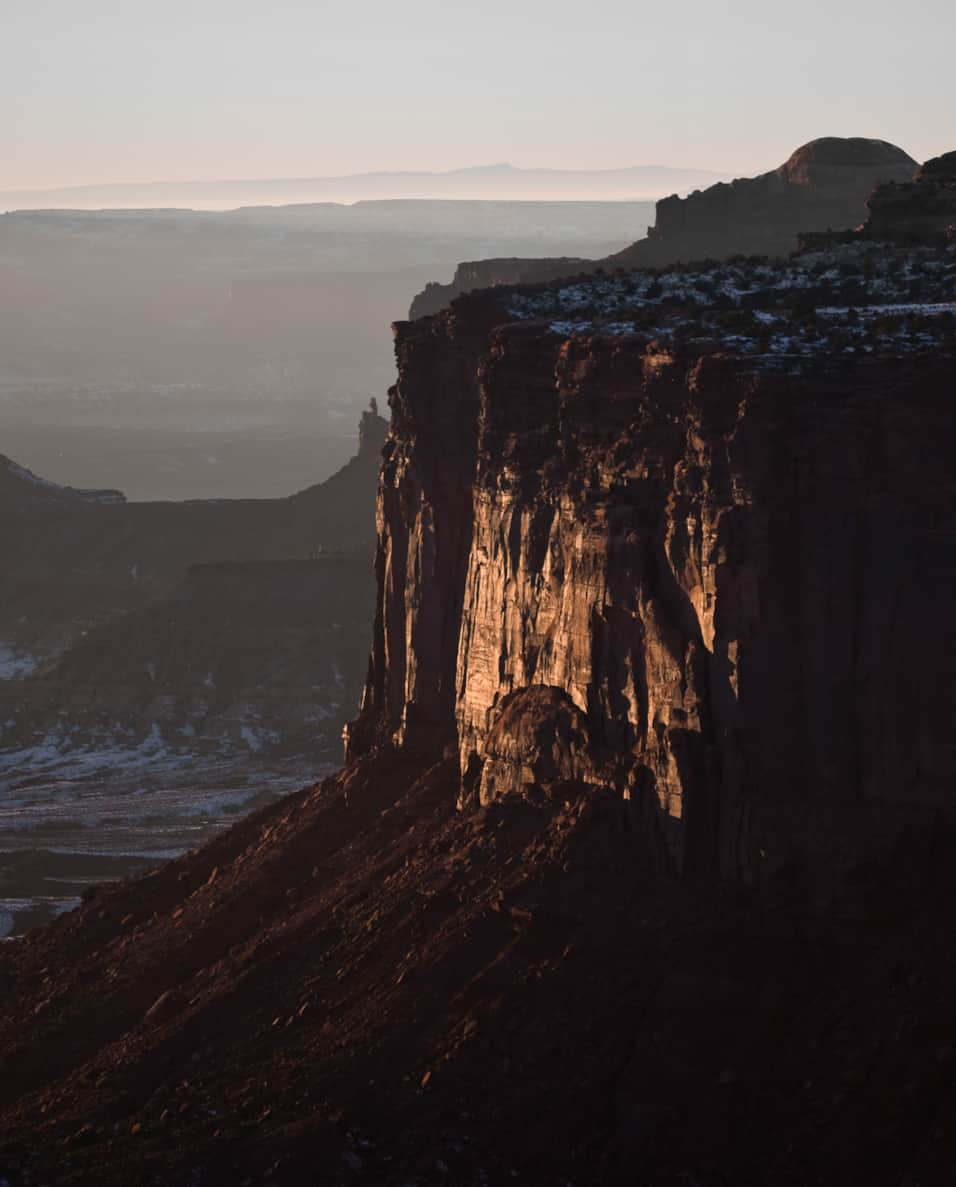 The Mighty 5: Ultimate Journey
Grab a national parks annual pass for best access to The Mighty 5®.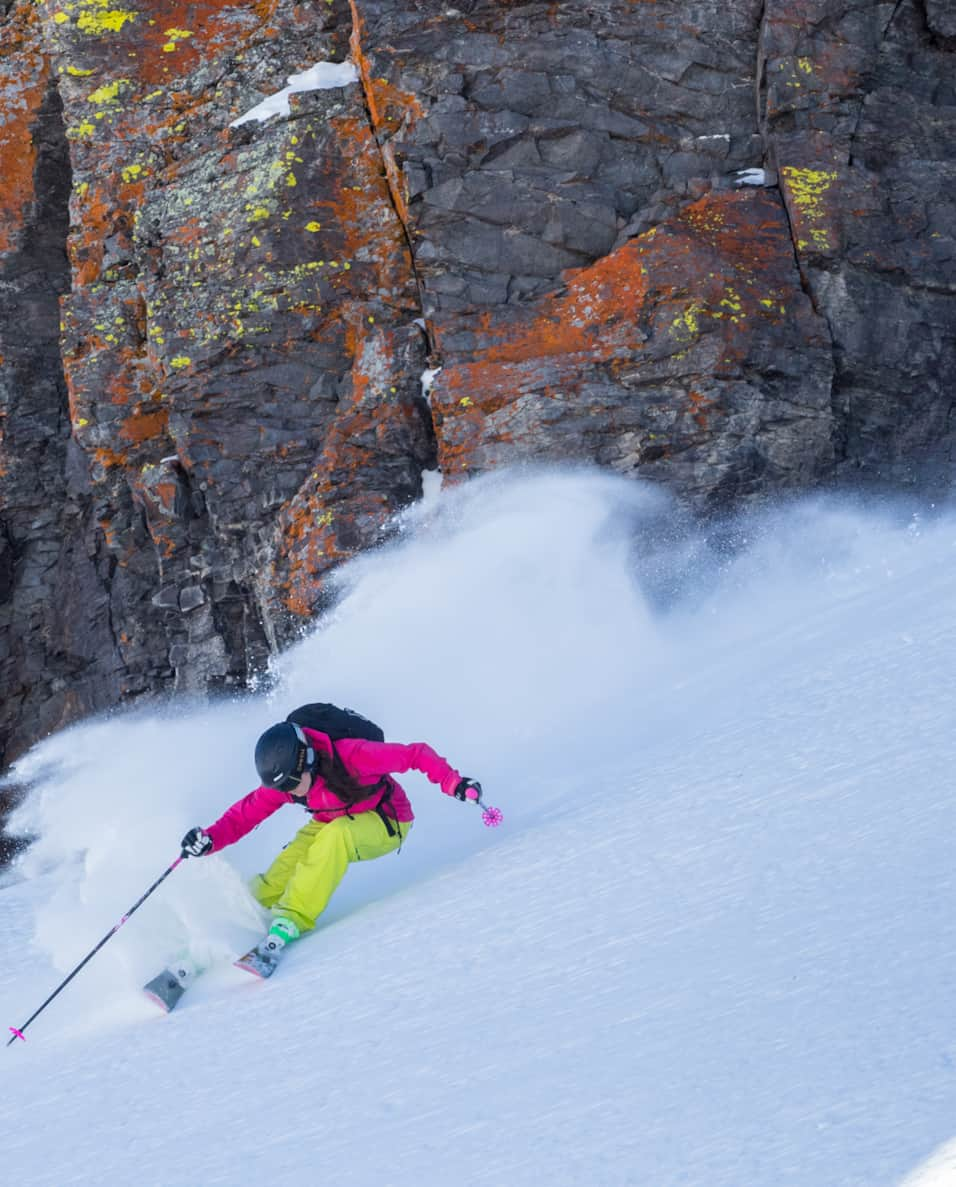 Ski Southern Utah: High Alpine Trails + Red Rock Wonder
Southern Utah is home to two high-elevation ski areas that contain generous helpings of what we call (with authority) The Greatest Snow on Earth®. Things can be a little quieter down here this time of year. Give yourself at least five days to combine the thrills of Southern Utah skiing and boarding with exploring the wintertime wonders to be found in Utah's red rock country.
Highlights
Brian Head Resort
Eagle Point Resort
Cedar Breaks National Monument