U.S. Federal Shutdown Information
At this time, all of Utah's national parks, monuments and recreation areas remain open.
Learn more.
The Needles Hikes
Cave Spring | .6 mile | Easy
An opportunity to learn about the park's cultural history and desert plant life on a short hike.
Pothole Point | .6 mile | Easy
A short, educational hike about what life was like in desert potholes. Great for families with small children.
Slickrock Foot Trail | 2.4 miles | Easy
A scenic trip through the geology of the park. This trail stays high and gives a great overall perspective of the entire southeastern corner of Canyonlands National Park.
Lost Canyon | 8.6 miles | Moderate
A spectacular loop hike through some of the best scenery in the Needles District.
Druid Arch | 10.8 miles | Difficult
A scenic route to a spectacular arch, one of the most popular destinations in the Needles District.
Chesler Park Loop | 5.4 miles | Moderate
A popular, ultra-scenic loop hike, requiring a four-wheel-drive vehicle to reach the trailhead.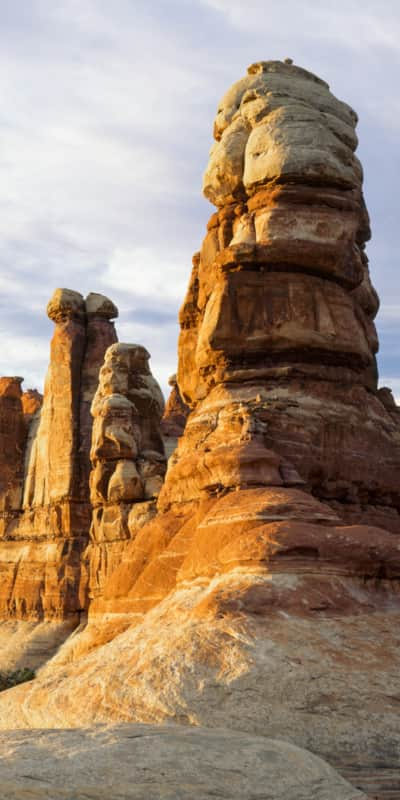 Island in the Sky Hikes
Mesa Arch | .5 mile | Easy
A short hike that leads to a magnificent arch with a spectacular view.
Aztec Butte | 1.2 miles | Moderate
A somewhat challenging climb to a scenic viewpoint in the Island in the Sky area, where you'll see ancestral Puebloan structures called granaries.
Upheaval Dome Overlook | 1.6 miles | Moderate
A short, steep hike to get the best view of perhaps the most interesting geological feature in Utah.
Grand View Point | 2 miles | Easy
An easy day hike to a magnificent viewpoint overlooking canyon country.
Alcove Spring | 11.2 miles | Difficult
A long day hike or overnighter with spectacular scenery.
Syncline Loop | 8.3 miles | Difficult
A long day hike or overnighter; perhaps the premier hike in Island in the Sky.
Murphy Loop | 10.8 miles | Difficult
A long, difficult day hike or overnighter from the Island in the Sky to the White Rim Road and back.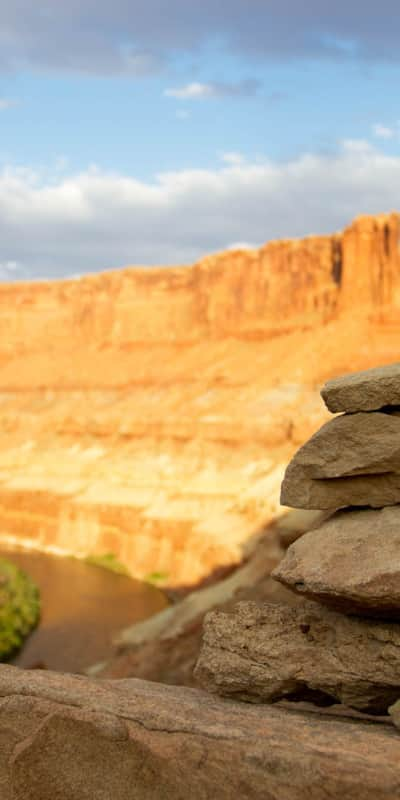 Hikes Near Canyonlands National Park
Dinosaur Tracks Trail | .2 mile | Easy
Families with dinosaur enthusiasts (of all ages) will enjoy this interesting short hike to a large boulder with dinosaur tracks above the Colorado River. This hike is ideal for small children.
Corona Arch | 3 miles | Moderate
This excellent hike above the Colorado River Canyon leads to three arches, including Corona Arch, one of the largest arches in the Moab area. Excellent hike for those who want to enjoy arches far from the crowds in Arches National Park.
Hunter Canyon Trail | 3.4 miles | Easy
This excellent out-and-back trail leads up a canyon lined with towering sandstone cliffs. This hike offers awesome scenery and lots of solitude away from the national parks.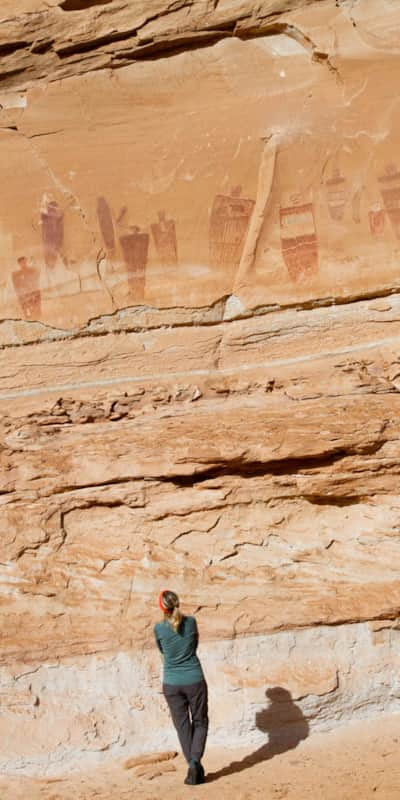 Backpacking Information
For those looking to visit a trail-less-traveled, Canyonlands is a world-class destination. It's become one of the most popular backpacking regions in Southern Utah, and rightfully so. Backpackers will find miles upon miles of undeveloped routes, solitary camping areas and beautiful vistas that most people will never lay eyes on. That said, the terrain is undeniably challenging, desolate and dangerous at times. There are many areas within the park that are miles away from services or support of any kind. Therefore, it's critical that backpackers do the proper research, consult with a ranger at Canyonlands Visitor Center, and fully prepare for the journey.
To get started, learn more about backcountry use permits, camping areas, and ways to do your part in protecting our national parks with the National Park Service.
Things to Know
Pack Your Daypack
Hiking in Canyonlands National Park can be demanding; it can get very hot, the trails can be strenuous, and little to no support is available in some places. Therefore, it's critical that hikers are prepared before hitting the trails. Be sure to pack your daypack with more than enough water, and adequate sun protection, food, maps and proper hiking gear.
Know Your Way
In regions like The Needles and Island in the Sky, most trails are clearly marked and easy to follow. However, in The Maze, and certain other areas of the park, trails can be difficult to follow. Before heading out, pack a trail map and/or download the day's trails to your phone, and be sure you're confident in your navigation ability.
Respect The Park's Pet Policies
While pets are allowed in certain areas of Canyonlands National Park, they are not permitted in backcountry areas, on any trails, or at viewpoints. Pets are allowed in Willow Flat and Squaw Flat campgrounds, and on public roads, but must be leashed at all times. If you bring your pets camping, please be aware of pet regulations and do your part in protecting the park by respecting the park's pet policies.
Explore The Canyonlands Region
Although you could easily spend days exploring the largest national park in Utah, the region surrounding Canyonlands promises even more to experience. Nearby Dead Horse Point State Park is home to one of the most photographed overlooks in the state. Further south, Shash Jaa of Bears Ears is full of Ancestral Puebloan culture. Or, the River House site offers a look into an ancient Southwestern dwelling, showcasing historic pictographs and rock carvings. To learn more, look to this complete Canyonlands trip itinerary.
Read these additional resources to learn how to travel thoughtfully and experience Canyonlands National Park most fully.