Hiking Trail Overview
Trail Length: 3 miles round trip
Hiking Time: 2-3 hours
Difficulty: Moderate
Elevation Gain: 480 feet
Pets: No
GPS coordinates: 38.734038, -109.501261

Directions To The Trailhead: Drive 11.7 miles north into the park on the main road until you see the right-hand turn to Delicate Arch and Wolfe Ranch. Turn right on Delicate Arch Road and drive another 1.2 miles to the parking area on your left (north). To your right is a lot for oversize vehicles.
Directions To Viewpoints: Continue driving on Delicate Arch Road past the Delicate Arch Trailhead another 1.2 miles. The road ends at the parking area for the Lower and Upper Delicate Arch viewing areas.
Hiking Information
To start, the trail climbs over rolling hills before a steep ascent on a slickrock slope with no shade. During the first part of the hike watch for collared lizards, which can run on their hind feet when chasing prey. (Don't worry, they won't chase you.) This hike can get very hot in the summer months, so park officials discourage hiking this trail midday during the summer.
Once you get over the slickrock climb, the trail levels out. This section puts you among huge sandstone domes, and you'll find cairns along the way to mark the trail. As you get closer to Delicate Arch, you can see Frame Arch (also known as Twisted Doughnut Arch) to the right. True to its name, this arch forms a perfect "frame" for a photograph of Delicate Arch, but be careful climbing up to it. Further along, the trail follows a ledge that hugs a rock wall for 200 yards — keep an eye on your kids here.
When you finally come around the corner and see the full breadth of Delicate Arch, you'll know why this is such a classic hike. You can walk over to the arch and have your photo taken standing under it, but when you're done, please move away so others can take pictures. While the distance is manageable for most people, it's more strenuous than a lot of hikers expect. Be sure to bring along at least two quarts of water per person for this trip.
On your way back and shortly before you return to the trailhead, it's worth adding a quarter mile to your trip for a detour to visit Wolfe Ranch and see a wall of Ute Indian petroglyphs.
When To Hike Delicate Arch
Through the spring and fall, the park's temperature usually reaches 65 to 85 degrees during the day, with nights as much as 30 degrees cooler. In the summer, daytime temperatures routinely hit 100 degrees, so hikes in the morning and evening are preferable. Make sure to bring along sunscreen and extra water for any summer hike. The trail is open year-round, and in the winter you can take advantage of the near solitude. But be aware, you may need poles or shoe spikes to navigate the trail, which can get icy.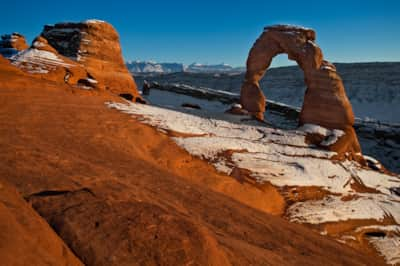 "Delicate Arch stands out as a symbol of the state of Utah and one of the most recognized geological features in the world."
More Things To Know
The Wolfe Ranch parking lot, which serves the Delicate Arch Trailhead, has toilets that are open year-round. But no drinking water is available here, so be sure to bring your own.


Sunrise and sunset are both popular times to visit Delicate Arch. During the busy summer months, sunset can attract hundreds of photographers to capture the warm light on the arch, which gives it a fiery red glow. Sunrise offers a different but still spectacular look as the sun rises behind the arch.


For photographers, take advantage of the Frame or Twisted Doughnut Arch, a small opening in a rock wall that perfectly frames Delicate Arch. It's just off the trail and a great photo opportunity. Once you get to the arch, you'll find that it sits on a large bowl. Take advantage of the multiple views of the arch from various points along the bowl. Walk to the far end for a unique vantage point and excellent pictures.