U.S. Federal Shutdown Information
All of Utah's Mighty 5 national parks will remain open.
Learn more.
The Sandlot Fan's Guide to Utah
Relive the nostalgia of "The Sandlot," with visits to filming locations around Salt Lake plus some other kid-inspired stops to make your own memories.
It's hard to believe that it's been 30 years since "You're killing me, Smalls" joined the canon of iconic cinema quotes. For many, it probably still seems like just yesterday that Benny "The Jet" took on the Beast, "Ham" Porter gave a pointed lesson in s'more making, or Scotty Smalls finally learned who Ruth was. That's because even after a few decades, "The Sandlot" still maintains much of its nostalgic glow.
Set in California's San Fernando Valley in the summer of 1962, many of the pivotal scenes from "The Sandlot" were actually shot right here in Utah. Within an hour of Salt Lake City, you'll find instantly-recognizable locations where you can relive the magic of this childhood classic. Just remember to pack a baseball so you can pitch your own heaters while on location.

We've also added on some fun, family-friendly itinerary attractions from Midvale to Ogden, including Lagoon Amusement Park, George S. Eccles Dinosaur Park and a Salt Lake Bees game.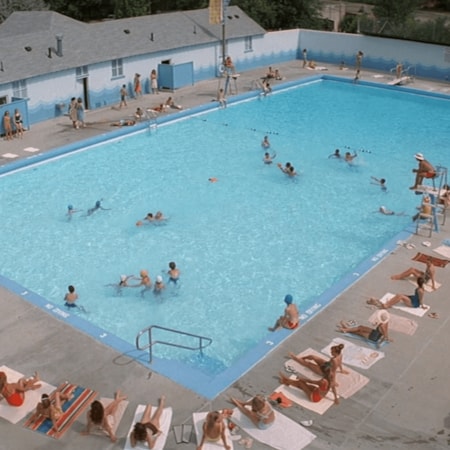 However you choose to arrive in Utah, whether by car on a scenic drive or via our world-class international airport, welcome! We hope you're ready for an itinerary that is chock-full of cinematic nostalgia and childhood delights. From Salt Lake City, your film journey will begin about 40 miles north in Ogden. An outdoor recreation mecca with a bit of a notorious history, Ogden is also home to Lorin Farr Community Pool (1691 Gramercy Avenue). Yes, that community pool — where Michael "Squints" Palledorous hatches an outrageous plan to win over lifeguard Wendy Peffercorn. The pool is typically open for swimming in July and August.
So much more than just a kids film, "The Sandlot" also offers a wistful look back at growing up in the '60s. So if history is your thing, you may want to check out the Hill Aerospace Museum in nearby Roy or Ogden's Historic Union Station. And if you really want to take it back in time, Ogden's George S. Eccles Dinosaur Park — where you can see more than 100 realistic, full-sized dinosaur sculptures — is sure to capture the imagination of young and old alike.
If it's just adults in your traveling group, The City Club bar (21+ only) on Historic 25th Street in Ogden is another historic boon. Serving great food and great drinks, The City Club is also fully decked out with Beatles memorabilia and music — a true 1960s time capsule. If you're traveling with kids, downtown Ogden offers an array of great, family-friendly dining options too, including Slackwater, Union Grill, Roosters Brewing and more.

Where to Stay: Ogden or get primed for tomorrow's lineup by staying at Lagoon's R.V. Park and Campground in Farmington (Note: Any "Sandlot" itinerary would not be complete without a "Campout!" and some s'mores. Remember, "First you take the graham. You stick the chocolate on the graham. Then, you roast the mallow." And as a bonus, you can get discounted tickets to Lagoon when you stay in the campground.)
Photo Credit: The Sandlot (1993/20th Century Studios)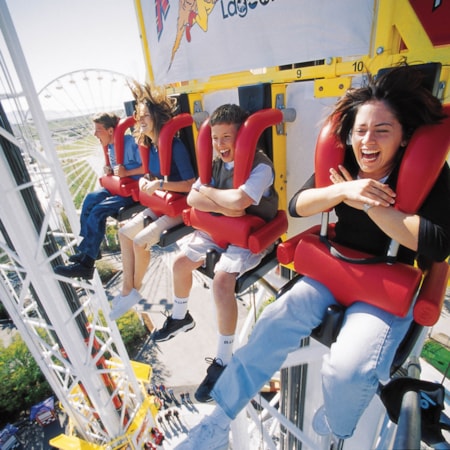 If you've spent the night at Lagoon's RV Park & Campground, then you're in prime position to kick off your day of pure childhood delight. Lagoon Amusement Park in Farmington attracts crowds with its nostalgic rides (including a 100+ year old wooden roller coaster) and novel thrills. It's also the perfect place to reminisce "The Sandlot's" infamous Tilt-A-Whirl scene. "It had been a solid victory…so we all went to celebrate. And we did the stupidest thing any of us had ever done," narrates Scotty Smalls.

After a day at Lagoon, you'll make your way 15 miles south to the Riverside Baseball Field (Cornell St and 800 N) in Salt Lake City. Riverside was where "The Sandlot" boys faced off against the Little League squad. "Hurry up batter. It's gonna be a short game and I gotta get home for lunch," spouts "Ham" Porter in a memorable sequence of trash talk.
For dinner, if you're looking to grab a classic burger and shake like they might have enjoyed in the movie, look no further than Hires Big H (425 S 700 E) in Salt Lake. Established as a drive-in back in 1959, Hires Big H is famous for its burgers (veggie options included), fresh cut fries, homemade onion rings and fry sauce.
Where to Stay: Salt Lake City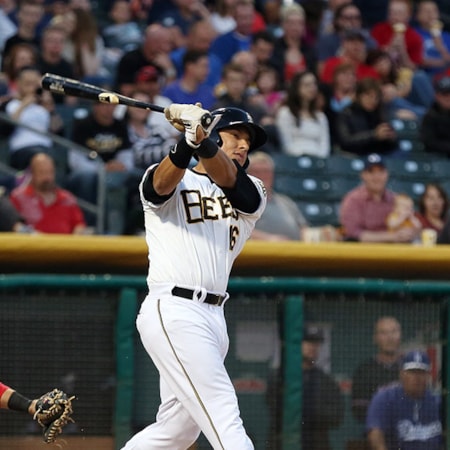 Today you can get an early start with a stop at Liberty Park (600 Harvey Milk Blvd) in Salt Lake City. It's here that "The Sandlot" Founders Day Picnic scene was filmed, where Benny "The Jet" Rodriguez was chased by The Beast. The 80-acre park is an excellent spot for some urban recreation, featuring playgrounds, picnic areas, a swimming pool and various sporting courts, plus summer amusement rides (ferris wheel, carousel) for kids on the summer weekends. Liberty Park is also home to the Tracy Aviary, a local family favorite featuring play spaces, bird shows and more than 400 birds.

From Liberty Park you'll head to another filming location on Main Street in Midvale (about 11 miles south of downtown SLC). Here you'll find Vincent Drug (7696 N. Main Street), where "The Sandlot" crew regularly purchased their baseballs in the film. While the drugstore is no longer operational, the recognizable storefront sign still remains. From here, it might be time for some classic fun. And where better than the Classic Fun Center arcade and roller rink in Sandy.
Finally, grab your glove, cause it's time to root, root for the home team. The Salt Lake Bees are the local Minor League Baseball team that plays at Smith's Ballpark in Salt Lake City. Tickets are typically availble from the end of March through September, with special opportunities for fireworks, giveaways and themed game nights. They also offer special deals for families on Tuesday nights.
Where to Stay: Salt Lake City