The Petroglyphs of Comb Ridge
A 120-Mile Long Monocline Pockmarked with History
A 120-Mile Long Monocline Pockmarked with History.
The trail heads west from Butler Wash up a faint boot-scuffed path across bare sandstone slabs, twisting past spare rock gardens dotted with juniper trees, yucca and scrubby grass. I hike into a cliff shadow in a narrow canyon, the morning air still cool and a faint breeze rattling dry leaves. Beyond the canyon, a stone cathedral towers over the land and arching caves tuck into high cliffs. I continue up more slickrock slabs to a sunny cliff and the Procession Panel, one of the finest rock art sites on Comb Ridge. Visit recreation.gov to obtain a hiking permit for the Comb Ridge and surrounding area.
Comb Ridge
The Comb Ridge, a 120-mile-long, north to south-trending monocline or uplifted ridge, defines southeastern Utah's red rock landscape and is the central feature of the Shash Jaa unit of Bears Ears National Monument. Tilted sandstone formations form a rugged escarpment on the west side of the ridge, while the angled east side is a maze of canyons, cliffs and domes with springs, seeps and pools of precious water. The ancient Ancestral Puebloans lived here over 1,000 years ago, building cliff dwellings, granaries for storing seed corn and pecking galleries of exquisite petroglyphs on varnished sandstone walls.
The Procession Panel
The panel depicts three snaking lines of 179 human-like figures, marching in single file and converging on a great circle. The petroglyphs, engraved into the rock surface by ancient artists, also include images of deer, bighorn sheep, elk and geometric shapes. The small human figures appear to be led by a few larger ones carrying hooked staffs and wearing headdresses, perhaps shamans who interacted with the spirit world and its animal helpers
What Do Petroglyphs Mean?
We ask the petroglyphs, found in almost every canyon in Comb Ridge, what they mean and what they meant to the Ancestral Puebloan people that once lived here, but there are no answers. Their meanings were lost long ago, so now we bring our own interpretation to this great outdoor art museum.
That's the beauty of rock art — there is no definitive explanation for it. All we know is that these mystical images at this sacred place allow us to glimpse the mind and thoughts of the Ancient Ones. The petroglyphs reflect their lives, depict their culture and clothing, show clan symbols and migrations, and relate the supernatural journeys their shamans or medicine men made to other worlds. Sitting on a boulder before the Procession Panel, I feel the people that lived here and the holiness of this special place.
How to Get There From Butler Wash
The 30-mile middle section of Comb Ridge, beginning six miles west of Bluff, is one of the best places in southeastern Utah to see rock art created by the Ancient Ones. Over 50 side canyons, carved by flash floods, slice through white Navajo Sandstone on the east side of the ridge and drain into broad Butler Wash.
The graded dirt Butler Wash Road, starting from U.S. 163, heads north up the valley, providing access to many rock art panels and ruins. Trailheads and trails to the better-known petroglyphs are along the road, but the Bureau of Land Management leaves them unmarked to protect the fragile archeological sites from increased visitation and vandalism. Plenty of free primitive campsites scatter alongside the road.
Petroglyph Sites
The Procession Panel (reached by a 1.4-mile cross-country hike) and the nearby Wolfman Panel in Lower Butler Wash are the best-known petroglyph sites at Comb Ridge, but you'll have to work a little to see them. Stop by the BLM offices in Blanding or Monticello for directions and information on how to appropriately visit.
"Comb Ridge is rough desert country with no established trails. Respect the rock art and archeological sites. Petroglyphs are an important part of our human and national heritage and can be fragile."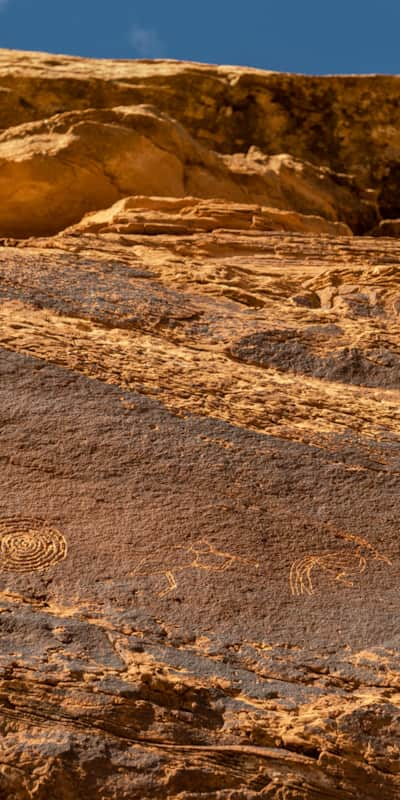 Many other rock art sites hide in Comb Ridge's canyons, so it's best to lace up your boots, plan ahead, pack carefully and start exploring. Rock art is found near many ruins, including Double Stack Ruin, Monarch Cave Ruins, Split Level Ruins, Fishmouth Cave and Butler Wash Ruins. The easily accessible Sand Island Petroglyph Site, located west of Bluff on the San Juan River, also displays hundreds of petroglyphs. One shows a possible mammoth while others depict Kokopelli, legendary flute player of the Southwest.
Protecting Rock Art
Respect the rock art and archeological sites. Petroglyphs are an important part of our human and national heritage and can be fragile. Follow Leave No Trace principles so future hikers have the same experience and sense of discovery that you do.
The Rock Art Code
Follow these guidelines from the Rock Art Code to protect and preserve these amazing petroglyph panels:
Don't touch rock art. Oil from your hands degrades the rock surface.
Don't disturb rock art sites or nearby ruins. Picking up pieces of pottery or digging in soil disturbs the area and leads to erosion.
Don't make fires near rock art sites.
Don't enhance the petroglyphs with chalk, liquid, or paint.
Don't make rubbings, molds or castings of petroglyphs.
Don't carve, chisel, scratch, engrave, spray paint or write on rock art panels. This not only mars the petroglyphs but is a federal crime.
Don't try to remove or take rock art from cliffs or boulders. It is vandalism and a federal crime, with stiff penalties including fines and imprisonment.
Do enjoy the ancient petroglyphs, take lots of photos, act responsibly and help preserve our prehistoric legacy and heritage.
Trip Planning & Logistics
The rock art sites and ruins are west of Butler Wash Road, which runs along the eastern edge of Comb Ridge from U.S. 163 just west of Bluff to state route 95 west of Blanding. The dirt road is usually smooth and passable to passenger cars, although washes may be bumpy and the road is impassable after snow and rain. Check with the BLM office for current road conditions. Visitrecreation.gov to obtain a hiking permit for the Comb Ridge and surrounding area.
Other notes:
Comb Ridge is rough desert country with no established trails. Only experienced backcountry hikers with good route-finding skills should attempt to find the rock art panels.

Make sure your pack is filled with essential safety gear, including extra clothes, food, water and an emergency shelter.

Comb Ridge is hot during the summer, so bring at least a gallon of water per person per day, and wear a hat and sunscreen for protection.