Flood Safety
Due to record snowpack and high amounts of spring runoff, please be advised of potential flooding that could impact travel plans.
Learn more
Guided Rafting Through the Gates of Lodore
Rafting 44 unforgettable miles of rapids on Utah's Green River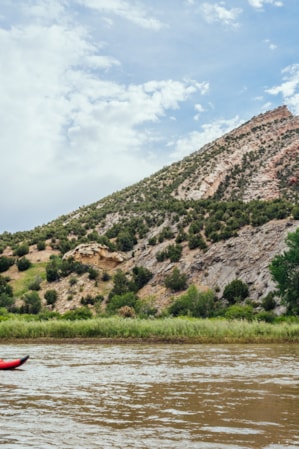 Past experience isn't necessary. Neither is prime athletic ability. All you need to charter 44 miles on the Green River through the Gates of Lodore and Dinosaur National Monument is a willingness to go, listen, and truly see. Oh, and if you're not comfortable planning and setting out on a self-guided expedition, we recommend going with a guide.
With a handful of local guides in the area, such as Dinosaur River Expeditions (DRE), there's an opportunity for anyone and everyone to come and have an I-need-to-write-a-book-about-this experience. From rafting and kayaking to hiking and wildlife-viewing, a Utah rafting trip will open your eyes, whether young, old, small or tall, to the beauty and irreplaceable importance of the world's wild places.
On the trip, adventurers will paste more than a river rafting memory in their mental scrapbooks (or physical scrapbooks, if scrappin' is your thing). They'll set foot on history-enriched trails and exchange stories by firelight at tucked-away campsites. Hungry adventurers will help cook and taste ever-so-satisfying meals and be encouraged to soak in the quiet, yet paintbrush worthy scenic overlooks. Along the way, you'll also be educated in the history of the river itself, see remnant of dinosaurs in Dinosaur National Monument, hear a guide's personal connection to your surroundings, and learn how to "leave no trace" by respecting nature's desired and needed permanence.
Early and modern-day white water rafters, trappers, scientists and paleontologists have studied, explored and some, dedicated their life to preserving the beauty of this wild place. And yes, though the monument is to be preserved, it's many miles prompt travelers to not only take heed, but to come and see.
Discover more pointers and locations for white water rafting in Utah.
Read the accompanying story about a mom and her three kids on their Gates of Lodore rafting trip with DRE as their guide.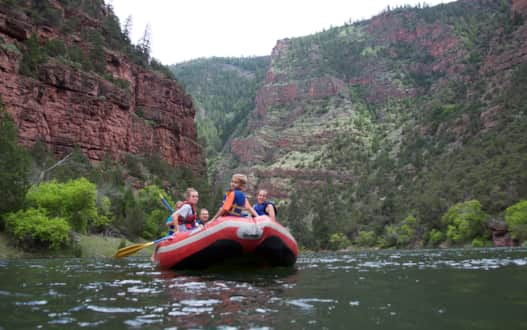 Dinosaur River Expeditions
Dinosaur River Expeditions is family owned and locally operated in Vernal, Utah taking pride in having the most experienced and knowledgeable river trip guides of anywhere. The team's Utah white water rafting expeditions will take you along the canyons of the Green River, through the Gates of Lodore, and along the mighty Yampa River of Colorado. Perhaps you want to float the crystal clear waters of Utah's Green River among the red rocks of the Flaming Gorge National Recreation Area, with unbelievable wildlife and fishing. Whichever river trip you choose, your itch for adventure will be soothed.
DRE is also proud to be the only outfitter in Vernal to offer daily guided hiking tours. The guided hikes depart daily and take approximately 3 to 5 hours round trip; be sure to call for availability and departure times. On the trails, you will be able to observe Native American petroglyphs, fossilized dinosaur footprints, natural arches and much more.
For more information on DRE and to browse their available expeditions, rates and dates, click here, or see additional river outfitters in the Vernal area.
See a list of what to wear on river rafting trip
See more of the unique perks of going with a guide.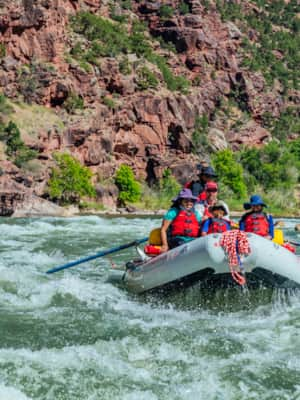 Two Trips, Two Worlds, Two Years Apart: Returning to Raft in Dinosaur National Monument
Nushin and her family of four returned to Utah's Dinosaurland for the "best four days ever!" of guided rafting on the Green River. Explore their journey today!