A Biking Guide to the Historic Union Pacific Rail Trail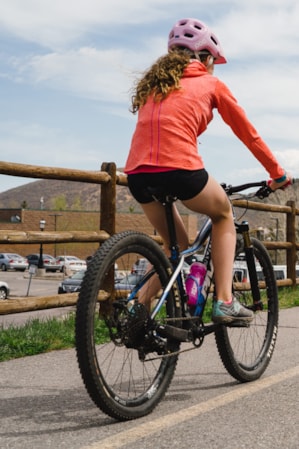 Trail Guide
Difficulty: Easy
Distance and Elevation Gain: 28 Miles
Trail Type: Paved and gravel
Multi-Use: Yes
Dogs: Yes
Fees: None
Seasonality: Year-round
Where to park: Park City (there is a parking lot for Union Pacific Rail Trail users near White Pine Touring on Bonanza Drive), and trailheads in the towns of Atkinson, Wanship, Coalville or at Echo Reservoir
Trailhead GPS coordinates: 40.6599642,-111.5004561
Winding 28 miles through Northern Utah's Summit County, the Historic Union Pacific Rail Trail travels through some of Utah's most scenic terrain, from the storybook streets of Park City to rolling farmland and wildlife-rich wetlands near Silver Creek Canyon. It's easy to get lost in your own imagination while meandering through such varied and stunning landscapes. For adults looking to mix up their fitness routine or children hoping to catch sight of beaver dams and trout anglers in Silver Creek, the Historic Union Pacific Rail Trail State Park offers a safe, relaxing way to enjoy the best of Northern Utah.
The trail is primarily gravel, except for the several miles closest to Park City and a half-mile asphalt section near Wanship that offer a nice draw for in-line skaters, skateboarders and wheelchairs. Access is easy, with multiple parking lots dotted along the 28-mile length: Park in Park City (there is a parking lot for Union Pacific Rail Trail users near White Pine Touring on Bonanza Drive), in the towns of Atkinson, Wanship and Coalville or at Echo Reservoir. Whether you choose to tackle the trail as an out-and-back or leave a car at the end of your excursion to make it a point-to-point, the Historic Union Pacific Rail Trail can be tailored to a variety of desires.
For Scott House, the communications, events and social media director for Park City businesses JANS Mountain Outfitters and White Pine Touring, the trail is a significant asset. House points out that the Rail Trail has sections that are great for any type of bike or any ability level of cyclist, in addition to offering historical significance. "This old rail bed helped moved the silver from Park City mines and brought in needed supplies during the mining days," he says. "Now it serves as an important trail artery that connects numerous singletrack trail systems, as well as providing awesome opportunities for riders to put in up to 30 miles in a single direction through some truly beautiful country."
A Rich History
With a rich past of Native American and pioneer history, it's easy to imagine what Utah might have been like 100 — or even 200 — years ago as you explore the Historic Union Pacific Rail Trail today.
It follows the route of the historic narrow-gauge coal and silver railroad that crisscrossed the region in the 1860s. Sixteen plaques along the length of the trail commemorate this history (and more), marking notable spots that include an excavation site of Ice Age mammoths, early Mormon settlers, the famed Donner party wagon train and the trail's intersection with the once-famed Lincoln Highway, one of the country's earliest transcontinental highways, running through 13 states from New York's Times Square to Lincoln Park in San Francisco. The plaques interweave the stories of the coal and silver industries into the region's history, offering a powerful look at how industry helped shape Utah. It's difficult not to marvel at how little the landscape has changed as you walk or roll along the route.
Hitting the Trail
The Historic Union Pacific Rail Trail traverses through its namesake state park, offering stunning views of the Wasatch Mountain Range and plenty of lung-filling, crisp mountain air along the way. As it winds from Park City northward along Interstate 80, the route passes the communities of Wanship, Hoytsville and Coalville. It then meanders along the scenic Weber River to the Echo Reservoir before terminating in the town of Echo.
Paul Boyle, who works in marketing and e-commerce for Park City-based JANS.com, notes, "The Union Pacific Rail Trail is one of the most versatile trails in Park City. Gravel riders can take it 30 miles to Coalville, and road riders can use it to access excellent country and ranch roads outside of town. A 2-mile stretch is paved and offers an excellent space for exercise and links to some awesome singletrack for families and mountain bikers."
Park City makes a convenient starting point for a day's ride. After enjoying a gourmet breakfast at one of the town's many cafes, head to the trailhead of Bonanza Drive (located at 6,800 feet elevation). Point north and start traveling down the mellow 2 percent grade that runs 14 miles along the wetlands of Silver Creek, following a narrow volcanic canyon aptly named Silver Creek Canyon. The first two to three miles out of Park City are paved, but beyond that, the packed dirt and gravel can become rocky and rutted, so come prepared with spare tires and equipment.
After emerging from Silver Creek Canyon, the countryside then opens up into quintessential Utah landscapes. Sweeping wetlands and working farms are home to a veritable menagerie of wildlife including moose, deer, bald eagles, hawks and beaver. As the vistas open up, scenic Echo Reservoir appears on the western side of the trail, the town of Coalville to the east. (Tip: Head into Coalville for a cold drink or ice cream.)
Stop along the shores of Echo Reservoir (the site of Utah's newest state park) and dip your toes into the cool mountain water. Just beyond the reservoir are the town of Echo and the terminus of the trail.
Trip Planning & Logistics:
Bring sunscreen for hot summer days, as there is relatively little shade along the trail.
Wanship, Coalville, Echo and other towns that dot the trail are rich in their own history, so don't be afraid to explore off the trail and see what each has to offer.
White Pine Touring, located in Park City, is one of several outfitters that offers mountain and road bike rentals, as well as guided cycling tours.
Mountain bikers will find many options linked to the trail, from technical climbs to high-intensity, adrenaline-filled rides throughout the Wasatch Mountains.