Flood Safety
Due to record snowpack and high amounts of spring runoff, please be advised of potential flooding that could impact travel plans.
Learn more
Sun and Fun Below Mount Timpanogos: Explorations of Deer Creek State Park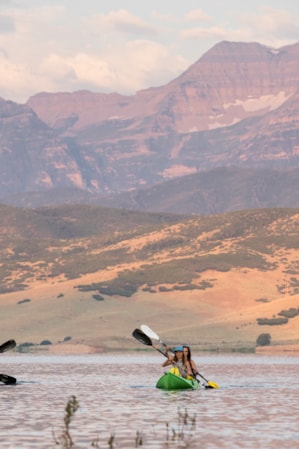 The sunlight sparkled and danced on the water as we drove beside the reservoir of
Deer Creek State Park
. The day was warm, the sun was out, and I was excited to get out on the water. Pulling into a parking spot, my husband and I headed up to Deer Creek Island Resort to pick up our rental kayaks.
After strapping on life jackets, we waded shin-deep into the cool water to launch our boats. I carefully settled myself into mine and, grabbing my paddle, made a few gentle strokes and took in the scene. Families lined the shoreline and plenty of sunburned and smiling people were splashing in the water, paddling all manners of contraptions — including an inflatable unicorn — in the shallow water near shore. Colorful kayaks in bright greens, blues, yellows, and oranges dotted the lake, and far out, I could see speed boats and jet skis zooming across the water.
Earlier, when picking up our equipment, I had asked the kayak shop employee where people liked to go. In the
Heber Valley
area he recommended the small island in the lake, which wasn't too far away. So, once we launched, we paddled that way, stroking across the water, and taking in spectacular views of towering
Mount Timpanogos
.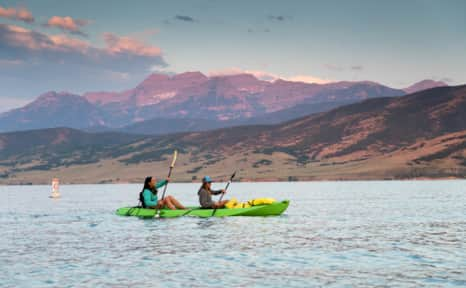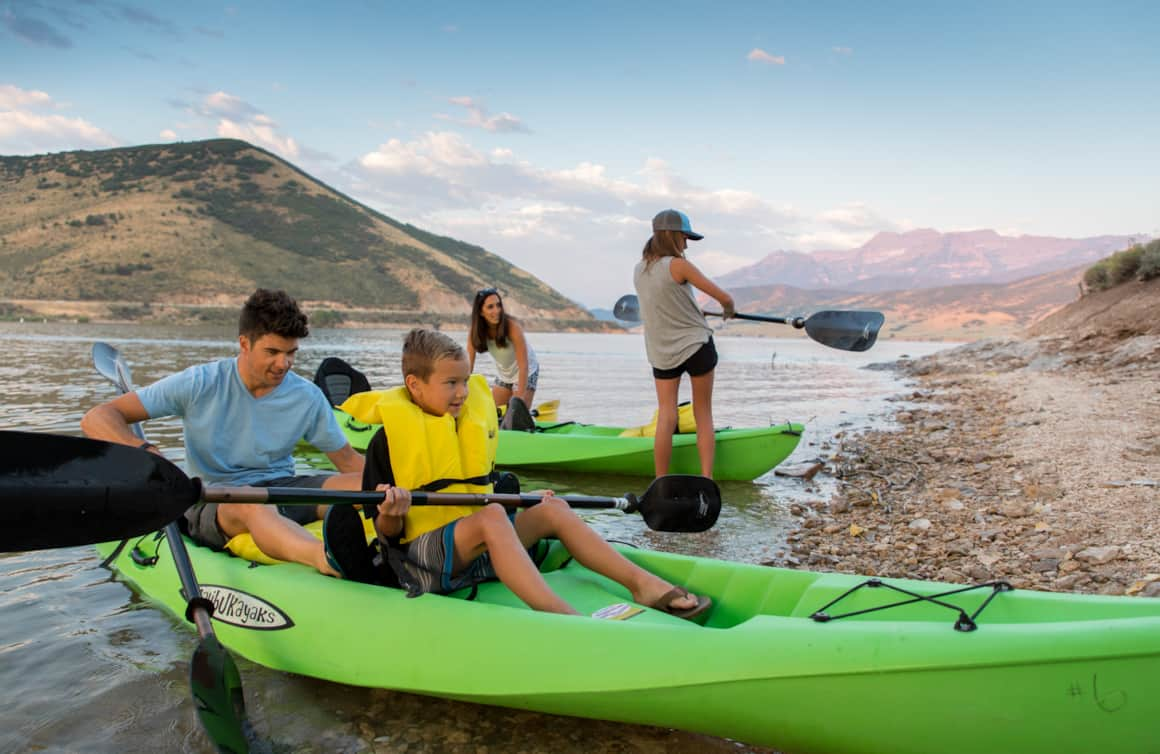 On the Reservoir
Deer Creek Reservoir stores water from the Provo River and two other rivers and is a part of the Provo River Project, which the Bureau of Reclamation began construction on in the late 1930s. At six miles long, the reservoir has a surface area of 2,965 acres, and its deepest point is 137 feet. The area became a state park in 1971, allowing for ample recreation both on the reservoir itself and along its 18 miles of shoreline.
On the far edge of the lake, a towering white sailboat caught my eye. The area is popular with windsurfers, kiteboarders, and jet surfers, and I made a mental note to plan a wind-based water adventure in the future.

As we approached the island, I noticed a few kayaks perched at the water's edge. People lounged on the island's sandy beach, chomping on chips and munching on grapes, snacking and relaxing before the journey back to shore.

We decided to circumnavigate the island, making a counterclockwise loop around it. At first the water was gentle and flat, but when we reached the far side of the island, the waves kicked up in an adventurous contrast to the gentle waters on the other side. Carefully placing each stroke and darting between waves, we made it back to the calmer waters in just a few minutes.

We paddled around for another hour or two, losing track of time while alternating between relaxing in the calm water close to shore and paddling out further into the open water for a bit more turbulence. Finally, as the sun dropped down in the sky, it was time to think about heading to shore.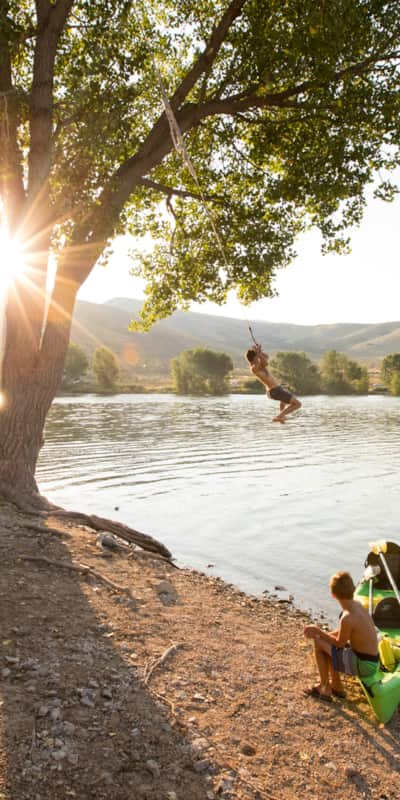 Back on Land
Pulling our boats out of the water, we returned them and strolled back toward our truck, walking through the shore-side park where families were spread out on blankets and lounging under umbrellas, multiple generations relaxing together and enjoying each other's company, talking, laughing, and eating. Kids kicked soccer balls along the water's edge and popped volleyballs up into the air.

It must have been the napping hour too: kids and adults alike snoozed on the warm afternoon. Perhaps some of them had hiked the eight-mile Deer Creek Trail along the reservoir's western shore earlier that day. Or maybe some had tried the world's longest "over water" zip line, traversing 3,900 feet over Rainbow Bay. There were plenty of ways to tire yourself out having an adventure nearby.

As we walked by, I caught a waft of grilling meat and my mouth watered as I saw ears of corn on the cob roasting, bulging dishes of potato salad and thick, juicy slices of watermelon piled high. We hungrily walked back to our car to head back to camp and put together our own evening meal. Returning to our shady spot in the park's Great Horned Owl campsite, we ate dinner and spent the evening watching colorful birds flit around our site as we relaxed and enjoyed the quiet after a day of activity.

Later that night, we heard a car pull up at an adjacent site, and in the morning we were surprised to see friends from Wyoming who just so happened to snag the site next to ours, an unplanned stop on their journey home. Catching up with them about our Utah adventures was just an added bit of serendipity on our journey.