U.S. Federal Shutdown Information
At this time, all of Utah's national parks, monuments and recreation areas remain open.
Learn more.
The BBQ Bosses of Metro SLC: Bringing Southern Comfort Food to Utah One Sauce at a Time
Explore the Wasatch Front's best barbeque food and hear about the passionate pit bosses who are bringing traditional southern dishes to life in Utah.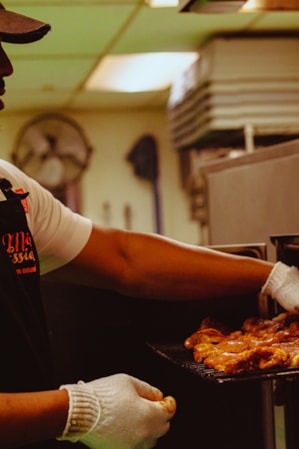 For many, the smell of BBQ goes beyond just the aromas of sauce-covered meats and hearty sides, it's the smell of home. Hailing from the southern United States, BBQ has marked the culinary signature of families from generation to generation.
Over the last few years, many pit bosses and chefs have made Salt Lake City their home. And they've brought along their family BBQ recipes and traditional cooking methods to share with Utah locals and visitors alike.

Here's your guide to some of the best and most innovative BBQ spots in metro SLC, all of which will be sure to make your mouth water, whether you're a meat-eater or a vegetarian/vegan.
Charlotte Rose's Carolina BBQ
792 E 3300 S, Millcreek, UT 84106
Walk into Charlotte Rose's Carolina BBQ in Millcreek and you'll be greeted with a no-frills description of the food you're eating. On the wall near the register scrawled in chalk, Charlotte Rose's explains what it is, and isn't:
"Our food is Southern. This means that no dietitian, nutritionist, or novice health aficionado for that matter, would recommend anything we serve…almost everything we serve is made with copious amounts of butter, salt, sugar, milk, fat...and tastes great, as a result."
Whether the sign sparks fear or excitement in you, Charlotte Rose's makes clear their love of rich, traditional Carolina-style BBQ. Grab yourself a pulled pork sandwich soaked in one of their signature house-made sauces and take a bite of homemade cornbread in between. If you're feeling like exploring new dishes, try one of their original "redneck tacos" and feel the slow-smoked brisket melt in your mouth in a delicious marriage of flavors and cultural cuisines.
For those with a sweet tooth, one of Charlotte Rose's homemade desserts will transport you to a summer backyard celebration. The banana pudding features layers of delicious cookies and custard you'll want to sink your teeth into, while the peach cobbler is baked to perfection, "just like your Grandma made it."
R&R BBQ
307 W 600 S, Salt Lake City, UT 84101
R&R BBQ in Salt Lake City began as a backyard barbequing hobby shared with friends and family. After winning competition after competition for their food, R&R's founders, who are Utah-raised real estate professionals, decided to share their love of smoked meats, savory sides and indulgent desserts with the residents of Utah. Since opening their storefront, R&R has won award after award, qualifying their team to compete in large nationwide BBQ contests, a prestigious opportunity for chefs hailing from a western state. Now, they have more than nine locations across the Salt Lake metropolitan area, including at the Delta Center, home of the Utah Jazz.
If you're hankering for some southern-style BBQ while in the Salt Lake City metro area, dip into one of R&R's locations for a delicious dish that will evoke memories of weekend cookouts in the summertime. While you're waiting for your food be sure to take a look at some of the signature sauces R&R keeps on-hand at their tables and do some people watching, their locations are lively around lunch and dinner time.
R&R has a large menu with something for everyone. Mix sweet and savory with their pineapple pork sandwich or dig in with a combination plate of one, two, or even three types of meat. Their pulled pork is rich in flavor and never dry, their smoked turkey breast, brisket and turkey thighs are the culmination of years of practice smoking foods. And with some of the best hush puppies in the state, the leftover BBQ sauce on your plate can be used as a dip without an ounce of delicious flavor going to waste.
Miss Essie's Southern BBQ
6064 300 W STE 11, Murray, UT 84107
Miss Essie was born on a farm in Arkansas during the days of segregation, where her family owned a small grocery store specializing in family-recipe barbeque. When she moved to Arizona with her husband, Miss Essie brought her love of cooking and her 100-year-old family recipes to the West, which her son and grandson adopted and made into one of the most popular barbeque sauce brands on the market.
Bringing the legacy of Miss Essie's Arkansas BBQ to Utah is the goal that her family has been working on for almost 20 years (Read: 5 Black-Owned Business to Support in Utah). Though it's not a brick-and-mortar restaurant and serves only catering options, be sure to stop by Miss Essie's to pick up the family's BBQ sauce so you can use it at home.
With flavors like original, true honey, apple cider vinegar and honey mustard, any meal can be an occasion to celebrate the legacy of Miss Essie and her family's BBQ sauce. You'll also want to pick up a dry-rub for your next backyard barbeque and let traditional Arkansas recipes live on with every bite.
Blatch's Backyard BBQ
186 I St, Salt Lake City, UT 84103
Are you a vegetarian or vegan who loves BBQ but doesn't have many options? Have no fear, Blatch's Backyard BBQ is here! Cooked in the backyard of Pit Master Blatch's home in the Avenues neighborhood of Salt Lake City, this independently run spot serves up the city's first primarily vegan barbeque food.
Bite into some delicious smoked homemade seitan, a popular vegan option that has a similar taste and texture to meat, or indulge in smoked jackfruit that you can only find at Blatch's. While still a small grassroots BBQ operation, Blatch's only takes orders on Thursdays to be picked up on Fridays, so with a bit of planning you and your loved ones can welcome the weekend with delicious, homecooked comfort food.
With a menu that's always changing, you never know what delicious grub will be offered at Blatch's on any given week. Cuban-style BBQ beans are a fan-favorite as are the tempeh burnt ends, the vegan version of barbeque ribs. For those who are carnivores, Blatch's offers the traditional meaty BBQ fare, from beef brisket to slow smoked pork. If you're feeling adventurous, their raspberry jalapeno BBQ sauce pairs well with any menu item, vegan or otherwise. (Read: Vegan Friendly Salt Lake City)
Sugarhouse Barbeque
880 E 2100 S, Salt Lake City, UT 84106
Specializing in Memphis-style BBQ and the special "dry rub" process — where a blend of spices is massaged into the meat before it's smoked for hours — Sugarhouse BBQ is a must-visit for the Southern food lover.
Family-owned and operated for more than 25 years, Sugarhouse BBQ is a mainstay of the SLC dining scene, standing out with its cooking methods. "If you're expecting ribs laden with sauce that masks the true, delicious flavors of the meat itself, you're in the wrong place," touts their website.
True Memphis-style BBQ, according to Sugarhouse BBQ, allows the natural flavors of the meat to shine through. Taking the time to slow smoke the dry-rubbed meat for several hours is time-consuming, but infuses the meat with an undeniable smokey southern flavor.
While you're at Sugarhouse BBQ, be sure to try one of their four signature sauces. For the classic BBQ lovers, their in-house sauce has a sweet yet tangy flavor that goes with just about everything. For those who like a kick, their cayenne-based hot sauce packs a perfect punch while their mustard sauce adds a distinct and unique flavor you won't find at other barbeque joints in Utah.
KOU Korean BBQ of Utah
7157 S, State St, Midvale, UT 84047
Who says all BBQ has to come from the southern United States? Visit KOU BBQ in Midvale, and you'll see how the BBQ is done in the unique — and delicious — Korean style.
Korean barbeque is meant to be a shared experience. What makes the meal unique is that guests order various meats and cook it themselves, using a grill found in the middle of the table. Order an all-you-can-eat meal and watch as the prime rib, pork belly and short ribs arrive at your table or pick and choose what meats you want a-la-carte.
After cooking your order over the grill, dip it in one of KOU's signature sauces, ranging from traditional Asian dips to American-style BBQ and everything in between. Korean side dishes, also called Banchan, often accompany the meat options in Korean BBQ. Enjoy kimchi, veggies, rice, lettuce wraps and more set in small bowls at the center of the table. Make a special occasion out of visiting KOU, as it will be a dining experience your group won't soon forget.