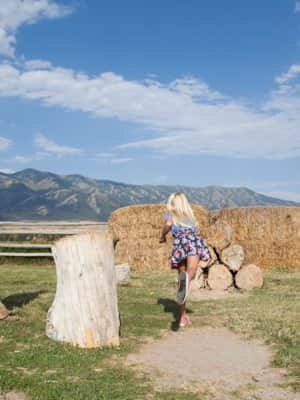 High Art & Hometown Americana
There's no shortage of fun things to do in Logan, Utah. From theatre to arts and crafts to unique dining, we have your Logan guide. Check it out!
Expanded Offerings and Things to Do
What's more, the expanded offerings will keep tourists and locals busy for days. The literary seminars give patrons an in-depth look at the history, artistic preparation, and design of the main productions, while you can actually peep behind the curtain during the backstage tours. Breakfast with the stars gives them an opportunity to pick the brains of operatic and stage talent. One hour before each mainstage performance, you can attend a free informance to enhance your understanding and savvy about opera and musical theater. And to round out the variety of shows to see during your trip, there's tabernacle concerts, which are also free to the public.
Daily programming begins in the morning with talks and demonstrations and continues throughout the day until the evening show or late-night event. When you aren't attending a show or other programming, there is much to do in Logan, an optimal festival city. At its elevation, the city stays relatively mild during the heat of the summer season. For those needing extra measures to cool down, you can head to Bear Lake State Park, also known as the "Caribbean of the Rockies" for its turquoise hue, for a multitude of water sports recreations. Logan boasts several delightful eateries, such as Even Stevens Sandwiches for a bite on the go or the worth-the-drive Indian fare at Tandoori Oven. Indeed, beautiful parks and awe-inspiring vistas beckon and fill out your itinerary.
For a fan of stage productions and of mountainous places, few small to mid-sized opera- and musical-themed festivals can compare.
Information and Current Season
For more information about the Utah Festival Opera & Musical Theatre, visit www.utahfestival.org or call 435-752-0026. Tickets are $13-79 with discounts for students K-12, full-time college students and when purchasing all four shows. The Ellen Eccles Theatre is located at 43 S. Main in Logan, Utah.