Full Power Flour
The relationship between the farmer, the miller and the baker are key to the success of Central Milling's organic mission.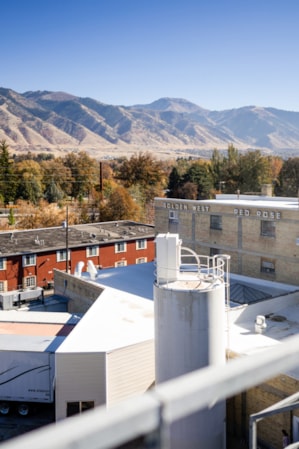 It takes commitment to consume a perfect croissant. The first bite through the crunchy top of the puffy pastry ideally creates an explosive mess of crumbs, which inevitably fly all over the place. After the first crunch, the "feuilleté" is exposed, showing the care that's been taken to fold the dough over and over again, with a classic lamination creating a multitude of buttery layers with lots of airy spaces in between.
Utah's obsession with sweets of all sorts, including pastries, translates to plenty of opportunities to find swoon-worthy croissants all over the state. One of my hands-down favorites is created by Shirley Butler, pastry chef and head baker for Ritual Chocolate's Park City and Heber cafés, where she creates a bounty of sweet and savory creations daily. Butler's croissants are shatteringly crisp, mouthwateringly buttery and generously filled with whatever chocolate is inspiring her that day, with Ritual's Mid Mountain blend or Ecuador 75 percent cacao on frequent rotation. And her sky-high biscuits (made famous during her stints as pastry chef at Deer Valley, Tupelo Park City and Afterward in Heber), savory scones and finely crumbed cookies are downright dreamy.
As she's my dear friend in addition to being frequent source of my pastry indulgences, Butler shared her tips to consistently creating such fine-tuned treats: she laminates her layers by hand using high-quality butter and Central Milling all-purpose organic flour, a wheat flour produced at a mill in northern Utah's Cache Valley that's been in business since 1867.
"I use Central Milling 70 percent pastry flour for biscuits, and it's amazing," Butler says (please imagine this being said in her lilting British accent). "And, gosh, the AP flour is just perfect. The flavor is phenomenal, and it's got the absolute best protein ratio and soft texture for croissants."
"Oh yeah," we sigh in agreement, as Central Milling AP flour is what I stock in my own pantry. I gush about their pastry flour: "It's so silky, I can't stop pulling my fingers through it when I throw it on the board."
Butler one-ups me: "It's like cashmere, but made of grain. I just want to wrap myself in it like a pashmina."
"It's like cashmere, but made of grain. I just want to wrap myself in it like a pashmina."
– Shirley Butler, Ritual Chocolate Head Baker, describing Central Milling flour
A Bouquet of Flours
Butler's introduction to Central Milling products several years ago was a clever get well gift from fellow artisan baker, Brent Whitford, founder of Park City's Red Bicycle Breadworks. Instead of flowers, Whitford sent flours, sourced from all over the country, Butler says. The gift included the Central Milling flour used for Red Bicycle's bread, along with some more difficult-to-find grains like Einkorn. In addition to winning pun master status for life, Whitford's clever gift got Butler hooked on using a combination of different Central Milling flours in her recipe development.
Whitford and Butler aren't alone in their admiration for using Central Milling flours for both professional and home pastry making. Some of the culinary world's biggest names in baking swear by Central Milling flour, such as Amy's Kitchen, Alvarado Street Bakery, and Tony Gemignani, 13-time World Pizza Cup Champion, whose name graces the mill's specialty pizza dough flours. Many of these relationships go back decades, as Central Milling was one of the first in the industry to distribute organic products.
George Perry began collaborating in the 1960s with a company that had been milling wheat for almost 100 years, says his son Lynn Perry, Central Milling president. "The name organic didn't even exist then; it was just chemical-free farming," Perry says.
That's the method of low-impact agriculture George Perry had been practicing at his Southern Idaho farm. He had read about communities in Northern California and Oregon where chemical-free or natural foods were in demand, and his entrepreneurial spirit kicked in to fill this market niche.
Although the organic food and "back-to-the-land" movements had nascent roots in the early 20th century, adherents to pre-Industrial Revolution food production systems mostly referred to the practices as "natural" or "chemical-free." While there are references to organic farming in Great Britain as early as the 1920s, the term didn't catch on until later, helped by Rachel Carson's 1962 treatise "Silent Spring," which brought critical awareness to chemical agriculture. The International Federation of Organic Movements was founded in 1972 to encourage pesticide-free farming.
George Perry convinced Central Milling and Gilt Edge, another historic Utah mill, to designate a brand for his chemical-free flours in the 1960s. "Then he'd bring in trucks of his wheat, they'd grind it into flour, and he'd haul it to the hippie colonies," Lynn Perry says.
One of their first steady commercial clients was Giusto's Specialty Foods in San Francisco, a health food-focused market founded in the 1940s by Matthew and Amelia Giusto. "One of my dad's first phone calls was to Giusto's, since they'd been involved in this for a while," Perry says. That was the start of a partnership that's continued through generations of Giustos and Perrys working together.
"Nicky Giusto is literally one of the greatest bakers in the world, and he learned from his uncle, Keith Giusto, another award-winning baker," Perry explains. As a result, this relationship has strengthened both brands as they've developed and tested artisan flours for professional and home baking in Utah and at the Giusto's Petaluma branch of the Central Milling family. "Over the years, our association with the Giustos really guided a lot of the development of all of these fabulous flours," says Perry of the dozens of specialty and all-purpose organic flours, conventionally produced products, sprouted grains, milled nuts and seeds.
In the 1980s, Central Milling organic flour contracts were picked up by emerging brands such as Amy's Kitchen and Whole Foods, "both just teeny at the time," Perry says.
The Perrys and Central Milling were on the forefront of a movement that would become very, very successful: organics. When the Perrys purchased Central Milling in 1996, the organic farming industry had surpassed $1 billion in sales annually for several years.
The Farmer, The Miller, The Baker
Of course, organic foods and natural farming are terms that wouldn't have been in the lexicon of the earliest white settlers of the Cache Valley. Synthetic pesticides were developed in the 1930s, and weren't widely deployed in farming until after World War II.
In the 1850s, emigrants were drawn to hunt and gather plants in Cache Valley's mountain foothills, river valleys and bounteous marshlands. Those were the same attractions for the ancestral Indigenous people drawn to the region some 10,000 years earlier, as well as the Shoshoni communities who were violently and militarily displaced from the valley in the late 19th century.
Indeed, the area was named "Cache" after the French word for storage, as so many trappers and explorers in the 1830s and 1840s used the area to restock provisions, stash their supplies between visits and rendezvous with fellow traders.
Members of The Church of Jesus Christ of Latter-Day Saints settled along the Bear River and its tributaries as part of their ongoing effort to build mills and increase agricultural production. Earthen dams, reservoirs and a complex system of irrigation canals supplied water for livestock ventures, vegetable farms and a multitude of fruit orchards. The rich soil could also sustain dry crops without irrigation, such as winter wheat, which fills the many granary silos that you'll see all along the Wasatch Front corridor.
"In the 1850s, emigrants were drawn to hunt and gather plants in Cache Valley's mountain foothills, river valleys and bounteous marshlands."
Established in 1867, Central Mills was water powered via the Logan River, which still runs under the mill. There was an even earlier mill built on the site in the 1850s by Charles O. Card, who in addition to establishing milling in Logan, busied himself as supervising construction for the local Latter-Day Saint Tabernacle, and acting city coroner. The 1867 Central Mills facility replaced Card's operation and became the largest of Cache Valley's mills; the facility is considered to be the oldest continuously-run business in the state.
The greater Cache Valley became known as "the granary of Utah." Between 1910-1935, there were 16 operating grist mills in the valley, in addition to several saw mills, a shingle manufacturing mill, four knitting mills and 14 molasses mills, making Logan's milling industry not only a major employer for the area but its largest exporter.
Much of Central Milling's process is now mechanized and computer-monitored, yet there's plenty of machinery still in use that was installed when the mill converted to electricity in the late 1920s and early 1930s. "We could do it faster with modern equipment, but we couldn't do it better," Perry says, explaining the human attention to detail necessitated by older milling processes. In 2007, the mill even returned to hydropower generation from the water still running beneath the facility.
The success of Central Milling's operations doesn't stand on its own. Perry credits the employee-owned company structure, as well as the company's network of dedicated farmers who supply grain to the mill's very discerning specifications. Bakers depend upon the quality of the mill's products to get consistent results, which is part of the ongoing testing relationship they maintain with baking schools, industry pros and constant customer feedback.
As an example of this interconnectedness, Perry explains Central Milling's relationship with restaurateur Pascal Rigo, who ran the Starbucks food program for several years. "Pascal told me, 'In France, the baguette I grew up on had this yellow color to it,' and it wasn't white like the baguettes made here in the U.S."
Most American breads are made with flour from grains that had been bred to be whiter and whiter over the years, which bleached out the flavor as much as the color. Perry located a farmer who grew an old variety of yellowish grain and they worked on replicating the milling of that traditional French flour. After Rigo made his first baguette with the flour, he said: "Oh, this is it! This is my childhood, that smell and that taste," Perry recalls. In supporting that farmer's heritage grains, and the baker's artisan goals, Perry believes that Central Milling best fulfills its mission.
It's that dedication to connecting the farmer, the miller and the baker that I'm grateful for as I pull a piping-hot skillet full of buttery mile-high biscuits from my home oven, or bite into a dear friend's chocolate croissant with that satisfying shatter.
You just want to wrap yourself up in it like a comfy cashmere pashmina. Made of wheat, covered in delicious crumbs.
Good Roots: The Faces of Utah's Food Culture
Meet some of the agricultural entrepreneurs that are elevating the tastes of Utahns and visitors through heritage and best practices, new and old.