U.S. Federal Shutdown Information
All of Utah's Mighty 5 national parks will remain open.
Learn more.
It's About Time We All Unplugged
Swap screen time for much-needed adventure time in Utah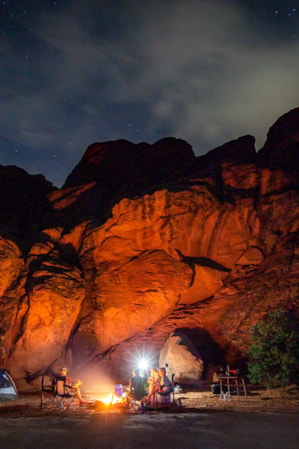 I could feel my shoulders relax as soon as the red-rock landscape of southern Utah sprawled out in front of my car's windshield. I'd been operating in overdrive for months—juggling work, kids, the daily hustle. The weeks seemed to pass in fast-forward, a warped medley of emails, interviews, deadlines, and bedtime stories. We all needed a break and the desert was just the place to find it.
So, my husband and I packed up our van with all the essentials for week of camping near Moab, Utah: bikes for us and our two young children, camp kitchen, sleeping bags, a hammock to string between trees, a stack of books, a kite to fly in the wind.
Not on the list? Tablets, laptops, anything requiring a plug. I even forgot my phone charger, so that quickly stopped working, too. I took photos with my real camera instead. Disconnecting was perhaps the most beautiful part of the whole trip.
After six nights of sleeping under the most stunning starry night sky, we all felt restored. Long days spent wandering trails and peaceful evenings roasting marshmallows around the campfire were just the antidote we needed to hit refresh on our lives. A week without email and social media felt liberating, like I was the kite flying through the wind. I wasn't missing a thing on my screen because everything I needed was right in front of me.
During these many months at home during the COVID-19 outbreak, we've all been physically disconnected from each other but perhaps endlessly connected to our devices. We've bounced between scrolling news headlines, social media, and email inboxes to attending Zoom meetings and electronic happy hours. Reports showed a spike in screen-time usage during the health crisis, with adults spending an average of 10 hours per day on screens, up from 8 hours a day in years prior to the pandemic. Kids haven't been spared either: They've gone to school via a computer, attended Zoom birthday parties, and played who-knows-how-many-hours of online games.
Now more than ever, figuring out how to disconnect from our devices while we reconnect with each other will be an integral part of our healing process. Putting away the distractions of our phones may be necessary for humanity to recover. To find creativity and stillness, we have to silence the noise — the tweets, the buzzing, the notifications.
"This digital overload challenges the prefrontal cortex — the part of the brain that handles decision making, problem solving, planning," says David Strayer, a professor of cognition and neural science at the University of Utah. "You're going along, your phone rings, something pops up on your screen — you're bouncing back and forth. That produces long-term build up and depletes the resources that are important for thinking creatively."
Strayer says extensive time on a screen can cause people to feel mentally drained and produce higher levels of stress and anxiety. Being away from your devices and out in nature — even for a short time — can offer a fix, a remedy that gets us back to thinking freely. "In nature, your mind can wander or meditate," Strayer says. "Once you let that happen, that decision-making, problem-solving frontal cortex can be replenished. The longer you spend outside, the more you benefit, but even a 30-minute hike can be beneficial."
In a study from Stanford University, a 90-minute walk in a natural area was shown to lower the risk of depression, and one survey found that 65 percent of people who put away digital devices while on vacation enjoyed their time away more (not surprising, right?). But where can you go to truly unplug? Turns out, that's the easy part. We've got some ideas to get you started.
Sorry, Your Phone May Not Work Here
Many of the national parks and monuments in central and southern Utah aren't that hard to get to but they feel remote and rugged. These are the kinds of places where the only thing you need your phone for is taking photos of sandstone arches and gilded slot canyons. Pack a tent or bring your campervan or RV and home is wherever you park it (Read: "Wheeling It: An RV Primer for Utah Family Trips").
Grand Staircase Escalante National Monument feels off the beaten path, with dirt roads leading to empty trailheads and vast areas without cell phone service, but it's not actually that hard to reach — it's less than five hours by car from Salt Lake City. Things to do in the area? Head out on a scenic drive on the 38-mile Hell's Backbone Road between Boulder and Escalante, hike through the gorgeous, hidden slot canyons of Buckskin Gulch, or meander amongst waterfalls on Calf Creek while camping at Calf Creek Campground.
"A week without email and social media felt liberating, like I was the kite flying through the wind. I wasn't missing a thing on my screen because everything I needed was right in front of me."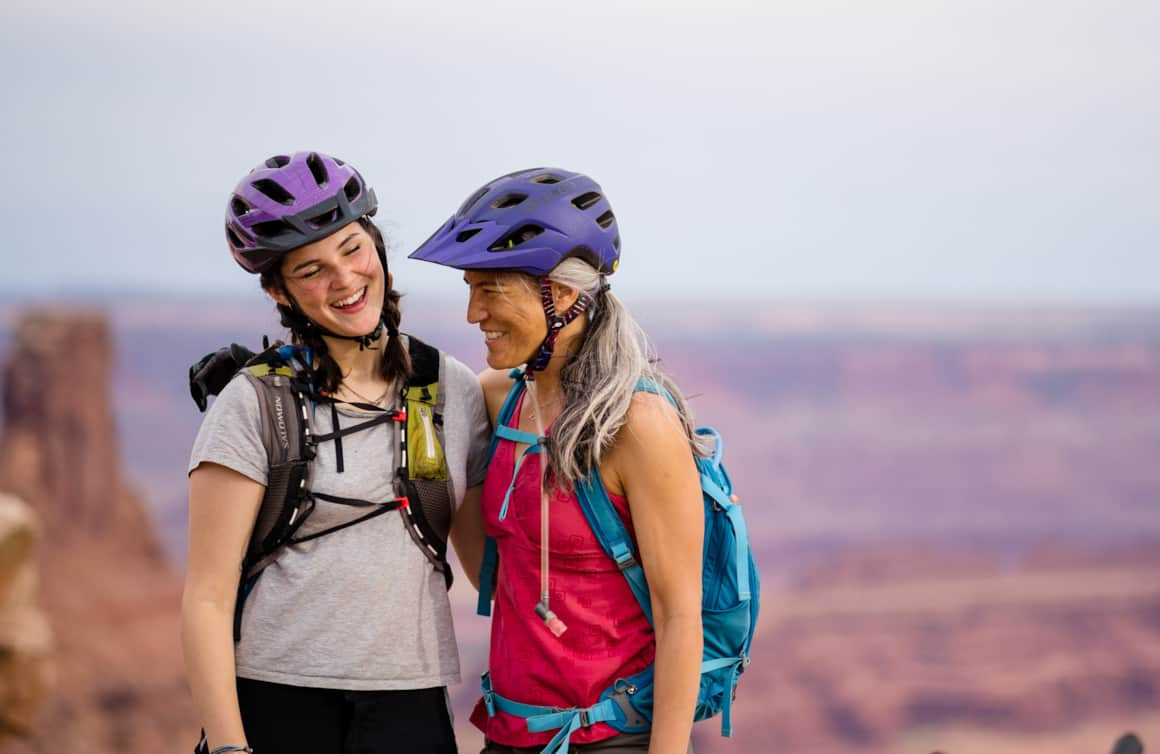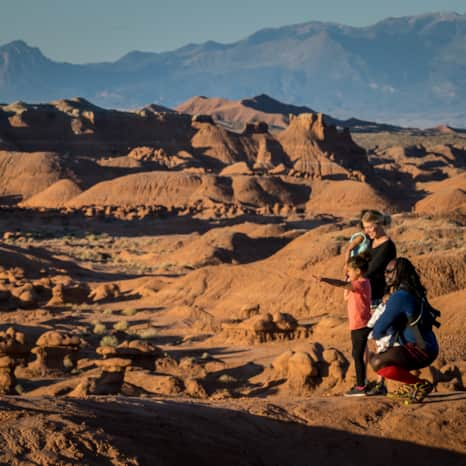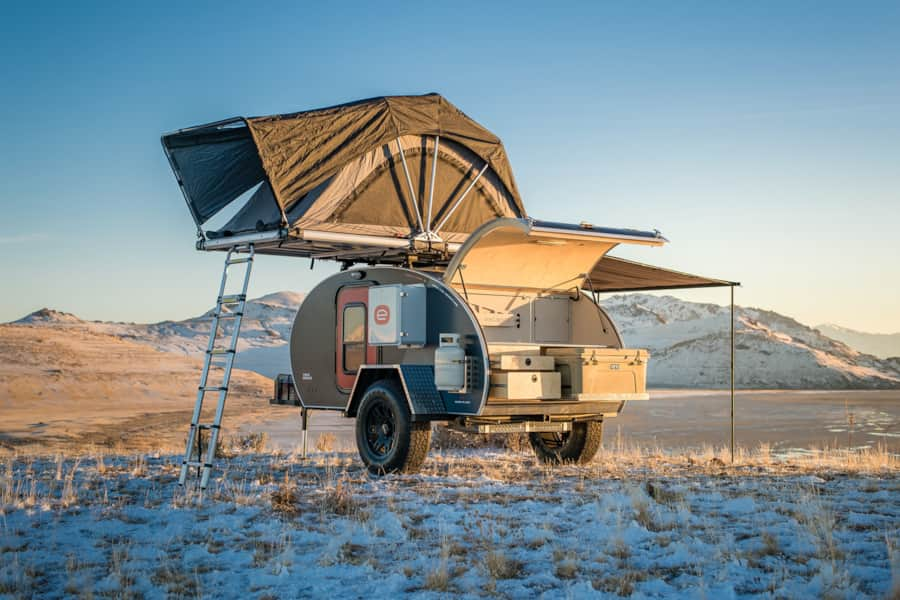 At Goblin Valley State Park, you'll find a 25-site campground (including two yurts) within the park and plenty of dispersed camping on Bureau of Land Management land outside of the park. With next-to-no light pollution, the stargazing here is world class, and thanks to limited cell phone service, it's easy to disconnect. Enjoy stellar mountain biking on the Wild Horse Mesa Mountain Bike Trail and canyoneering in Little Wild Horse nearby.
If you're willing to venture a little farther, you can't beat the sheer desolation and striking canyon views of the San Rafael Swell, a dreamy place for getting away from it all, where you can visit a historic swinging bridge and stand on an overlook above a thousand-foot gorge.
Need camping gear? Escapod rents teardrop camping trailers — that you can tow with a normal-sized vehicle — from Coalville, about 45 miles northeast of Salt Lake City. The trailers come stocked with folding chairs to sit around the campfire, bedding, and all your camp kitchen needs, including splurges like a French press, locally-roasted coffee from Utah's own High Side Coffee, and wine glasses.
These Retreats Make Unplugging Easy
Plenty of destinations around central and southern Utah offer a chance to swap screen time for adventure time in a remote, well-outfitted outpost where it's just you, your loved ones, and a stunning landscape waiting to be discovered. While WiFi is certainly available, your email will be the last thing on your mind when you've got canyons and mesas to explore.
You can still pamper yourself while detoxing from your devices. At Red Mountain Resort, in St. George, this well-known wellness retreat offers multi-day packages that include upscale lodging, healthy meals, guided hikes, fitness and cooking classes, and personalized activities that focus on revitalization and restoration. The resort is currently taking reservations starting in September and beyond.
The new Bluff Dwellings Resort opened last March in Bluff, Utah, on 16 acres strewn with red-rock cliffs. All 57 rooms at the resort — which has reopened with new social-distancing guidelines — were designed with influences from the Ancestral Puebloans native to this area and with elements that bring the outdoors in. Or check out Sorrel River Ranch, near Moab, located on 240 acres alongside the Colorado River, with well-appointed hotel rooms, riverfront cabins, and an entire ranch house suited for a group. By day, enjoy national park outings, river floats, and horseback riding out your door. The ranch reopened in early May.
For a more rustic but still plenty comfortable stay, consider glamping. Under Canvas has safari-style tents near Moab and Zion National Park, scheduled to reopen in June, where you can sleep in style with hotel-like amenities (think adventure concierge and chef-prepared meals) and have the great outdoors at your fingertips. Or book your own A-frame cabin, via GlampingHub, near Zion National Park, as the perfect getaway for one or two people. This tiny house literally opens up to the surrounding landscape and has a charming deck outfitted for evening barbecue sessions.
Four Tips for Planning Digital-Detox Trips
Want to go on a road trip without technology? Johnny Welsh, author of "Paper Maps, No Apps: An Unplugged Travel Adventure," has a few suggestions for you.
Use paper maps. Yes, those still exist. Print out maps ahead of time or pick up an atlas or map of the region you're traveling to (most gas stations still stock paper maps). "Using the old-school way, you won't have to go to Google Maps for navigation and have an excuse to keep using your phone," Welsh says. "Plus, using your brain, your imagination fires up like when you were a kid, looking at the back roads on an old map and wondering where they all lead." (Read:"Resiliency Road Trip")
Delete tempting apps from your phone. Turn your phone into a device you use only for essential purposes, like making emergency calls, telling your mom where you're going, or taking the occasional photo. Delete distracting social media apps, news feeds, your email and turn off all notifications. "Addicted to Twitter or other sites? Delete the app from your phone before you leave on vacation, and don't reinstall it until you get back," Welsh says.
Pack a real camera. Even a disposable camera will work. That way you can keep your phone away even when you want to capture the view or snap a family portrait in front of an arch. "Rather than take selfies on your phone and constantly posting pictures and agonizing over the perfect hashtags, you can capture memories the old-fashioned way," Welsh says. "And this way you actually enjoy your surroundings without having your face in a screen most of the day."
Make a game out of it. Challenge each other to leave your phone behind. "My fiancé and I had a dare, which turned into a friendly bet," Welsh says. "It's more fun to watch friends and family grab at their pockets or purses in an effort to check their phones only to realize last minute that it could cause them to lose the bet. Our bet was a week's worth of household chores. It was so much fun. We laughed at ourselves the entire trip."
See more tips on how to prioritize self-care on your trip in Utah.