U.S. Federal Shutdown Information
All of Utah's Mighty 5 national parks will remain open.
Learn more.
Discovering the Quiet Beauty of Hyrum Lake State Park
Spend some time at Hyrum Reservoir and you'll discover that crisp clear water and a spot on the grass are all you really need for a relaxing getaway. Throw in pristine mountain views and a shady spot to set up camp and consider your summer vacation plans as good as done.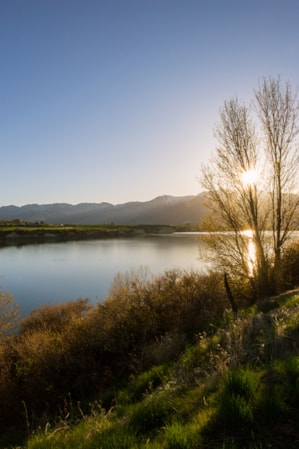 There's something to be said for simplicity. Clear water, a spot on the grass and pristine mountain views are often all you need to pass the afternoon in good spirits. Places like Hyrum Lake State Park remind you that summer vacations and weekend getaways can come without all the frills and fuss. Sometimes, a quiet day out on the water is all you need.
By the time I turn off I-15 to catch U.S. 89, the bustle of Salt Lake City and the suburbs has slipped away to a distant memory. After the easy drive through Wellsville Canyon I'm surrounded by the quiet beauty of northern Utah's Cache Valley — the snow-capped Wellsville Mountains dominate the horizon to the west and the tail end of the Bear River Range emerges to the east. The vibrant and artsy college town of Logan is barely 15 minutes away. One more turn onto Mt. Sterling Road, and I'm fully immersed in windows-down driving mode as I cruise past idyllic family farms and rolling foothills.
The glassy waters of Hyrum Reservoir come into view just a few miles down this country road. A few small boats send ripples across the otherwise undisturbed lake. Now this is the tranquil getaway I had in mind.
Relaxing by the Water
Pulling into the Hyrum Lake State Park Day Use Area, I'm treated to a scene reminiscent of my family vacations as a child — groups of siblings and cousins giggling as they splash around in the water, parents and friends reclined beneath umbrellas on the shore, a few fishing lines dipped into the water here and there.
The simplest of watercraft are the vessels of choice on Hyrum Reservoir today: inner tubes, sit-on-top kayaks and a rowboat adorned with a few fishing poles. There's even a young girl navigating her very own floating log with a single paddle. A few motorized boats and sailboats join the fleet during the height of summer, but on this afternoon in late May, most of the larger boats haven't appeared.
A smile spreads across my face as I remember a childhood filled with sunny days swimming at the local reservoirs with my cousins back in my native California. For today, I think I'll take a page out of the parents' playbook and stretch out a towel on the grassy shore in the shade of a box elder tree. A book and a simple picnic should pair nicely with the peaceful atmosphere.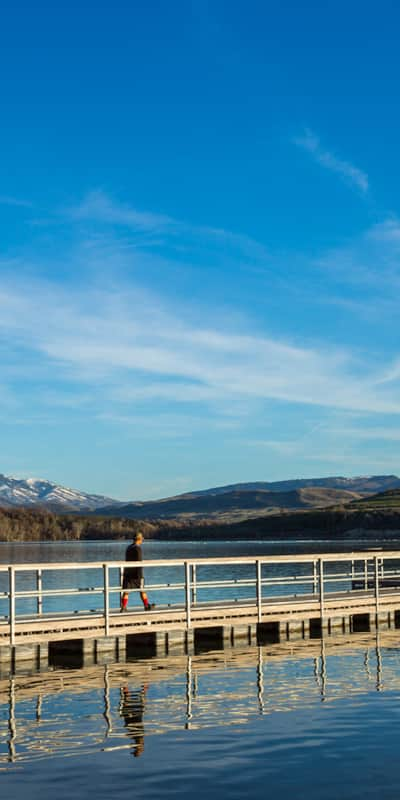 "A smile spreads across my face as I remember a childhood filled with sunny days swimming at the local reservoirs with my cousins back in my native California."
The water is chilly during my early season visit, but soon it will be the perfect temperature. A few minutes of walking through the shallow water along the shore are just enough to cool me off and refresh my spirits.
Other Things to Do
After knocking out a couple chapters in my book and being entertained by some friendly inner-tube paddling races, it's time to stretch my legs. The Hyrum Reservoir Nature Walk makes for the perfect hike along the water, just a short half-mile from the day-use beach to the campground and boat launch. Strolling amongst the willow, box elder and maple trees, I look out toward the mountains and give a silent toast to the simple life.
Fishing for rainbow trout, yellow perch and largemouth bass is another favorite pastime at Hyrum Reservoir, and one that I was surprised to learn people enjoy year-round here. Situated at an elevation of 4,700 feet, the reservoir commonly freezes over during the winter months, providing opportunities for ice fishing and — again to my pleasant surprise — ice skating. Already thinking when this summer I will be able to return, I also make a mental note to dig out my old ice skates from the garage and come back to fully experience the quiet beauty of Hyrum Lake State Park come winter.
Planning Tips & Logistics
Overnight camping for tents, RVs and trailers is available at Lakeview Campground, right alongside the water. Advance camping reservations are recommended. A large group site (100 people max) is available as well.

Day-use entry fee required, purchase in-person or online. The Annual Utah State Park Pass is accepted for park entry.

The boat launch is located adjacent to the campground.

Dogs are not allowed in the Hyrum Lake State Park Day Use Area.

Rentals for non-motorized watercraft (canoes, kayaks, SUPs and inflatables) are available nearby in Logan, Utah, at Bad Apple Eddy Outfitters. Other rental outfitters for motorized and non-motorized watercraft or accessories can be found throughout Utah.

Just south of Logan, Utah, and just over an hour north of Salt Lake City.

GPS location of Day-use Area: 41.620707,-111.8550151 or visit the marina