U.S. Federal Shutdown Information
At this time, all of Utah's national parks, monuments and recreation areas remain open.
Learn more.
Your Guide to Utah's Best Hot Springs
The fun goes way beyond sitting and soaking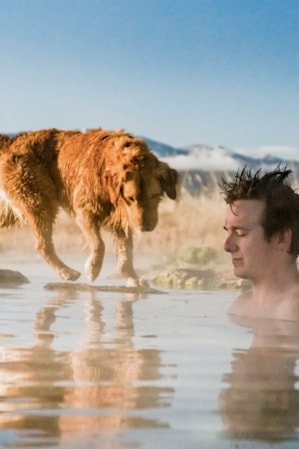 People have flocked to hot springs since ancient times, touting the healing and relaxation benefits of a soak in the mineral-filled waters. In modern times, we still love unwinding in thermal springs, and throughout Utah you'll discover them in stunning natural settings that make the hikes and entrance fees to access them worthwhile. But the fun goes beyond sitting and soaking — you'll find big on-site bonuses like waterslides, paddleboard yoga, camping and music festivals that turn a quick visit into a weekend worth of fun. Here's a quick guide to Utah's best hot springs.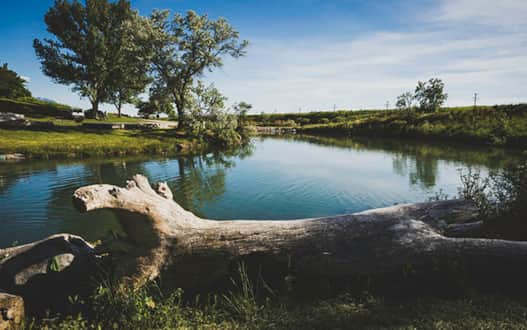 Northern Utah
Brigham City Area
Crystal Hot Springs
Location: Honeyville, about an hour north of Salt Lake City, in the Brigham City area
Northern Utah's Crystal Hot Springs (are known for having the highest mineral content in the world and for the closest natural occurrence of hot and cold springs at one location. (Basically, Crystal is a geologic mega-wonder.) First frequented by American Indians and then Chinese railroad workers, Crystal Hot Springs officially opened for business as Madsen Hot Springs in 1901. Later, it served World War II soldiers seeking relaxation and rehabilitation. After recovering from fires and going through a site upgrade, the Crystal Hot Springs of today has three mineral hot tubs, two large pools and a double water slide open year-round. Temperatures in the pools and springs range from 65–134 degrees Fahrenheit. If one day of hot springing isn't enough, bring a tent or trailer and camp at one of the property's overnight sites.
"People have flocked to hot springs since ancient times, touting the healing and relaxation benefits of a soak in the mineral-filled waters. "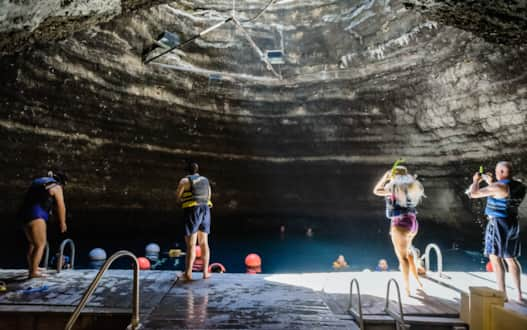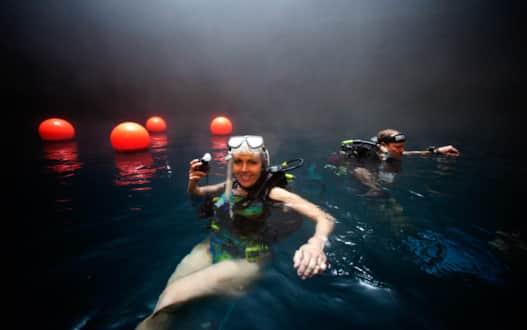 Park City Area
Homestead Crater
Location: Midway, about 45 minutes east of Salt Lake City
This geothermal hot springs located inside a beehive-shaped limestone dome was formed over 10,000 years ago. Whether you visit on a summer's day or during a winter snowstorm, the temperature inside is always a balmy 90 to 96 degrees. The underground cavern — a hole at the top of the dome lets in sunlight and fresh air — is one of Utah's more unique destinations.
The Homestead Crater isn't just for soaking. Come to snorkel or scuba dive in the United States' only warm water scuba-diving destination. This 65-foot deep hot springs has no fish, but the practically tropical temps make it a nice spot to get your dive certification and practice your ear-clearing. After hours, join Park City Yoga Adventures for stand-up paddleboarding yoga on the water. Flip your downward dog into the warm water in this class that combines in and out-of-water action. You can also book time for just a soak. Life vests are provided. Note: You'll want to reserve your yoga session online before showing up to class. (Read: "6 Surprising Activities That Take Place at The Homestead Crater")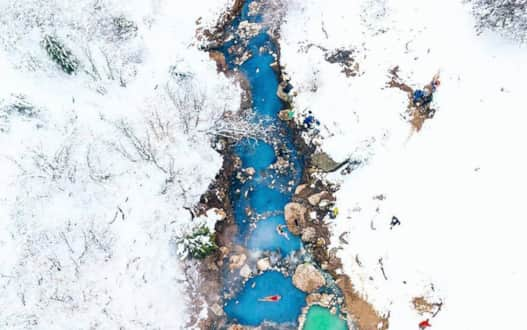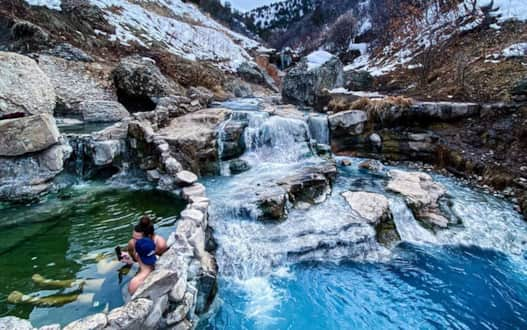 Utah Valley
Inlet Park Hot Springs
Location: Saratoga Springs, about 40 minutes south of Salt Lake City, northwest of the Provo metropolitan area
Utah Lake is known for its natural hot springs near Saratoga Springs, but this one is a favorite thanks to its three different pools each with water temperatures reaching 109 degrees. All the pools have muddy bottoms, so wear water shoes if dirty feet bother you. When you can't take the heat, head for the cooler, muddier pool closest to the lake. The city has developed the surrounding terrain a bit, adding a path to the springs from Inlet Park's parking area.
Note that swimsuits are required, alcohol is not allowed and the springs close daily at 10 p.m.
Diamond Fork/Fifth Water
Location: Trailhead is on Diamond Fork Road, 1.5 hours southeast from Salt Lake City and about 30 minutes east of Spanish Fork on U.S. 89
Pair a hot spring soak at Fifth Water with a hike at these blue-hued natural pools. While the 4.5-mile jaunt isn't bad in the summer, you'll have to hike 10 miles roundtrip for winter visits when the road is closed. The hike is strenuous, requiring a steep uphill trek past three waterfalls to reach the pools. Once there, hike the dirt trail to choose from pools of varying sizes, temperatures and seating options. For the fewest crowds and cooler waters, hike to the tippy top springs surrounded by trees and a waterfall. You can also cool off with a dip in the chilly river. While the waters are clean, you'll often notice a strong sulfur scent due to the area's high mineral content. While it is illegal to swim in the nude here, don't be surprised to see people doing just that, it's not an unusual site.
You'll want to arrive early to beat the crowds and be sure to bring plenty of water with you to stay hydrated along the hike. Wear hiking shoes and bring a towel and dry clothes to change into as the hike out is a bit uncomfortable in a soaked swimsuit.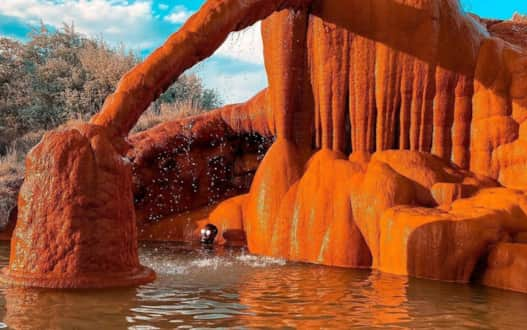 Central Utah
Mystic Hot Springs
Location: Monroe, near Richfield off I-70 and 1.5 hours west of Capitol Reef National Park
Monroe's Mystic Hot Springs embodies hippie vibes paired with art, music and Milky Way views. Choose to soak in the two spacious hot spring swimming pools, or relax privately in the oh-so-Instgrammable vintage bathtubs surrounded by mineral-formed rocks. If one tub's too hot, try another, temperatures vary in each, but range from 99-110 degrees Fahrenheit. Beyond the soaks, Mystic offers mindful massages and Hypnotherapy sessions focused on aligning your body, mind and heart. Not bad for a day at the springs, right?
During the summer, Mystic Hot Springs hosts music festivals and concerts on three stages — some viewable from your hot spring tub on the hill. The hot springs has hosted more than 1,000 performances, including known names like Mother Hips, The Motet and Rusted Root. Just outside the entrance to the hot springs, you'll find a large camping area with tent spaces, restored pioneer cabins and buses available to rent for multi-day stays. During music fest weekends, be sure to reserve a camping or soaking space in advance so you aren't turned away. (Read: The Return to Robbers Roost for more itinerary inspiration)
Meadow Hot Springs
Location: Meadow, off I-15 1.5 hours south of Provo and two hours northwest of Bryce Canyon National Park
Just off I-15 and down a dirt road, these privately owned hot springs can be found in a farmer's field. The owner invites travelers to visit the springs and has built a walking trail to them and a fence around them. The first pool is deeper than the others and hotter, with an average temperature of 100 degrees Fahrenheit. Proficient scuba divers can even dive down in it to an underwater cave! Walk farther along the path to reach the two other cooler, shallower pools. Abide by posted rules, like wearing a swimsuit and not drinking alcohol, to keep these private springs open for public use.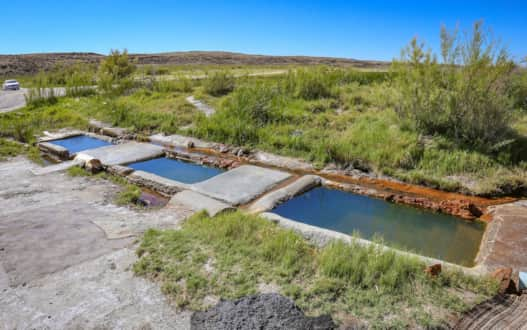 Western Utah
Baker Hot Springs
Location: Delta, about two hours southwest of Provo in Utah's West Desert
Located in Delta not far from Great Basin National Park, the Baker Hot Springs features three tubs set in the desert amid vast vegetation and filled with super-hot water from a nearby volcanic area called Fumarole Butte. Luckily, you can dial down the extreme temperatures by channeling cold spring water through the PVC pipes into the tub. Though Baker's springs aren't huge, you can fit a few friends in the tubs at one time and they're free to visit.