Adapt, Access, Success
National Ability Center offers the outdoors to all people of all abilities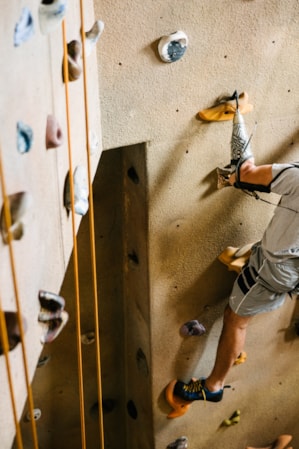 "When people think of a 'disability,' a lot of the time, they think about what a person can't do," says Gail Barille, former CEO of National Ability Center, "But at NAC, we think of it as a differing ability." The emphasis being on what the person can do.

The National Ability Center, located in Park City, launched in 1985 to empower all people of all abilities — including those with physical, developmental, and intellectual impairments, as well as those impacted by serious illness. It offers adaptive or para-sports programming to get them, and their families, into outdoor activities.
"If one in five people have a differing ability, there's a huge need for providing friendly know-how, medical expertise, facilities, and equipment," Barille says.

In 2016, NAC offered 35,000 lessons to more than 5,500 individuals with abilities and their families. Compared to similar adaptive recreation organizations, the National Ability Center is among the top one percent in the country.
During her time at the helm of NAC, Barille helped spur a huge increase in individuals served. In the past five years alone, the number has increased by 96 percent.

"We here at the NAC believe that we're part of a movement," Barille says. "We want to have a global impact."
This reach starts in Utah, though. Barille, NAC, and other like-minded adaptive-sports leaders in the statewide community have banded together to create Access Utah. It's a collaboration between NAC, Wasatch Adaptive Sports, Adaptive Adventures, Common Ground Outdoor Adventure, the Salt Lake County Adaptive Recreation Program, and the BLM and forest service.

Access Utah will advocate for and build accessible trails to an increased number of lakes, rivers, mountains, etc. "It comes from a shared vision that Utah could be the most accessible state for outdoor recreation," Barille says.
Get the Whole Family Outdoors
Approximately 40-percent of the NAC client base are Utahns; the remaining come from every state and 18 countries. NAC's largest populations served are veterans with disabilities and children and adults on the autism spectrum.
Barille shares an anecdote and a typical success story at NAC. A family, who recreates outdoors and are avid hikers, has a child with a differing ability — in this example, it's a child on the autism spectrum. The family dynamic is now changed, and years later, the parents do not know how to best bring their child, who is not comfortable in different environments, on family hikes. "Our job is to get them on the trail together," Barille says. "We have that expertise, and we know what the differing ability looks like and means and how to work with it to be successful. We can get the whole family out there recreating again."
Another large group whom NAC works with is the aging population. Barille explains that after a stroke or hip replacement, for example, an avid cyclist might not be able to enjoy the sport in the same way he or she used to.
"The diversity of programming that NAC offers is staggering. If REI sells the gear for it, then it's likely we offer it."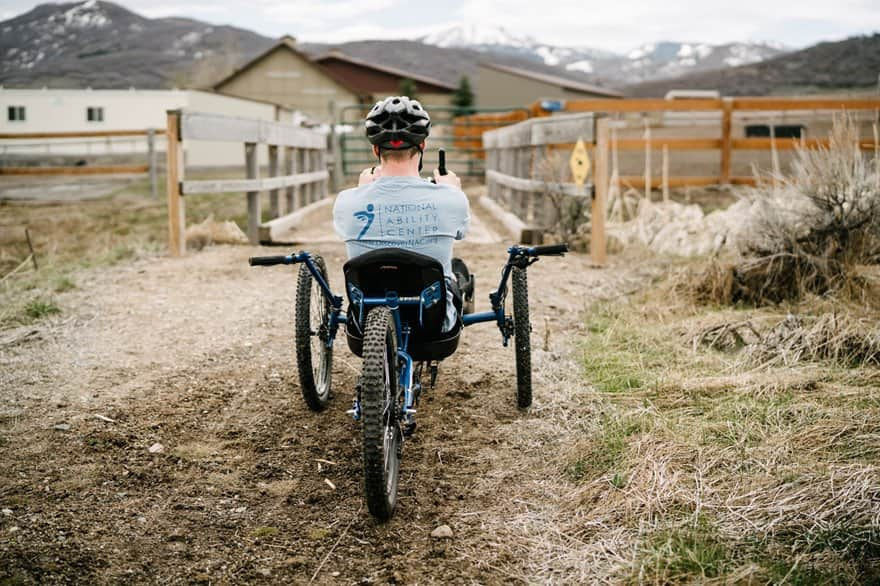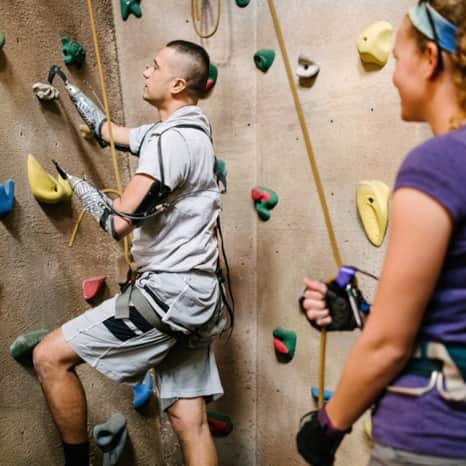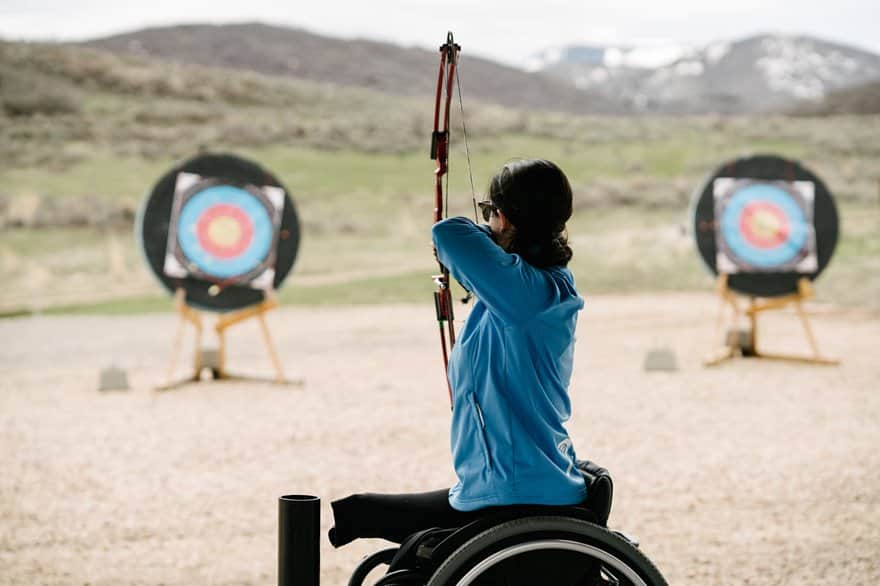 "We have a great saying here," Barille says, "'There's dignity in risk.'" That means taking challenges and making oneself vulnerable to adapting to a new way of interacting with a sport or to adopting a new sport altogether. Barille says that the NAC provides equipment — like a recumbent bike — and dedicated, helpful staff to get the cyclist back on the road again.
National Ability Center Programming and Volunteer Opportunites
The diversity of programming that NAC offers is staggering. "If REI sells the gear for it, then it's likely we offer it — plus we have horseback riding and hippotherapy," Barille says. Not to be confused with therapeutic riding, hippotherapy is a treatment strategy that uses a horse to help improve posture and coordination. More specifically, the programming for adaptive sports includes:
skiing
snowboarding
snowshoeing
indoor rock climbing
swimming
archery
sled hockey
cycling
mountain biking
water skiing
wakeboarding
kayaking
canoeing
paddle boarding
challenge course activities
What's more, local non-profit Splore partnered with the NAC in 2016 to provide even more programming throughout the state, including the Wasatch and Uinta Mountains and Moab. NAC offers activities and events 365 days a year. And with 25 double-occupancy fully-handicap-accessible rooms at its facilities, it's a 24/7 program as well.

The reason for getting families and those with abilities recreating in the outdoors are many, says Barille. Aside from fresh air and exercise being good for mental health, it's a place for people to connect in a more relaxed environment, away from the stresses of home.

To bring all of the beneficial adaptive sports programming together, it's a community effort. Last year, nearly 1,500 volunteers donated 29,300 hours. What brings people here? "I think it's a deep passion for helping others," Barille says. Check out the NAC's volunteer opportunities and training calendar.

"Sure, recreation is certainly in there," Barille continues, "but we get volunteers who want to give back and make a difference in other people's lives, and that's really inspiring."

Find out more about the National Ability Center's mission and adaptive sports programs by visiting www.discovernac.org and view our Accessible Utah resources.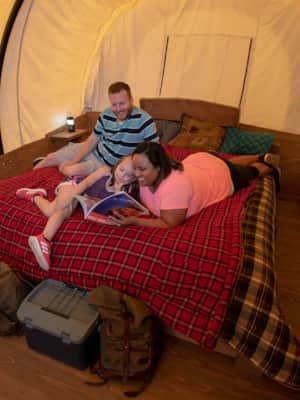 Utah's Scenery Offers A Backdrop for Inclusive Family Camping
While Utah is known for its amazing outdoors, it also has resources that ensure that families and individuals of all abilities can access these places.