Fishing at Piute Reservoir
As locals know, Piute State Park is a world-class fishing spot. The lake holds several species like brown, cutthroat, tiger and rainbow trout, along with redside shiner, smallmouth bass, Utah chub, Utah sucker and striped bass called wipers. Wipers are known to be aggressive and put up a heck of a fight for their size, so they're a prize to hook.
Rainbows are the most prolific catch here, averaging 16 to 20 inches long and weighing in at two to three pounds. And of course, there are whispers of much bigger trophy-worthy fish being caught here and there. Trout fishing from a boat is the best way to get a good haul, though bait fishing from the shore is popular. Float tubing is also very successful, and fly fishermen rarely leave disappointed.
In 2018, the daily trout limit at Piute was raised to eight fish, but check with the Utah Division of Wildlife Resources for current limits, and don't forget to pick up a Utah fishing license while you're at it.
Need a rental? Invert Sports offers a full range of watercraft, from 16-passenger speedboats to jet skis. They also rent all types of toys like water trampolines, water skis, wakeboards and SUPs. The outfitter is located right at the park, adding to the convenience factor.
Ride the ATV Trails
The other big reason people come to Piute is for the world-famous Paiute ATV Trail, one of the most extensive networks of ATV trails in the entire country. The trail system was created by connecting old roads and trails combining the Fishlake National Forest with other land administered by the BLM. The primary loop is a whopping 275 miles long; add to that 1,000 miles of officially marked side trails and another estimated 1,500 miles of tertiary forest roads and trails, and it quickly becomes quite the long-distance adventure.
The trail passes through four different counties, with a high point of more than 11,500 feet and a low point of 5,230 feet. The variety of the terrain in between those altitudes is staggering. Navigating the Paiute Trail takes drivers across wide-open desert vistas and underneath fragrant pine groves and lush hardwood forests. It climbs up and over three mountain ranges, through wildflower-covered meadows and down the green valley of the Sevier River.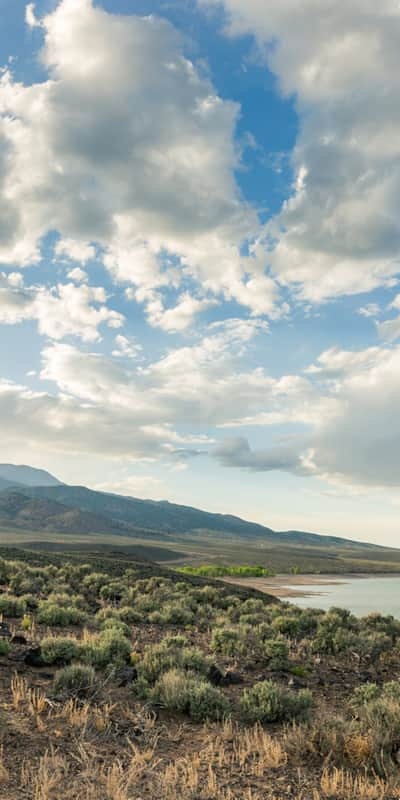 Things To Know
From Marysvale (southeast of the junction of I-15 and I-70 in south-central Utah), head south on U.S. 89 for 12 miles to the park entrance.
The park's elevation is 5,900 feet, so visitors who are unaccustomed to higher altitude should be sure to wear plenty of sunscreen and drink plenty of water.
A day-use entry fee is required, purchase in-person or online. The Annual Utah State Park Pass is accepted for park entry. Primitive camping is first come, first served sites only, no reservations.
Finally, some background for the eagle-eyed readers who may have spotted what they think is a typo here: The two different spellings of Piute — Piute the park, and Paiute the ATV Trail. While both the park and the nearby county are named for the Native American tribe, Utah's state legislature changed the original spelling from Paiute to Piute. No matter how you spell it, you'll find a welcome getaway to spend some time on the water or trail in an incredibly scenic section of the state — without the crowds of so many of Utah's other treasured outdoor gems.