What Makes it Great
Whether you are in for hiking or rock climbing along the Great Western Trail, an ATV ride, or camping at Fish Creek Reservoir, the scenery is epic. And Fish Creek is just one of the many lakes on the mountain. First class fishing in said lakes can't be beat when compared to other destinations in Utah. They are easily accessible and filled with hungry fish, typically brook trout, but you might also angle for rainbow trout, cutthroat trout, tiger trout, splake, and grayling.

Bluebird Knoll is the mountain's — and the area's — highest peak; it rests at 11,313 feet above sea level. Blind Lake is the mountain's largest lake, covering 52 acres, with a maximum depth of 52 feet.

A popular lake for families is Lower Bowns Reservoir, a 125-acre lake (when full) easily accessed with passenger vehicles down a dirt and gravel road. It's located several miles off of Highway 12 on the east side of Boulder Mountain, and affords incredible views of the Henry Mountains and surrounding desert country. Pit toilets and a number of primitive campsites with fire pits and benches are available on a first-come, first-serve basis. Plus, the fishing is killer here as well.
Discover more Boulder Mountain trails to tour and start planning your trip.
GPS Coordinates, Parking and Regulations
GPS Coordinates
Lower Bowns Reservoir
(38.106952, -111.271465)

Fish Creek Reservoir
(38.163968, -111.438441)

Boulder Mountain can be accessed year-round, except right after big storms in the winter–be sure to check the weather before you plan your trip. For fishermen, the highest likelihood of catching something is in the fall, but it's generally pretty great from spring to late fall as well. The elevation, ranging from 7,000 to 11,000 feet, is perfect for cooler temps during summer months, but storms occur frequently in the afternoon.

Dogs are free to run off-leash on most trails and campsites. Fees are not required to enjoy nature at Boulder Mountain. Overnight accommodations range from a lodge, guest ranch and resort to RV parks and hotels.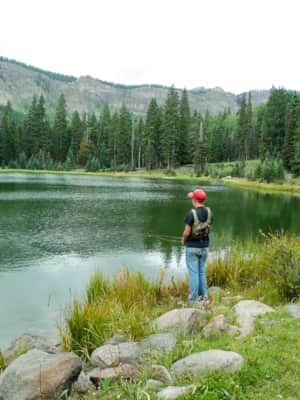 Alpine Fishing Above the Red Rock Landscapes of Southern Utah
Sitting just outside of Capitol Reef National Park, this 11,000-foot peak offers views of the surrounding red canyons and desert-like region. In contrast, Boulder Mountain is heavily forested and home to more than 80 lakes, ponds, and reservoirs. With an average rainfall multiple inches more than the lower regions, the area makes for some surprisingly good fishing.