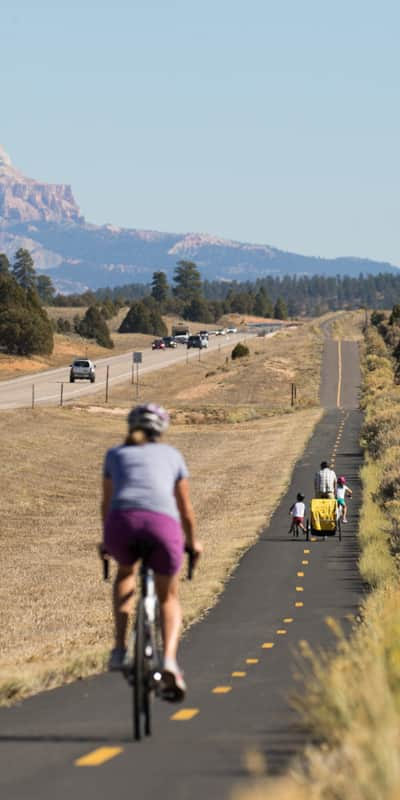 Border-to-Border Bicycle Tour of Southern Utah
Connects riders from Nevada to Colorado
USBR 79 and 70
Adventure cyclists are already familiar with the high desert country of Southern Utah thanks to the Western Express, a 1,582-mile path from San Francisco to Pueblo, Colorado that crosses through some of Utah's most scenic landscapes. The 506-mile (one way) Southern Utah USBR begins in Garrison, a tiny, unincorporated community at the Utah-Nevada border as USBR 79 (S.R. 21). After crossing some of Utah's most scenic landscapes, the route passes into Colorado on USBR 70 (S.R. 491) 17 miles east of Monticello. Read more about explorations along the Border-to-Border Bicyle Tour of Southern Utah.
Border-to-Border Bicycle Tour from Northern to Southern Utah
Connects riders from Idaho to Arizona
USBR 77, 677, 877, 79 and 679
USBR 77 is a north to south route that begins at the Idaho border and travels through Logan, along the Wasatch Front from Ogden to Salt Lake City and Provo, through Fishlake National Forest and ending at USBR 70 in Torrey, near Capitol Reef National Park. USBR 77 connects with USBR 877 in Sigurd, which travels south to USBR 79 in Panguitch. USBR 79 runs south from Panguitch to the Arizona border.

USBR 677 is a more scenic stretch that travels along the west side of Utah Lake near Provo. It connects with USBR 77 around Lehi and Goshen. USBR 679 is an east to west route that connects USBR 79 at US 89 and USBR 70 at Duck Creek Village.