U.S. Federal Shutdown Information
At this time, all of Utah's national parks, monuments and recreation areas remain open.
Learn more.
Cycling the Road to Mighty
Experience professional-caliber cycling routes inspired by the Larry H. Miller Tour of Utah on the stunning roads of scenic Southern Utah.
Here are two days of professional-caliber cycling routes, inspired by the original Larry H. Miller Tour of Utah, on the stunning roads of scenic Southern Utah, followed by a warm-down ride in Capitol Reef Country. This Utah bike tour is the weekend warrior's dream, with options to push yourself to your physical limits or shorter routes to keep it real. Though Utah may be best known for its mtb singletrack, there's plenty of great road cycling to be had here.

Travel with your fellow warriors or bring the family for a supported ride. Either way, there are plenty of incredible destinations — including a few national parks — along the routes to keep non-cyclists entertained, and you'll certainly be glad for the support vehicle.

The highlights of day one combine a grueling 4,000-foot climb to 10,000 feet for top-conditioned riders along with the spectacular scenery of Cedar Breaks National Monument and the payoff of an exhilarating descent back to town.

Day two traverses Utah's All-American Road Scenic Byway 12, which bears a top national designation celebrating the route's unparalleled beauty, which you'll have extra time to enjoy on two wheels. An organic, farm-to-table meal at Hell's Backbone Grill helps you replenish the calories around dinner time.

The final day is a bonus. One doesn't travel this far up Highway 12 and just skip Capitol Reef National Park. From your base camp in Torrey, you'll fully explore the red rock wonderland of S.R. 24 en route to the Capitol Reef Scenic Drive.

The itinerary is broken up into three shorter tours and the total mileage reflects the top end of the range of cycling miles, but each day has options to shorten it. There are additional driving miles between the starting points of each day.

When all is said and done, you'll trek across some of Southwestern Utah's most iconic scenery — but you'll have the humblebrag of saying you did it by bike.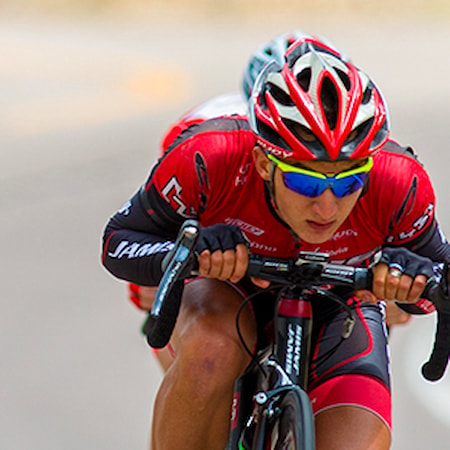 Cedar City to Cedar City Loop
90 Miles
Choose the full 90-mile route with a legend-making ascent or the 60-mile option. For families and their shuttle vehicles, there's plenty to see and do along the route. The short hike of the Parowan Gap is rich in history, Brian Head Resort offers a wide array of summer activities, and Cedar Breaks presents one of the most spectacular and unexpected views in the region. Photo by Jonathan Devich.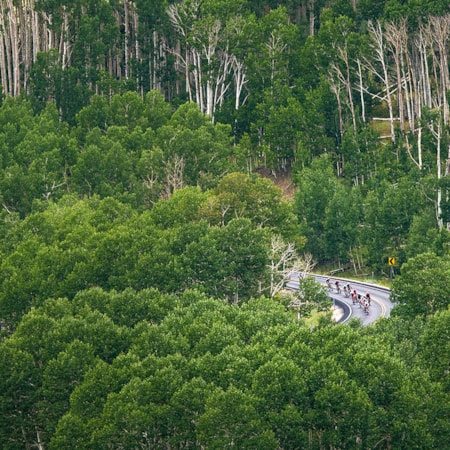 Escalante to Boulder
56 Miles
Utah's All-American Road Scenic Byway 12 is a wonder of human engineering in a landscape unlike anywhere else. It's a privilege to tour it by car, but little can top the intimate experience of touring it by bicycle. Today's route is a very manageable 27 miles from Escalante to Boulder, Utah, or an even better 54 miles round-trip. For non-cyclists accompanying you on the journey, the 6-mile, intermediate round-trip hike to Calf Creek Falls is one of the area's best hikes, and everyone can rally afterwards in Boulder for farm-to-table dining at Hell's Backbone Grill or Burr Trail Grill. Overnight at a hotel or lodge in Boulder or Torrey. Photo by Jonathan Devich.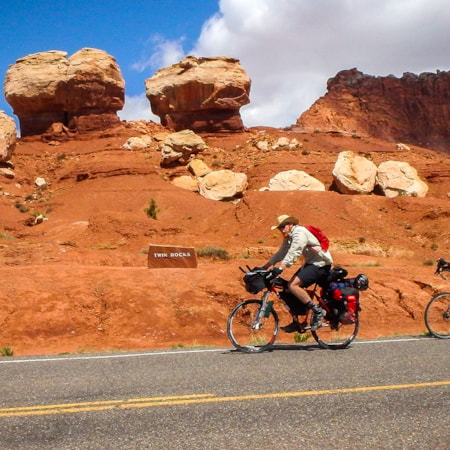 Tour of Capitol Reef National Park
40 Miles
We figure if you've come all this way — ridden all those miles — you can't leave nearby Capitol Reef National Park for next time. The road from Torrey to Capitol Reef and the drive in the park ($7 per cyclist at the entrance) combine for an ultra-scenic 40 miles when all is said and done. Since you won't have burned out your legs on this ride, there are hiking options at the end of the park's scenic drive or along S.R. 24. Save some energy for the return trip to Torrey's higher elevation and enjoy a great meal in town.