Flood Safety
Due to record snowpack and high amounts of spring runoff, please be advised of potential flooding that could impact travel plans.
Learn more
Utah's Fruit Way: Harvest Time Along Old Highway 89
Stock up with fresh road-trip snacks and dinner provisions direct from family-run farm stands, all within a stone's throw of the region's many historic farms and orchards.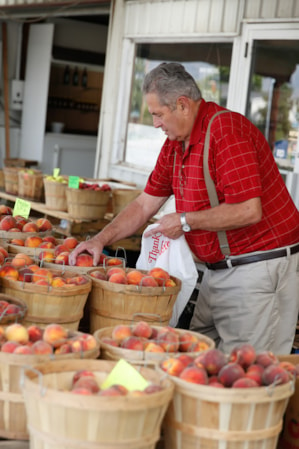 The hunt begins in mid-August, the quest for Early Elbertas.
The social media feeds of fruit lovers throughout northern Utah are filled with searches for the prized peach, with queries like, "How are the Early Elbertas looking?" and declarations of "This is what I've been waiting for ALL summer!" as the usual late-August harvest approaches.
Or in the case of the late, wet, cold spring of 2019, most of the peach varieties ripened two weeks later than usual, and Early Elbertas didn't come to market until the second week of September. In my book this made them "Late Elbertas," but still absolutely worth the wait.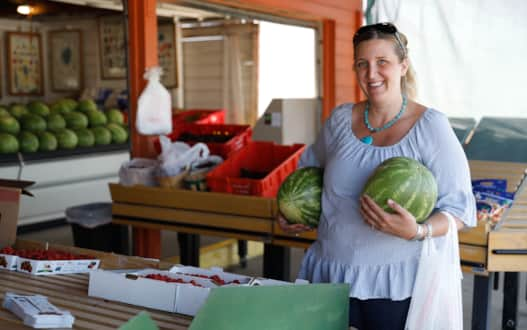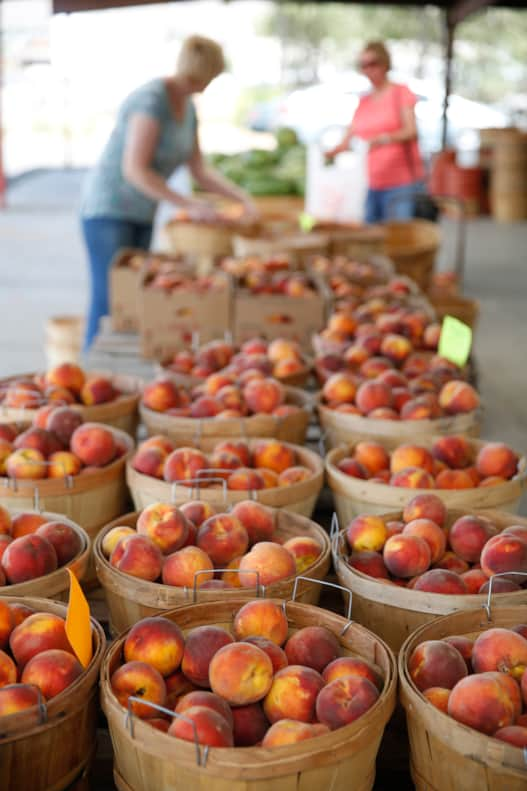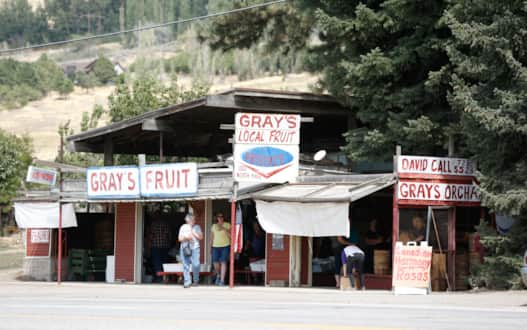 Early Elbertas are prized for their versatility for both out-of-hand eating and for canning, thanks to consistently fine-grained, sweet yellow flesh with a light red blush and a free stone. Called "America's Favorite Peach" by the Arbor Day Foundation, the original Elberta varietal was developed in 1875 by Georgian Samuel H. Rumph (who named the Early Crawford and Chinese Cline cross after his wife). And that prolific peach prospered — along with dozens of other peach varieties — in northern Utah. In 1907, Summer Gleason of Kaysville, Utah and Stark Brothers Nurseries of Louisiana, Mo., introduced the Gleason Early Elberta to offer a one-to-two week jump on the Elberta peach harvest.
For many Utahns, this search for Early Elbertas is well-nigh laser-focused along the regionally self-proclaimed route known as "Utah's Famous Fruit Way." It's an agricultural corridor cultivated for generations between Perry and Willard along both sides of Old Highway 89, a 10-mile stretch of state-maintained road running south from Brigham City. This narrow swath of agricultural bounty is situated in the shadows of Black Mountain, Willard Peak and Ben Lomond Peak to the east and the basin of the Bear River Valley and Great Salt Lake stretching far to the west. Here, the winter season chills fruit trees for enough hours to ensure optimal spring growth, and the summers are hot and relatively long at this latitude. And the rich soil from alluvial remnants of glacial prehistory set the literal groundwork for the area's fertile landscape.
"Food is about making an interaction with ingredients," said acclaimed chef and humanitarian José Andrés. "If you talk to them, they will always tell you a story."
Long story short: This is a perfect spot for peaches.
Getting Back to the Roots of the Fruit Way
Like the ancestral indigenous people who arrived in the region more than 10,000 years ago through to the Shoshoni communities that were militarily displaced from the area in the late 19th century, 1850s emigrants were drawn by the diverse hunting and plant gathering along the region's mountain foothills, river valleys and bounteous marshlands. Brigham City was founded by Latter-Day Saint emigrants along Box Elder Creek to build mills and other water-dependent industries and for the ability to ramp up agricultural production quickly. Earthen dams, reservoirs, and a complex system of irrigation canals supplied water for livestock ventures, vegetable farms, and a multitude of fruit orchards. The rich soils here could also sustain dry crops without irrigation — those dependent upon scarce rainfall and moisture-trapping soils — like winter wheat, which fills the many granary silos that you'll see all along the Wasatch Front corridor.
This region of northern Utah is an almost-perfect growing environment for the famed peaches cultivated here, for sure, but also for other tree fruits like apricots, plums, cherries (Utah is second in the nation for tart cherry production), vegetables galore, apples and pears of infinite variety, and melons and berries of all sorts. Case in point, you'll find evidence of the latter year-round with the fierce competition for the best blackberry and raspberry concrete milkshakes at the region's many independent burger joints. Follow your nose in August when the Anaheim pepper crop is at its peak: the fragrant and fiery smell of propane-fueled chili roasting drums inevitably makes me nostalgic for time spent in Arizona and New Mexico during chili harvest, as do the taco carts that pop up along the Fruit Way around the same time.
The first peaches show up at farm stands by late July, with Red Haven a popular early variety. In early August the peach season really gets rolling, with Red Fremont (a great freestone peach for grilling), Sierra Gem and Flaming Fury arriving right around the time you'll see signs along the Fruit Way declaring "Last day for cherries!" and "Berries aplenty!" Flatbed trailers filled with bushels of fragrant softball-sized Sun Prince and J.H. Hale peaches are parked outside stands in September, truckloads of late-variety peaches like O'Henry and Ryan's Sun trundle up and down Highway 89 through early October, and apples and winter squash are usually available until mid-November. And the happy by-product of the very aggressive winter pruning that results in productive fruit trees come summer means that smoker geeks like me (guilty, as charged) can buy bundles of local fruit woods like cherry and apple along the Fruit Way directly from the orchards. In the chilly months of late fall, there's something sublimely satisfying about serving ducks our family hunts along the Bear River that I smoke over cherrywood trimmed from orchards just up the hill from our duck blind.
In Search of Plenty
Vacationers heading to Bear Lake, Golden Spike National Historical Park, and the Bear Lake Migratory Bird Refuge swarm Utah's Fruit Way from June to August, stocking up for their weekend full of family dinners. You'll also see plenty of the regions' serious home canners loading up entire car trunks full of bushel baskets filled with seasonal bounty. My favorite time to visit the Fruit Way (and those aforementioned destinations) is during late September through October, when a bit of an early morning nip in the air makes for a perfect windows-down mosey looking for produce at its absolute peak and the crowds have thinned a bit.
Between the I-15 freeway exit for Willard and the south edge of Brigham City, you'll find over a dozen family-owned fruit and vegetable stands. Most stands are on the east side of the road, so if it's a busy traffic day we start at Pettingill's on the Fruit Way's south end and work our way north, making right-hand-turns in and out of overflowing parking lots until we reach Nielsen's Produce right across the road from the historic Maddox Ranch House restaurant and lodge in Perry. Along the way, you'll see signs faded by sun for generations mixed with stands gleaming with a fresh coat of paint for the season.
It's a veritable who's-who of multi-generational dedication to local agriculture: Grammy's Produce, Barkers Fruit Farm, Gray's Orchard, Woodyatt Cherries, Tagge's Famous Fruit & Veggie Farms, Sumida Farm, Matthews Fruit Farm and so many more. Although most of the established fruit stands accept credit cards, make sure to bring some cash in small denominations for exact change. In this land where the Golden Rule still rules, many farmers still sell cash-only from self-serve coolers set in their front yards with cardboard signs indicating "local peas!" or "we've got Elbertas," and from the beds of pickup trucks parked on the road for a few hours until they sell out.
Round out the trip with a loaded burger and hand-cut fries (of course you want extra fry sauce!) at Brigham City's iconic Peach City Drive In. Covid-19 made nary a blip in their carhop service model that's been in place since the 1940s. Oh, and make sure to get one of those coveted raspberry shakes, to boot.
The Fruit Way continues to be somewhat of a hidden Utah treasure, and one that I'm more than a little nervous about highlighting on such a popular platform as Visit Utah. But then I'm reminded of the soul-deep gratitude for the farmers who do the hard work of keeping us fed and happy, and the hope that these small family farms keep going for future generations. Of the genuine difference in flavor and quality that fresh fruit and vegetables have when they're harvested at their peak just hours before eating. And there's something truly special about biting into a perfect tree-ripe plum or handful of tart local cherries, a road-trip snack made even more appealing when you see said fruits literally a stone's throw away. Or the dance-in-your-kitchen delight of opening a jar full of September-preserved peachy sunshine on a snowy February night.
It's too good not to share.