U.S. Federal Shutdown Information
All of Utah's Mighty 5 national parks will remain open.
Learn more.
Following the Markings of Native American History
Here's a sample itinerary to help you find an incredible window into Utah's past.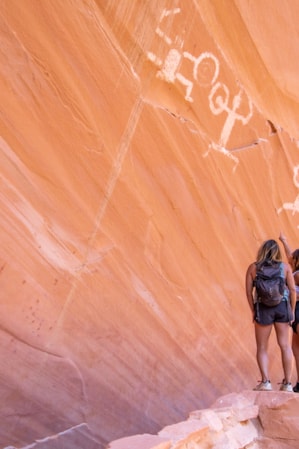 Utah is known for its natural beauty. But take a closer look and you'll discover that the dusty red sandstone covering much of the state tells a story as well. People lived in this part of the country for thousands of years before European settlement, and you can see signs of these Native American tribes in the petroglyphs and pictographs that they left behind.
A road trip is a great way to explore these markings of ancient native history — in addition to seeing some of the most amazing scenery in the country. You can spend your time hiking among Utah's most beautiful landscapes while learning about the people who came before us.
To get you started, we've put together a sample itinerary, starting in Vernal near the Colorado border. But you can easily make the trip in reverse order or pick and choose elements that work best for you. No matter which stops you make, you'll find an incredible window into the past.
But before you get on the road, it's best to find out a little bit more of Utah's rich Native American history.
Utah's Early History
Pre-European settlement in Utah is classified into three main categories, starting with the Archaic Indian Period from 7500 B.C. to approximately 300 A.D. That's followed by the Fremont/Anasazi Indian Period, which overlaps slightly from 100 A.D.-1300 A.D. The last grouping is the Ute Indian Period, from 1300 A.D.-1880 A.D. A range of pictographs and petroglyphs (often referred to as "rock art," though the intention of the work is unknown) from each can be found all over the state.
Descendants from these ancient people now make up the major tribes of Utah: the Ute, Dine' (Navajo), Paiute, Goshute and Shoshone. The predecessors of these tribes created two categories of images in the rock. Petroglyphs are made with some type of tool that removed bits of the rock, while pictographs are more like paintings, made with pigments added to the surface of the stone. While some of the art may have originally been a combination of the two styles, the ravages of time have left behind primarily petroglyphs.
The figures found in these panels range from geographic designs (that many researchers believe represent abstract thoughts such as "the after-life") and human or animal figures — sometimes engaged in activities. What do they all mean? That's tough to say, as no translation is available. Experts speculate that, as you'd probably expect, the pictures were a way to tell their stories. Perhaps they are instructions for hunting or growing crops. They could be historical remembrances or mythology. Part of the fun is in speculating about what the message might be.
Start Exploring on Your Own
The adventure starts in the small town of Vernal, about three hours east of Salt Lake City. Here you'll find some of the best examples of Fremont Indian panels located on private property just outside of town. The McConkie Ranch petroglyphs decorate the cliffs along a short but sometimes steep trail of just under a mile. The Fremont are distinguished from some of the other nearby tribes because they were a bit less nomadic, creating semi-permanent settlements where they were known to grow crops versus solely relying on a hunting/gathering tradition.
Also known as the Dry Fork Canyon petroglyphs, many of the markings here are very large and easy to see. Some of the more famous of the petroglyphs feature a bit of blood and gore as well as peaceful pastoral scenes. The variety, quality and size of these petroglyphs make them one of the most important records of an ancient culture that has survived.
There is a $5 fee for a group of any size to visit. Porta-potties are provided in the parking area, and water is available for purchase (important in the hot summer months!) and the trail is very well marked.
Dinosaur National Monument
A quick 20 minutes further east of Vernal, you'll find the Dinosaur National Monument (DNM). In addition to being one of the best places in the country to see well-preserved dinosaur fossils, this area is a treasure trove of ancient Native American art (Read: Reef Walking, Petroglyphs and Bones). You'll find multiple locations around the monument for viewing both petroglyphs and pictographs. Some of the can't-miss spots to visit on your trip include:
McKee Spring
If you've only got time for one site at DNM, McKee Spring is the place to go. The rock-art panels are of high quality and easily accessible.
Tilted Rocks
The art here is plentiful and diverse. The best drawings require a bit of effort to see up a steep hill about 200 yards up the trail. The memorable forms here are the lizard drawings.
Echo Park
Petroglyphs are scattered all over the Echo Park area. Many are located on a ledge above the campground, some are at Pool Creek, and others are found across the Green River from the raft-launch site.
Jones Hole Trail
The rocks at Jones Hole are some of the most impressive pictographs at DNM. Keep an eye out for what could be a shaman (holy man) and bighorn sheep.
Mantle Cave
This area is accessed from paddling the Yampa River. Visitors can follow a well-defined path uphill through the brush for about half a mile to the cave's entrance.
Continuing the Quest in Moab
About a three-hour drive south of the Dinosaur National Monument, Moab is one of the most popular outdoor towns in the state. It's known for its camping, hiking, mountain biking and star-gazing — plus a wide number of sites worth visiting with native petroglyphs and pictographs If time is an issue, this might be your "one-stop that has it all" destination. Some highlights include:
Sego Canyon
Sego provides displays of panels from all three time periods, and has both petroglyphs and surprisingly colorful pictographs. This makes it easy to compare the different styles.
Golf Course Rock Art Site
Perhaps the most accessible of the sites listed is exactly what it sounds like. A petroglyph panel in a neighborhood near the golf course in Moab. The drawings, which can be seen from the parking area but should be seen close up, are a mix of Fremont and Anasazi likely dating back to between 1 to 1300 AD.
Canyonlands National Park
Just a half-hour west of Moab, Canyonlands National Park is a treasure trove of pictographs and petroglyphs with a variety of sites throughout the park. The two most significant options are:
Newspaper Rock
This is the easy option. It's likely the best-known (and certainly the most photographed) petroglyph example in the country. Newspaper Rock, part of the Indian Creek Corridor unit of Bears Ears National Monument, features examples of drawings from a variety of cultures, including the Archaic Indians, Fremont, Anasazi, Navajo, and other Ancestral Puebloan peoples.
Horseshoe Canyon and the Great Gallery
This is the harder option. The middle of nowhere is a pretty accurate description of this section of the park. However, the 7-mile strenuous hike is certainly worth the effort for the best-preserved examples of Barrier Canyon-style rock art in the country. The most famous of the panels is the Great Gallery, but three other sites can be seen along the hike. (Read: Ancient Pictographs, Petroglyphs and Timeless Mysteries)
Finishing the Trip in Bluff
About an hour and 45 minutes south of the national park in the southeast corner of Utah, Bluff is considered the gateway to the new Bears Ears National Monument, and many fine examples of Ancestral Puebloan art are located in the vicinity.
In Town
Five prehistoric panels are located near town and you can find them on the Bluff walking tour map.
This is another fantastic, easy-to-reach site, and one of the most prolific and well-preserved examples of Anasazi petroglyphs.
This one requires a bit more effort to see as it only be accessed by boat on the San Juan River, by Jeep or by hiking in — it's next to River House site, which is also worth a visit.
Please note that due to the extreme temperatures, both hot and cold, of the Utah desert, it makes sense to plan trips for the spring or fall. But if summer is the only time available, plan hikes very early in the day and always be prepared with plenty of drinking water and sunscreen.
Code for Visiting Petroglyphs and Pictographs
Always respect the art panels and archeological sites. Petroglyphs are an important part of our human and national heritage and can be fragile. Follow Leave No Trace principles so future hikers have the same experience and sense of discovery that you do. (Read: How to Visit Rock Imagery Sites Like an Archaeologist)
Follow these guidelines to protect and preserve these amazing petroglyph panels:
Don't touch the rocks. Oil from your hands degrades the rock surface.
Don't disturb panel sites or nearby ruins. Picking up pieces of pottery or digging in soil disturbs the area and leads to erosion.
Don't make fires near the panel sites.
Don't enhance the petroglyphs with chalk, liquid, or paint.
Don't make rubbings, molds or castings of petroglyphs.
Don't carve, chisel, scratch, engrave, spray paint or write on panels. This not only mars the petroglyphs but is a federal crime.
Don't try to remove or take items from cliffs or boulders. It is vandalism and a federal crime, with stiff penalties including fines and imprisonment.
Do enjoy the ancient petroglyphs, take lots of photos, act responsibly and help preserve our prehistoric legacy and heritage.