TetraSki Offers Freedom and Independence for Skiers of All Abilities
Utah program's innovative adaptive recreation equipment makes an Alta powder day, well, even more legendary.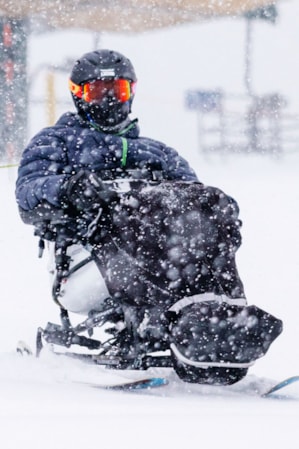 It was a legendary Alta powder day, not a bluebird day, for the photography session of my first ride on the new high-tech TetraSki. Mother Nature dumped prodigious amounts of white fluff, which piled up by the minute. (Read: "How to Prepare for Your Utah Ski Vacation")
The TetraSki is a groundbreaking development in adaptive ski equipment for people with complex physical disabilities. Sip-and-puff technology means that even a total quadriplegic can ski with this wonderous device. Sip on a tube and you go left. Puff and you go right. There's also a joystick, while electric motors put the skis on edge as you're comfortably encased in a stable, supportive bucket seat.
I was hosted on this day by TRAILS, the University of Utah's adaptive recreation program for people with spinal-cord injuries like mine. The group included program founder Jeffrey Rosenbluth, the driving force behind the TetraSki; his son Rex; Keegan Buffington, program director; George Raggets, program assistant; and photographers Austen Diamond and Rocko Menzyk. My granddaughter Ellie and son-in-law Jason also skied with us.
The TetraSki is the core project of the University of Utah's Tetradapt Initiative. It's the brainchild and passion of Rosenbluth, who's also the medical director of the Craig H. Nielsen Rehabilitation Hospital.
The Tetradapt mission is to imagine and build assistive devices like the TetraSki that make it possible for those of us with less-than-able bodies to get out and experience the adrenaline rush and excitement of sports like skiing, sailing and cycling — and to do it on a performance level that's on par with the able-bodied world (Read: "Getting Back on the Mountain"). To accomplish this mission, Tetradapt partners with the University of Utah Colleges of Health, Mechanical Engineering, Computer Science, Businesses and Architecture and Planning.
From my experience on this blustery powdery day at Alta, I can say "mission accomplished." Yes, you can ski — really ski — with precision, speed and control. (Read: "Spreading the Joy of Adaptive Recreation")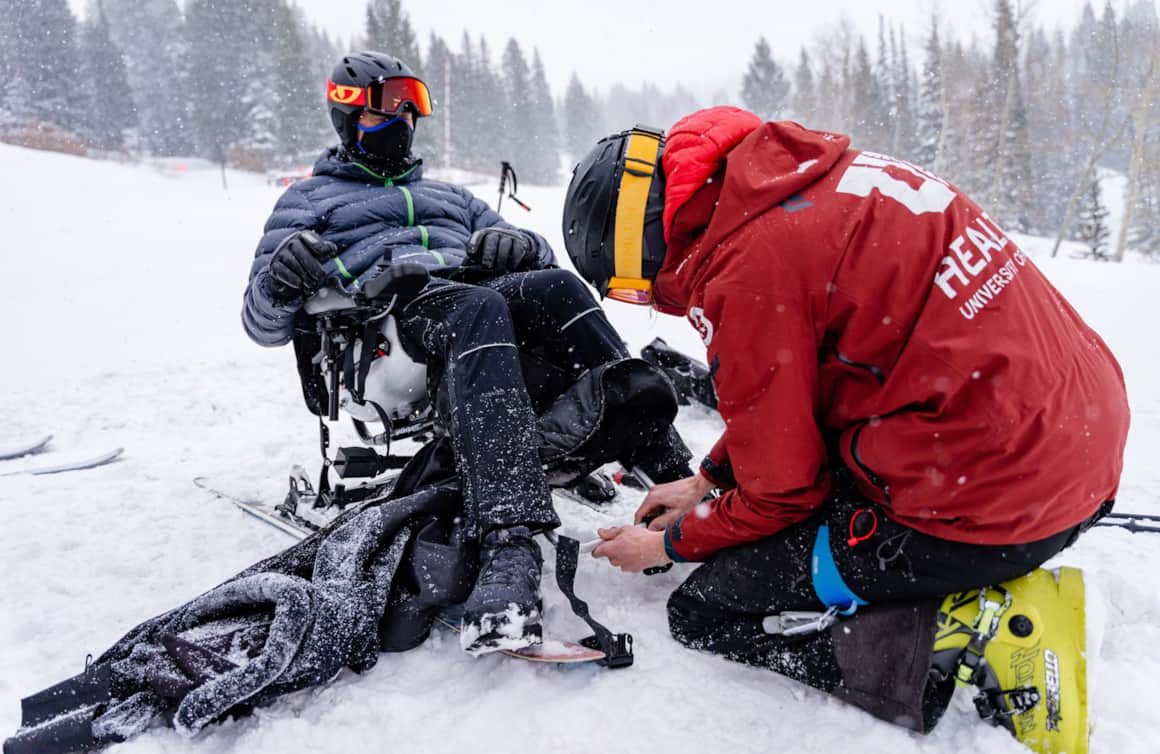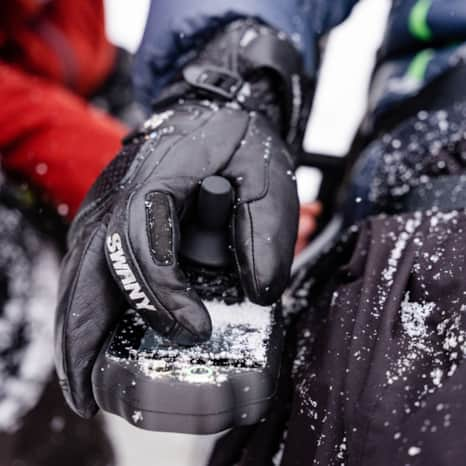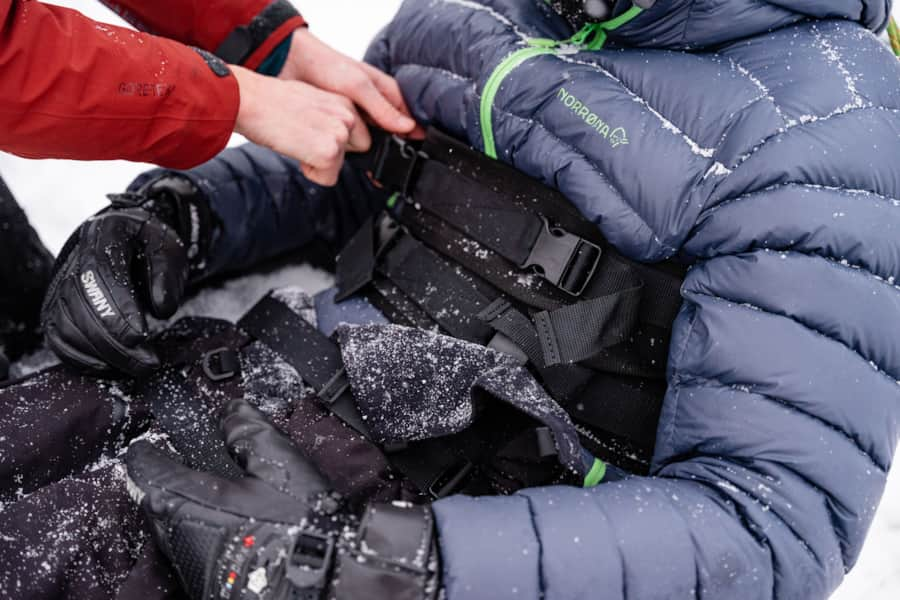 "My disability faded into the background. This was no-compromise skiing, just as I remembered."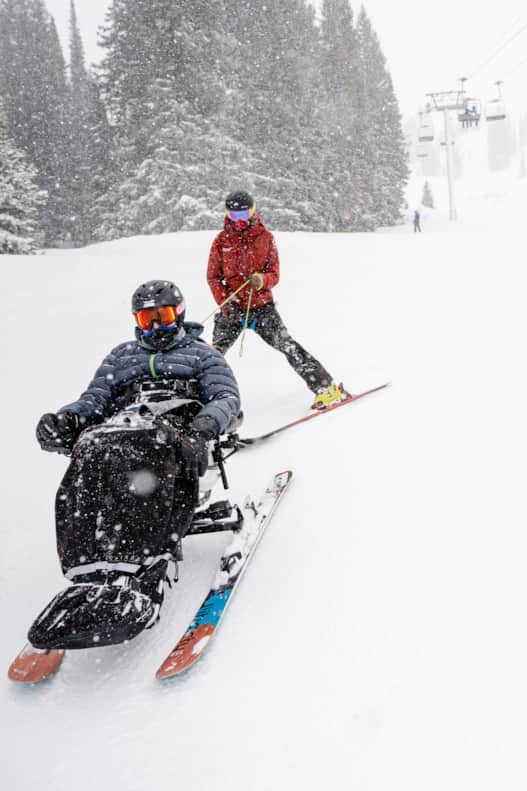 For most of the day, I used a joystick for directional control. I also gave the sip-and-puff technology a try, which requires a substantial amount of concentration. I was once a total quadriplegic from a diving accident, but regained partial use of my legs, arms and hands. I even got back to stand-up skiing at an intermediate level, but advancing age has zapped my strength and balance. Enter the need for the TetraSki.
With the TetraSki, I carved, I straight-lined waterfall drops, threw up rooster tails of Alta powder and slalomed down tree-lined bowls — initiating precise turns where and when I wanted. Freedom and independence were mine.
Yes, I was sitting down, not standing up. And I had a safety tether from Keegan behind me. But I still felt the skis carve as I learned the subtleties of the joystick to round my turns.
The real icing on the cake this day was being able to ski with my family again. My granddaughter Ellie and son-in-law Jason skied alongside me on this blowy, snowy day. Both expert Alta regulars, they cruised with ease down the relatively gentle runs of Sunnyside. It was a joy to watch their effortless turns, while I made some pretty decent turns myself.
In a way, the TetraSki served as a time machine, taking me back to my days as an able-bodied ski instructor. The mountain became my playground. I was able to immerse myself in the white and wild world around me (Read: "Adaptive Skiing: Youthful Inspiration"). I shared the camaraderie of my lift-mates and the mid-run stops to plot our course to the bottom.
My disability faded into the background. This was no-compromise skiing, just as I remembered.