Mountains, Markets & Music: Spend 48 Hours Exploring Ogden
Follow this detailed itinerary to pull off the ideal 48-hour escape in Ogden.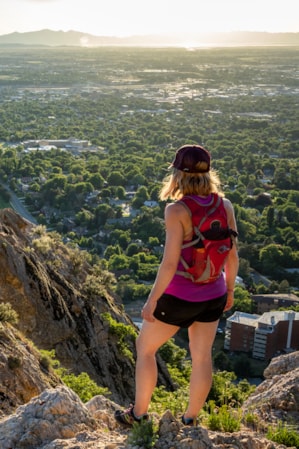 Sitting at the foot of the Wasatch Range north of Salt Lake City, Ogden is known for its proximity to trails and ski areas. However, Ogden's lively historic district gives visitors plenty of other reasons to visit. Walk around downtown on a weekend day, and you'll find yourself amidst farmers' markets, artisan coffee shops and eclectic restaurants. Musicians perform at local bars and restaurants most nights of the week. The fantastic food and entertainment provide the perfect coda to an energizing day in the mountains. Follow this detailed itinerary to pull off the ideal 48-hour escape in Ogden.
Day One
Morning
Wake up on the right note with coffee at the Wasatch Roasting Company, a specialty coffee shop that roasts beans in-house. Take in the divine aromas as you admire local art in this cozy yet minimalist space. Their cold brew is first-class, and knowledgeable staff members are happy to recommend other menu favorites. For the non-coffee drinker, choose from a variety of loose-leaf teas, or order a hot chocolate to start your day.
At the Farmers Market Ogden, Historic 25th Street overflows with crowds browsing through local produce and hand-crafted goods. Musicians perform on the streets, and artists display their work for sale. On Saturday mornings from June through September, the market spans 25th street toward Union Station. In the fall, the market takes place at the Ogden Amphitheater and lasts until late October. When you visit the market, you can meander through the stalls, grab a bite to eat from one of the vendors and even attend a community yoga class at the Municipal Gardens. If you're visiting in the off-season, check with the Ogden Downtown Alliance for a list of events.
After you've had your fill of the farmers market, continue your walk through the Historic 25th Street district, admiring the buildings that once were saloons and brothels. Or stay a little longer and check out one of the four museums at Union Station. Stroll over to the Eccles Community Art Center, where a rotating collection of art sits in a beautiful historic house. It's free to visit, but donations are encouraged. Keep your shopping local and check out the Carriage House Gallery for one-of-a-kind gifts.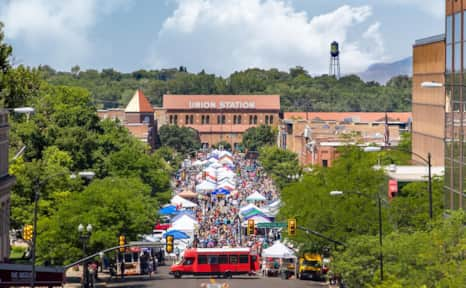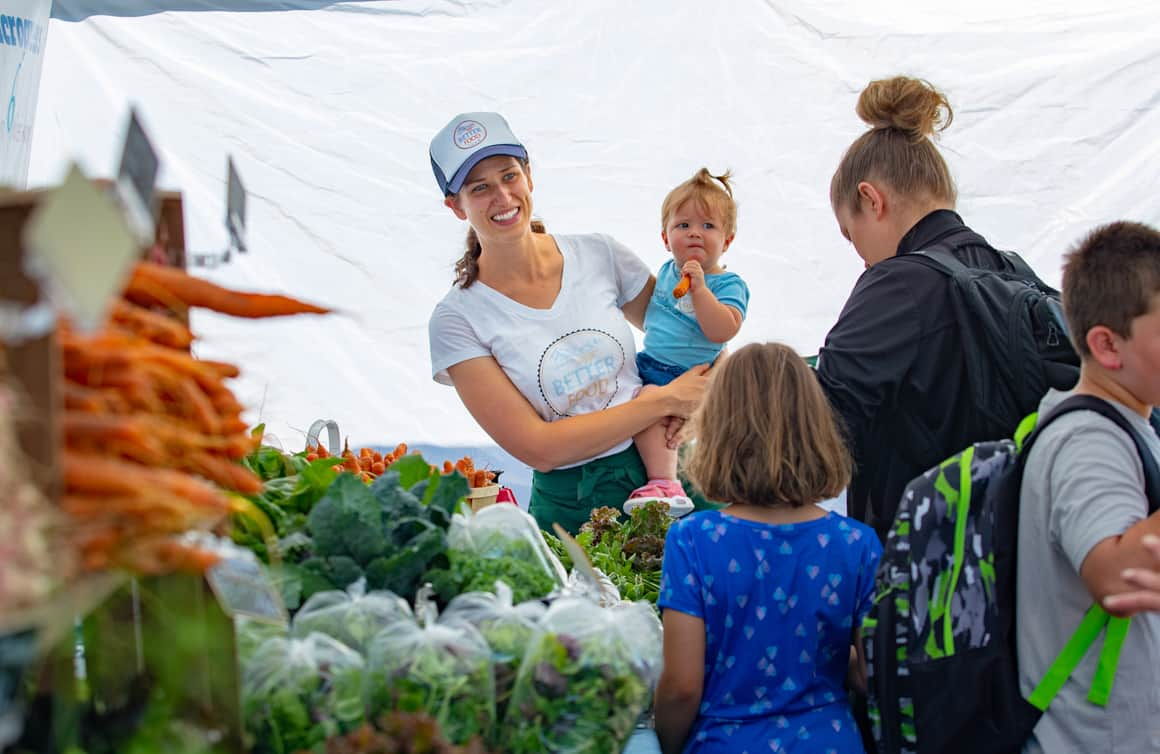 Afternoon
Walk to Laan Thai on Washington Boulevard. Pad Thai is a top-selling item, but the menu is expansive and features a variety of authentic dishes that sample the different regions of Thailand.
Once you've eaten, hop in your car and drive to the Ogden Nature Center. This 152-acre nature preserve and education center is an excellent destination for families, but it's also a worthwhile stop for any traveler. Check out the walking trails, educational programs for kids, live displays of local species, and hands-on exhibits in the Visitor Center — one of Utah's most environmentally-friendly buildings.
Evening
When you're ready for dinner, drive over to Slackwater, a scenic and lively pizzeria and pub hugging the Ogden River. This relaxing hangout spot serves artisan pizzas and houses an impressive array of beers. If you want to hear live music, opt for a late dinner or stick around for a beer. Follow up your meal at Farr Better Ice Cream. In operation since 1929, this old-school ice cream shop offers more than 75 flavors.
For another evening option (if you're traveling without kids), enjoy the sunset from the rooftop bar at Alleged on Historic 25th. Skip the downstairs and head straight to the roof where you'll have fantastic views of the Wasatch Range and downtown Ogden. Or, enjoy a comedy show at Wiseguys, where big-name acts and local comedians perform on weekend nights.
Day Two
Morning
Get an early start, because you'll be taking a drive. Before you head out of town, grab an early breakfast at Pig & a Jelly Jar. This trendy restaurant serves up Southern food with a modern flair. You won't be disappointed by the classic chicken and waffles. Or, mix it up with a veggie sink scramble served with Bloody Mary salsa.
A visit to Ogden wouldn't be complete without spending at least half a day in the Ogden Valley. Once breakfast is done, head east from town on State Route 39 and drive the scenic byway through a glimmering canopy of cottonwoods along the Ogden River. Jagged quartzite rocks tower above you until you reach Pineview Reservoir. Circumnavigate the reservoir in your car, stopping at the non-fee Windsurfer Beach to take in the views, go for a dip, or try out paddleboarding. SUP rentals are available at Detours in Huntsville, so plan ahead. If you prefer cycling, rent mountain bikes at Diamond Peak Mountain Sports in Eden and hit the Pineview Trail for some smooth cruising around the Pineview Reservoir. Experienced riders seeking singletrack can do the steep climb up the South Skyline Trail and then enjoy a long, flowy descent to the reservoir. Pineview is a local favorite summer destination, and can draw crowds in the warmer months. Discover tips for how to responsibly enjoy a day at the reservoir.
After working up an appetite, stop for lunch at the Shooting Star Saloon in Huntsville. This hole-in-the-wall bar has been in operation since 1879, making it the longest-standing Utah saloon. Taxidermy creatures stare down at you and dollar bills dangle from the ceiling in this quirky establishment. Order the Star Burger — it's the namesake for a reason. Just remember to bring cash and leave the little ones behind. For those with kids, Warren's CraftBurger is another great option that's family-friendly. You can splurge for one of the indulgent burgers, but there are plenty of smaller options for kids as well.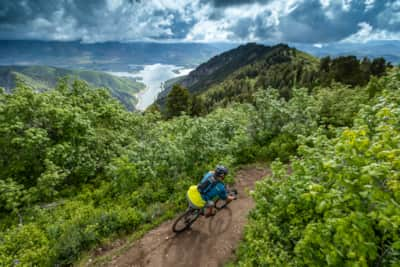 Afternoon
Drive back down the canyon to hike out of Ogden. You have various options depending on your time and skill level. For a quick outing, begin at the 29th Street Trailhead and hike 2.5 miles (round trip) through Waterfall Canyon to visit Malan's Waterfall. Rocky terrain along the latter half of the trail heightens the sense of adventure, and a 300-foot cascade rewards you for your effort. It's one of the most popular trails in the area, so you'll see no shortage of hikers here on the weekend.
If you're itching for a longer adventure, begin at the 29th Street Trailhead and take the 4.8-mile round-trip hike to explore Malans Peak. Or, you can start at the 22nd Street Trailhead and take the 4.9-mile out-and-back trek along the Hidden Valley Trail. With each of these hikes, you'll be rewarded with sweeping views of Ogden Valley.
Evening
Table Twenty Five on historic 25th street serves modern American fare created with fresh and seasonal ingredients. Walk-ins are always welcome, but to ensure you get a table call ahead and make a reservation. Union Grill is another locally owned restaurant serving up uniquely crafted meals on 25th Street. If you're in the mood for pizza, Lucky Slice is a great bet that's just around the corner. If meat is not your style, head to Harp and Hound, an upscale gastropub, for an excellent plant-based menu. Downstairs, Funk 'n Dive, the dive bar owned and operated by the same people as Harp and Hound, caters to locals in a dimly-lit room fit with pool tables and modern-day stained-glass windows. The vibe at Funk 'n Dive pays homage to its time as a speakeasy, but its food menu is thoroughly modern and includes a selection of vegan dishes.
Similar to the Funk 'n Dive atmosphere, Ogden itself is a mix of contemporary culture and rich history. The unique blend makes it an intriguing place to visit. While the mountain trails remain a major draw, you'll find that there's much more to experience during a two-day escape to Ogden.
Written by Hannah Singleton for Matcha in partnership with Utah Office of Tourism.