COVID-19 Travel
Please adhere to local guidelines for safe and responsible travel, including following the statewide mask mandate.
Read more
Pansaugunt Western Wildlife Museum
The Paunsaugunt region is named after the Paiute word for "home of the beavers."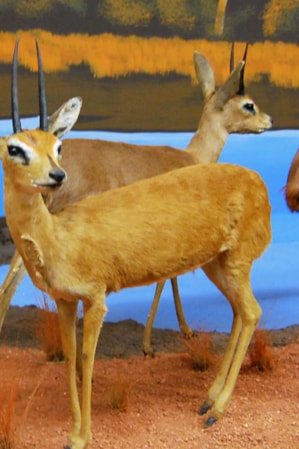 The Paunsaugunt region is named after the Paiute word for "home of the beavers." Indeed, the land has always been known for its wildlife. Surprising to many outsiders, the plateau surrounding
Bryce Canyon National Park
is quite verdant for a desert landscape, and is hospitable for many a wilderness creature. A great tip for wildlife fans heading to the plateau's featured attraction — Bryce Canyon National Park — is to set out early or linger past dusk for the park's scenic drive — but drive carefully, you're likely to spot a lot of deer grazing on the forested plateau that surrounds the canyon.
This high-elevation area features dramatic scenery, as viewed from Scenic Byway 12, or enjoyed through numerous ATV and overland multi-use trails. But if you have only a little time on your hands, or you want to learn about the varied fauna of the region, there is no better place than the Paunsaugunt Western Wildlife Museum, located less than a mile from the entrance to Bryce Canyon.
The museum has a fine selection of wildlife from Utah, and all over the world, including a massive collection of more than 1,400 butterflies. As you poke around the museum, you'll also find more than 400 species of animals, including birds of prey, bugs, and aquatic animals. There are also Western antiques and Native American artifacts, rounding out you and your family's education. Perhaps just as important as the prevalence of wildlife in this beautiful region of Utah is the recognition of human's long relationship with the land and its diverse inhabitants. It is the very preservation of these places — considered sacred to many — that keeps these ancient stories intact.
As you wander around the museum at your own pace, be sure to stop and take in the educational displays. They will give a great sense of the natural environment you're visiting, and in the world at large as well. An added bonus: The air conditioning feels pretty nice after being in the summer sun outside.
The museum is open seasonally, from April 1 through November 15 at 1945 W. Scenic Byway 12