Flood Safety
Due to record snowpack and high amounts of spring runoff, please be advised of potential flooding that could impact travel plans.
Learn more
5 Best Hikes In Bear Lake Valley
The hills here give way to proper mountains as you get into Logan Canyon and the Bear River Mountain Range. You can stay low-elevation or head high through aspen forests, alpine wildflower meadows, and photo-worthy mountain lakes.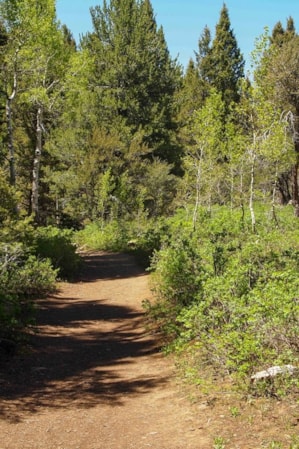 Hanging out in a mountain valley with a big blue lake is delicious in the summer, especially when lake time follows a nice long hike. This pairing of hiking and water play makes for a perfect summer day in Bear Lake Valley. Temps in the valley hover in the seventies and eighties during the warmest months of the year and a swim in the lake awaits at the end of a high-activity day. Life in town is slow-paced and mellow. Stop at a raspberry stand on your way to the trails, grab a beachside burger on the way back, and chat with locals and families sitting on the sand.
While the lake is the star attraction of its namesake valley, the area also features many excellent hiking trails of varying lengths and difficulty. There's something for just about everyone, from the kiddo-toting family to the intrepid backpacker. The hills here give way to proper mountains as you get into Logan Canyon and the Bear River Mountain Range. You can stay low-elevation or head high through aspen forests, alpine wildflower meadows, and photo-worthy mountain lakes.
Here are a few worthwhile trails to explore, in order of easiest to more challenging hikes. If you'd like a little extra beta, try chatting with the friendly folks at the Bear Lake Overlook Visitor Center along the road heading up to Logan Canyon. The center offers a lovely view of the lake, restrooms, and helpful staff who can share maps and tips.
1. The Limber Pine Trail: An easy 1.5-mile round trip
This mellow and educational Bear Lake hike is perfect for families or anyone interested in a relaxing nature walk with gorgeous views and wildlife. Find the trailhead seven miles west of Bear Lake on Highway 89, the road that takes you into Logan Canyon. There's a proper parking lot with restrooms at the trailhead.
As you walk the dirt-trail loop, you can pause and enjoy education stations along the way. While you learn about local flora and fauna, you're treated to sweeping views of Bear Lake below you. A giant 560-year-old limber pine tree with a 25-ft diameter stands at the far end of the wildflower-studded loop. It's the perfect place to pause and marvel.
2. The Laketown Canyon Trail: A moderate 7 miles round trip
It's not every day that you start a hike at a rodeo arena, but that's the case for the Laketown Canyon Trail, which is one of the best hikes in Bear Lake Valley. Laketown lies on the southerly end of Bear Lake and the tininess of the town makes the rodeo arena relatively easy to find.
From there, walk southward on 200 East street, which soon turns to a dirt trail. The highlight here is that the trail crosses the canyon stream over and over, which makes it a great splashy hike on a hot day. You'll pass a reservoir partway up and top out at a spring three miles up. Elevation gain is moderate and the water keeps you feeling refreshed.
3. Sink Hollow Trail: A moderate 9 miles round trip
Sink Hollow is famed for its bone-chilling winter temperatures but in the warmer months of the year, it's as pleasant as can be. The trailhead lies near the Beaver Mountain Ski Area on Beaver Creek Road, about twenty minutes up Logan Canyon from Bear Lake.
Part of the old Great Western trail, the area feels not only very western indeed but also laden with history. You'll amble through sagebrush meadows, aspens, and pine forests, and you can check out lovely Horse Lake as you near your turnaround point.
4. The North Fork of Saint Charles Canyon: A challenging 10 miles round trip
The little town of Saint Charles sits near the shores of Bear Lake, and it's the home of the famous Minnetonka Cave, which is worth checking out in its own right. Seven miles up-canyon from the cave, you'll find a Big Creek Group Area sign, at which point you turn right on a dirt road and follow the signs past the Middle Fork of the Saint Charles Canyon all the way to the North Fork of the Saint Charles Canyon trailhead.
From this trail you can enjoy an exquisitely scenic hike with a gradual elevation gain of 2,000 feet over the course of five miles. You'll follow a creek along the way and top out at Bloomington Lake, which has a nice alpine feel. It makes an excellent spot to stretch and enjoy a nice long picnic before returning down the way you came.
5. Hike Steam Mill Hollow in Logan Canyon: A challenging 11 miles round trip
For those looking for a more challenging hike, Steam Mill Hollow is a high-elevation beauty. From Bear Lake, you'll drive up Logan Canyon Road until reaching Franklin Basin Road, which you turn onto and drive about half a mile to the Steam Mill trailhead.
You'll pass through forests, a stream, and arrive at Steam Mill Lake, which sits amid a glorious glacial cirque with wildflowers. Keep a sharp eye out for an old steam boiler from early logging operations in the area. It sits rusting under the mountain sky, a monument to the area's hardy original settlers.
Which of these trails is your favorite Bear Lake hiking trail?