COVID-19 Travel
Please adhere to local guidelines for safe and responsible travel, including following the statewide mask mandate.
Read more
Exploring Mule Canyon: House on Fire and Cave Tower
Solitude and mystery beneath rust-colored cliffs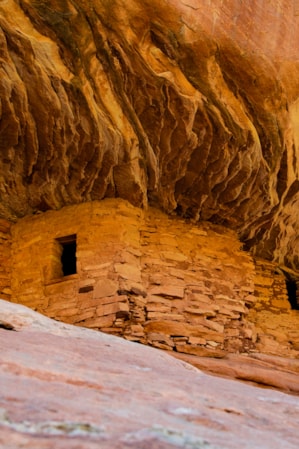 Driving the up the dusty, terracotta-colored road toward Mule Canyon in Cedar Mesa, you get a sense that this is a special place, though you might not be able to put a finger on why. (Though this article might help you: Ghosts of Cedar Mesa)
As you walk into the rugged canyon, following the footsteps of Ancient Puebloans who ruled this area and scramble up slickrock it starts to become clear.
The sweet, peppery scent of juniper hangs in the air, and all is silent, except for the hollow knock of a distant woodpecker. Overhead, hawks and golden eagles glide quietly, and the occasional jackrabbit and lizard scurry into the scrub. Gazing up at the high cliff walls, you spy the dusty site of a vanished civilization.
This is a hypnotic place, quiet and calm, where a person can dwell in solitude and really absorb the beauty of the landscape and the creatures that call it home.
When most people speak of Mule Canyon, they reference the South Fork. But the seldom-visited North Fork is also a great destination for hikers seeking seclusion. While the Native American sites in the North Fork are not as well-restored as those in the south, you will find one well-preserved site perched under a protective overhang high above the wash. Because there's no great way to access the dwelling, you should bring binoculars to get a closer look.
Cave Tower
The Cave Tower Site (also called Cave Canyon Site or Mule Canyon Site) is located down a small spur road that is off S.R. 95 at about mile marker 102.5. The short dirt road ends and becomes the parking area, and a trail to the east heads to the site. After walking 100 yards, you'll see the remains of the few towers still standing in all of Cedar Mesa.
With no obvious villages or dwellings nearby, the reason for these towers is unclear.
At Cave Canyon, there is a water source that possibly had some bearing on the location. The Mule Canyon Site is a mile north and would be within sight — were these towers defensive or serve as lookout posts? Fortunately, we don't have to know their original purpose to appreciate them.
"This is a hypnotic place, quiet and calm, where a person can dwell in solitude and really absorb the beauty of the landscape"
Trail Guide
Difficulty: Easy
Distance and elevation gain: South Fork of Mule Canyon is 4.3 miles one-way, and elevation gain is 250 feet. Cave Tower Site is 1-1.5 miles round trip, and elevation change is less than 200 feet.
Trail type: packed dirt, slickrock, and some scrambling over rocks
Multi-use: Yes — hiking, backpacking
Dog: Yes — on-leash
Fees: $2 per person for the day or $5 per person for the week
Seasonality: Spring, summer (early mornings), and fall are best.
Bathroom: There is a pit toilet near the pay kiosk on CR 263.
Where to park: There are parking lots at the trailheads.
Trailhead GPS coordinates: South Fork of Mule Canyon: 37.497000, -109.662000; Cave Tower Site: 37.526944, -109.733055
---
Written by Shaine Smith for RootsRated Media in partnership with Utah Office of Tourism.