No Special Skills Required
If you can ride a bike, then you can ride a fat tire bike. Fat tire biking is probably one of the best alternatives for your non-skiing family member and a bonus activity for your Utah ski vacation.
Fat tire bikes (or fatties) look similar to mountain bikes except that the tires are about five inches wide instead of two inches. This girth (and very low air pressure) provides the biker more stability and shock absorption, making it easier to ride, even on snow. If you grew up riding a cruiser on the beach or around the neighborhood, it has a similar sticky feel.
Park City Area
Bonanza Flats

Newly-built Bonanza Flats is at the top of Empire Pass, providing great views of the entire area, but be prepared to walk/climb about a quarter-mile to get there. You will be rewarded! Starting near the Montage, walk/climb past the gate on Marsac to the trailhead. Note that parking is limited, especially on weekends.

Historic Rail Trail

In Park City, the Historic Rail Trail, a wide paved and gravel path, stretches 27 miles from White Pine Touring in Park City (6900') to Echo Reservoir (5280'). Head out through town into scenic canyons. Just remember that you'll be climbing, albeit gently, on the return. The Rail Trail also links to the trail system at Round Valley.

Round Valley

Round Valley provides miles and miles of interconnected trails for fat tire biking. This extensive trail system is also popular with hikers and cross-country skiers and is well-marked throughout. There are many entry points and options. For example, you can start at Quinn's Trailhead, ride the road past the National Ability Center to Matt's Flat, up to Seventy 101, PorcuClimb, Downward Dog (a downhill flow trail) and back to the road, or you can just take a simpler ride out and back.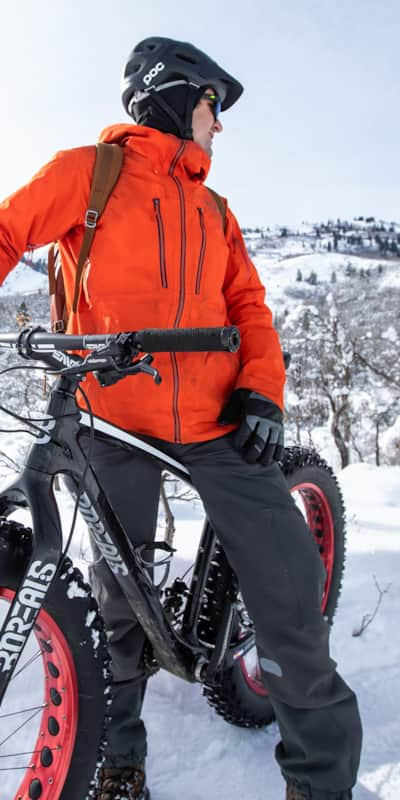 Rent a Fatty or Go with a Guide
You don't need any special skills (other than knowing how to ride a bike). If you want to go it alone, then you can rent a fattie and helmet at several local bike shops, including White Pine Touring and Jan's in Park City. Rentals are approximately $65 per day or $48 for 4 hours. Book ahead for guaranteed availability, especially during holidays. Ask the store personnel where to ride. Chances are they've recently been on the trails. [Note: Due to Covid, many shops cannot rent this year]
If you're unsure where to go or where to rent, then hire a guide to do everything but pedal the bike for you. All Seasons Adventures provides bikes, helmets and water bottles and takes you to Round Valley for a guided 2-hour ride based on ability (beginner-expert). If you're staying in Park City, they'll even handle transportation at no extra cost. The cost is $119 per person with a 2-person minimum.
Before You Go
Dress in layers. You will warm up climbing and cool down descending. For shoes, hiking boots with warm socks are perfect. Gloves or mittens are essential. Sunglasses are always a good idea on sunny or breezy days. Light backpack or fanny pack are suitable for stashing things. Helmets (ski or bicycle) are highly recommended to protect your noggin and keep it warm.

Water. Fat tire biking, like any activity in Utah necessitates staying hydrated.

Snacks. Bring them!

Camera. Make sure someone in your group has a camera to take pictures or videos. You'll want to brag to everyone when you get home.

Know the Trail Etiquette. If you're on a trail groomed for Nordic skiing, then stay out of the parallel grooves they've cut in through snow for those skis. Uphill riders have the right-of-way to downhill cyclists, but everyone must yield to pedestrians and horses and the occasional, very-happy off-leash dog.