Guided Tours & Rentals
If the snowy backcountry seems inaccessible, think again. With professional snowmobile tours, guides and rentals you can easily access the adventure and thrill of the Utah chill. These companies will show you the backcountry in style. Do you want groomed trails or do you prefer the untouched powder? Do you like taking it easy, or do you want to feel the speed? It's freedom at its wintery best and most companies will personalize your tour.
Backcountry Snowmobiling
Backcountry Snowmobiling offers custom-tailored tours, from beginner to expert, through the Uinta Mountains. Private, group, or corporate tours are available in addition to the two to three-hour standard tours. Start at their historic Stagecoach stop and expect views all the way to Wyoming and Idaho. While they recommend bringing warm winter wear, they do have snowsuits, boots and gloves you can rent.
Daniels Summit Resort
Specializing in the mountains around Daniels Summit, just a short drive from Salt Lake City, Daniels Summit Resort offers a large fleet of snowmobiles to rent and over 200 miles of groomed trails to cruise. Tours start and end at the lodge and expert guides show off this perfect snowmobile environment.
Park City Peaks Snowmobiling
Park City Peaks Snowmobiling, formerly Thousand Peaks, provides expert snowmobile outings on a huge 60,000-acre ranch with elevations as high as 11,000 feet. You can hop on a two, three, or four-hour tour, or ask about corporate or private trips.
Red Pine Adventures
Red Pine Adventures calls Park City home. They offer hotel or residence pick-up for easy door-to-door service. With over 1,000 acres of privately owned backcountry to explore they cater to group excursions, family outings and corporate retreats. Experienced snowmobile guides will personalize your experience. Most tours are 1.5 hours.
Summit Meadows Adventures
Located on Garff Ranch in Browns Canyon, just eight miles from downtown Park City, Summit Meadows Adventures is operated by Deer Valley Resort and provides guided snowmobile tours on groomed trails. Group tours are available and complimentary transportation from Park City makes it easy to experience the winter backcountry.
"If the snowy backcountry seems inaccessible, think again. With professional tours, guides and rentals you can easily access the adventure and thrill of the Utah chill."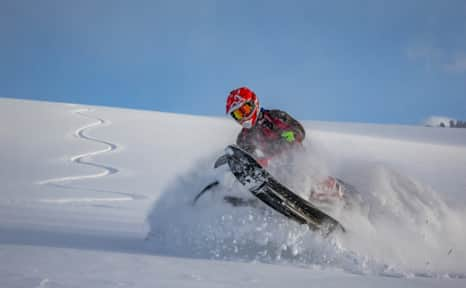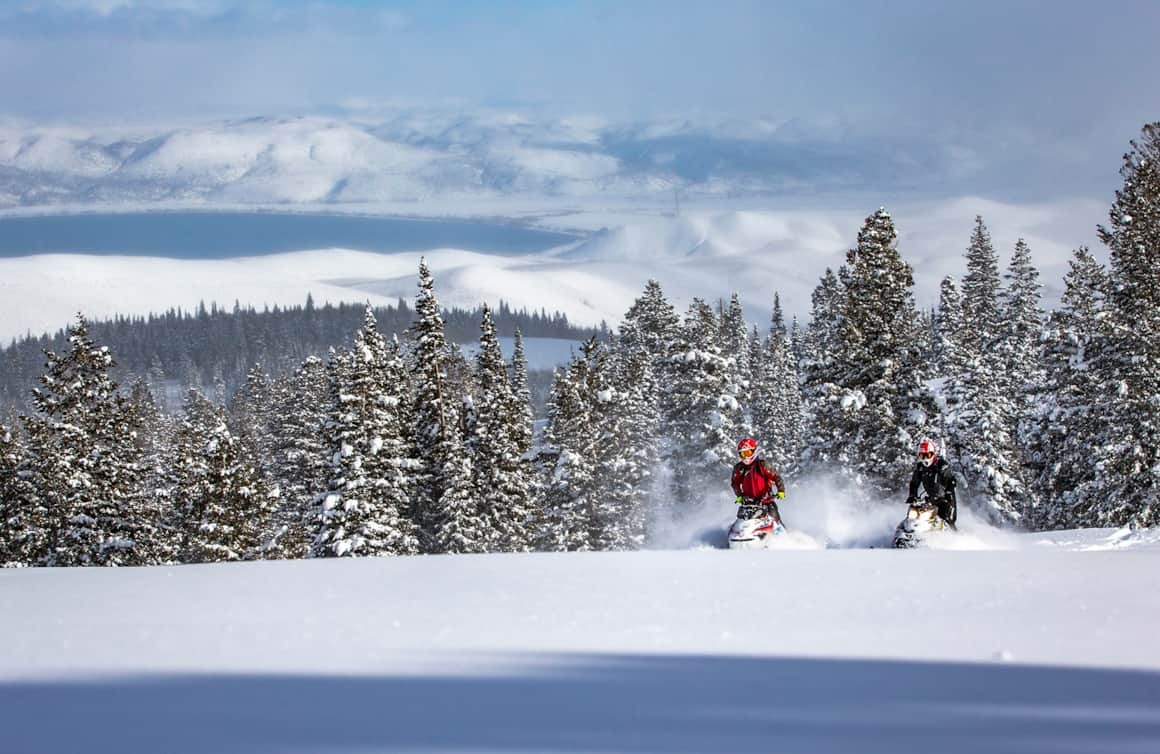 Snowmobile Trails and Complexes
Northern Utah's mountains come complete with gorgeous high-mountain scenery, a lot of snow and various terrain for climbing or cruising. These perfect conditions set snowmobile enthusiasts up for winter fun. If you own a sled and are feeling adventurous, start with the U.S. Forest Service which has six ranger districts in the Uinta-Wasatch-Cache National Forest with designated snowmobiling areas. Here are a few favorites.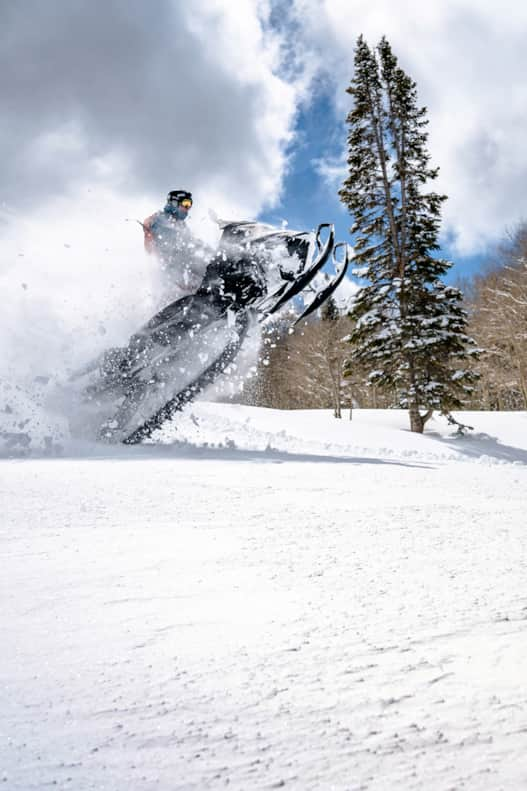 Mirror Lake and Mill Hollow Complexes
Located within an hour of Salt Lake City, in the high Uinta mountains, the Mirror Lake and Mill Hollow complexes sport over 150 miles of groomed snowmobile trails. Popular because of the stark scenery, with peaks rising to 13,000 feet and a lot of open play space, these complexes are becoming some of the most popular snowmobiling areas in the state. Parking fees apply.
Uinta Basin
Hop over to the eastern Uinta Mountains, near Flaming Gorge National Recreation area, for the Uinta Basin snowmobile complex. This complex provides more than 75 miles of groomed trails in the state's highest mountain range. Known for its scenic, high-mountain beauty, this complex also has a longer riding season that often stretches from November through May. Trailheads are located at Elk Meadows, East McKee, Flaming Gorge, Red Canyon Lodge and Taylor Mountain. While there you may even want to do a little ice fishing at Flaming Gorge.
Wasatch Mountain State Park
Wasatch Mountain State Park provides a spread of 23,000 acres for your snowmobiling pleasure. Want a guide to show you around and bring the gear? Wasatch Excursions is the park's concessionaire offering two to three-hour long tours. These professionals are safety certified and focus on the connection with nature. Beginners to experts are welcome.
Have your own sled? Day passes cost $7 and you can park at a number of trailheads. Try the Wasatch Mountain State Park campground, Cascade Springs trailhead or Mill Flats off Snake Creek. Just make sure your machines are registered.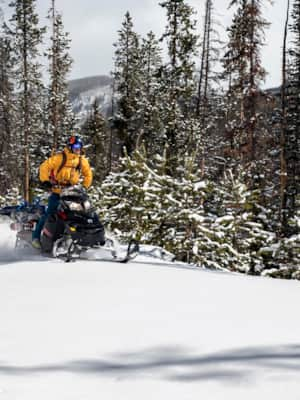 Why Backcountry Snowmobiling Is an Unforgettable Way to Experience the Uinta Mountains
The Uinta Mountains are about 100 miles east of Salt Lake City and just a few minutes from Vernal in Eastern Utah. It's one of the state's top snowmobiling destinations.
Things to Know
What To Pack
While playing in the backcountry during colder months, safety comes first.
Make sure to pack food and water, hand warmers and an emergency blanket and a firestarter just in case you get stuck.
Pack your shovel and probe and know how to use them in case of an avalanche.
For communication, snowmobilers often use two-way radios to speak with one another during emergencies. These inexpensive communication devices are great to have on hand. Go ahead and throw your phone in because some spots are high enough to get reception.
Always let someone know where you are.
What To Wear
Dress heavier than you would while skiing because the wind-chill factor cools things down on a sled. Layer with a base layer, mid-layer and water-proof outer layer. Warm socks and boots will keep you happy as well. Warm gloves and a helmet with goggles will finish off your outfit. You'll want to wear an avalanche transceiver and know how to use it for safety measures.
When to Visit
The Utah snowmobile season depends on snowfall and snowpack, but December through March generally provides good mountain snow.
Utah Snowmobiling Rules and Regulations
When you hit the trails, be sure to ride responsibly. This includes properly registering machines, learning and obeying OHV safety laws and rules and following trail etiquette. Learn more at stateparks.utah.gov.
Avalanche Awareness
Before entering Utah's backcountry always check the avalanche report.
If you play in the backcountry, go to avalanche safety training, use equipment like transceivers, shovels and probes and make sure those you are with know how to use them as well. Friends don't let friends drive backcountry slopes without safety training.