Red Fleet State Park to Close for Construction
Red Fleet State Park will close on June 1, 2023, for renovations and improvements, with plans to reopen for the 2024 season. Access to the Dinosaur Trackway trailhead will remain open.
Learn more at stateparks.utah.gov.
Following the Dinosaur Tracks of Red Fleet
Explore Red Fleet State Park's cleverly built trail that crosses sandy washes, ribs of exposed stone and a dinosaur trackway.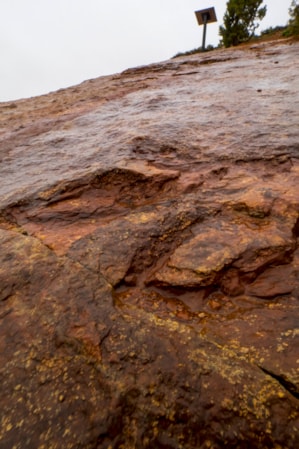 A sign flashes by: "Mancos Shale: Sea deposits with squid-like creatures." Okay. Something from the Cretaceous Period, apparently. I continue driving.
"Mowry Shale: Fossilized fish scales and sharks teeth."
Evidence of a rising sea appears next. But wait: It seems I'm traveling backward through geologic time, so the hardened seabed breaks apart and softens into various sediments. The sea actually drains away. The dinosaur bones reassemble and grow flesh, bringing them to life. A stegosaurus wanders nearby and raptors hunt not far beyond. I'm searching for dinosaur tracks, so this doesn't feel out of place. I'm disappearing into the Triassic. And then the Chinle Formation: "Dinosaurs and mammals first appear." Mammals? We're so far back now, we predate the orange Entrada sandstone that forms Delicate Arch in Arches National Park and the white Navajo sandstone domes of Capitol Reef National Park.
There are billions of years further down the byway, but I've reached my destination: Red Fleet State Park and Reservoir's Dinosaur Trackway, site of the finest dinosaur tracks Utah has to offer.
The Utah Field House of Natural History, a nearby state park and museum, quotes field geologist David Love: "You can't do geology in a hurry." On the Flaming Gorge-Uintas National Scenic Byway, geology sure passes quickly. But the Dinosaur Trackway is a marvelous attraction that slows it back down.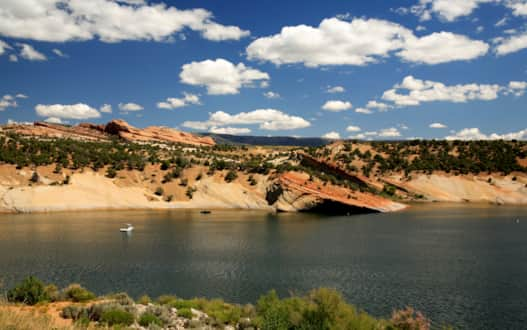 It's a cleverly built trail that crosses sandy washes, ribs of exposed stone and familiar slickrock. Though hundreds of miles from its kin in Southern Utah, the Dinosaur Trackway is very much in the same family of trails. The sandy sections feel like the washes of Capitol Reef or Grand Staircase–Escalante National Monument. The slickrock, like Arches and Canyonlands national parks, is set at a steep angle and washed over with dirt and stone of past storms.
These are surprisingly fertile grounds, too. Dense stands of fragrant juniper intermingle with piney Mormon tea and ground cover of prickly pear and microbiotic soil. I regularly stir up jackrabbit as I walk and deer scat provides proof of other visitors to this land. It is a well-marked trail, but one that requires attention. I find my eyes frequently wandering astray of the path. I am obliged to stop and look around. There, the reservoir to the southeast. To the west at a great distance, a particularly deep red formation seems to sink on one end, lying at a 10 degree angle to the plane of the earth. It is reminiscent of Capitol Reef's Waterpocket Fold; it is a reminder of the forces of uplift and erosion that created this land's geological diversity. Where am I? I quickly recalibrate my position on the trail, and in time, and continue my adventure.
The reward at the end of the Dinosaur Trackway trail is not as obvious as a similar hike, such as Delicate Arch. Red Fleet makes you search for your reward: 200-million-year-old dilophosaurus tracks preserved in the slickrock shores of the reservoir. But it's a wonderful discovery for anyone remotely interested in paleontology or natural history.
"Red Fleet makes you search for your reward: 200-million-year-old dilophosaurus tracks preserved in the slickrock shores."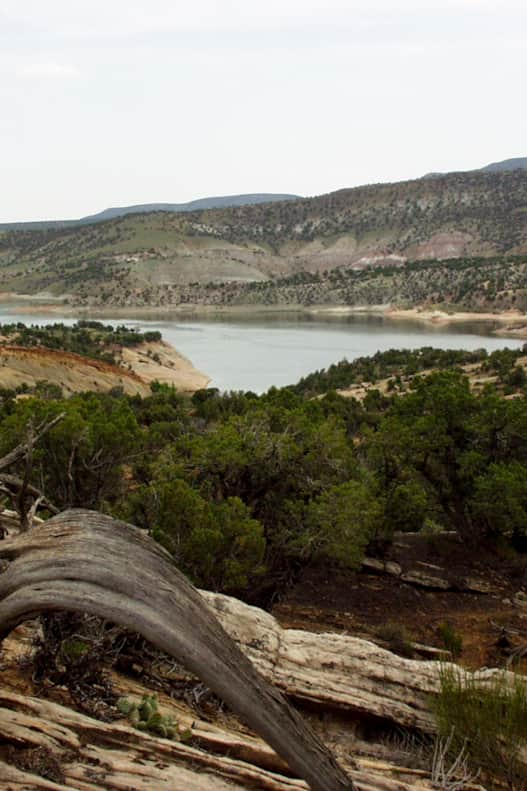 These prehistoric tracks are set in stone, yet seem astonishingly fragile. And during high water, many of them slip beneath the surface of the waves. It is a testament to the ability of Mother Earth to preserve a fraction of her legacy given all the forces working against it (Read: A Deep Dig into Utah's Deep Time). The tracks are signed by the state park — just helpful enough to give me a sense of where to look, but not so precisely that they jump out of the rock — not that they would to any but the most trained eye. But I do find them. And they are spectacular. I sit down on the slanted sandstone to get closer to their level for a better look. The tracks are 10 to 12 inches wide, three-toed, and yes, somewhat faint in the overcast afternoon light. A light wind encourages the waves to lap against the shore behind me. Here I am. Some 200 million years later.
The Alan Grant-like anticipation of seeing the dino track gives way on the return hike to deep introspection.
Dinosaur tracks and trackways have an energy about them that eludes description. The soft mud of the desert playa absorbed the impact of living creatures as they went about their lives in a Saharan landscape, now hardened over into colorful sandstone. This is called Nugget Sandstone, which comes on the heels of the Chinle, when mammals took an evolutionary step forward. Later, a variety of different dinosaur species took to the streets and became locked up in the Morrison Formation. For that, I'd have to wander over to Dinosaur National Monument, a site just a few miles as the crow flies to the southeast of the Red Fleet Reservoir.
Dinosaur is also a certified International Dark Sky Park. These are sanctuaries of natural darkness designated to promote the importance of combating light pollution and protecting night skies for future generations. I feel I am close enough here at Red Fleet. I expect a storm tonight, so I buckle down the rainfly on my tent in the public campground of Red Fleet. As the evening chill sets in, I pull closer to the fire and let its warm smoke wrap around me. When the fire dies, I wait in the darkness for my eyes to adjust. I hope to see some stars. Some of them have been shining since dilophosaurus passed through here.