Slowing Down and Focusing on Wellness in Mighty 5 Landscapes
Put your health on the itinerary with easy-to-follow tips to help you care for your body, mind and spirit while exploring in and around Utah's national parks.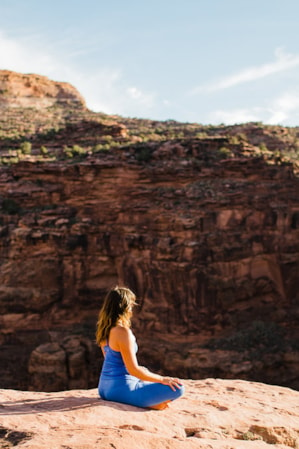 "When I go to the desert, I feel turned down," says Salt Lake City entrepreneur Tessa Arneson. "I can hear my thoughts and slow them."
Arneson is a fitness instructor, designer, mother, mentor to small-business owners and co-developer of the Maven District, a block of locally-owned businesses located just south of downtown Salt Lake City. (Read: "Day-tripping a Women-owned Business Enclave in Salt Lake City.") With that set of responsibilities — particularly during times of social and economic distress — finding time for self-care can be a challenge. For Arneson, Utah's desert landscapes offer a unique "escape from collective stress," a place to return to a focus on health and well-being. "It's about getting out there and feeling the desert sun on my face," Arneson says. "It feels different. The sky feels more expansive. The energy feels more grounding. I move, I breathe and I don't take things too seriously."
Promoting wellness is Arneson's calling and, like many experts on the subject, she advocates a 360-degree approach. "It's not just fitness, or meditation, or mental health, or nutrition," she explains, "it's all of those things." Beyond a textbook definition of physical, mental and social well-being, she defines wellness as an active pursuit. "You are building happiness wherever possible," she says, adding: "That really is my purpose: Helping people create conscious and purposeful lives."
The areas in and around Utah's Mighty 5 national parks provide abundant opportunities and resources for focusing on wellness. With this holistic approach in mind, take the time to slow down and add a wellness-oriented activity to your travel agenda.
You don't have to become an expert or follow a strict regimen to include wellness in your plans. Try choosing a single activity to increase your awareness and boost your health. Whatever you do, travel with intention. (Read more on how to travel responsibly, a shared ethic called Forever Mighty.)
"When I go to the desert, I feel turned down. I can hear my thoughts and slow them."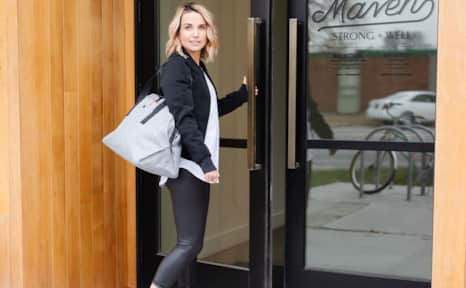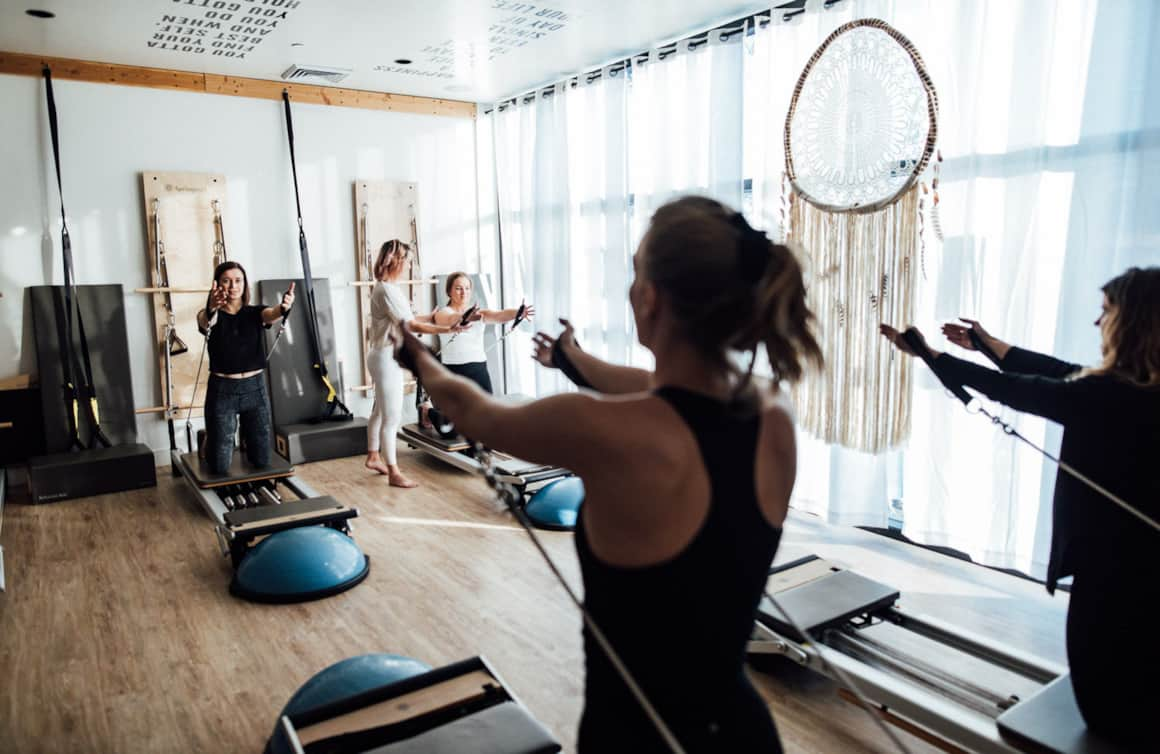 1. Yoga + Arches
"One of the definitions of yoga is this idea of yoking body and mind," says Moab resident Angela Houghton. "When you're spending time outside, you're a little more in your body. Whether hiking, biking or practicing yoga, being in a beautiful outdoor space like Arches is a way to connect body and mind, creating clarity and inspiring creativity."
Houghton has been a yoga instructor since 2005, owning a local studio for eight years before re-focusing on private instruction. Living in close proximity to both Arches and Canyonlands national parks, she finds the landscape especially suited for open-air yoga practice. "What's really fun for me is when I'm hiking and there is this slickrock that literally serves as a platform," Houghton explains. "You can really utilize the shape of the rocks and walls in your practice."
Travel Well Tips:
Before hiking, do a lunge on each side to open up the hips.
Warm-up and focus with "mini" sun salutations: open your arms wide and raise them above your head then touch your palms together and bring your hands to your heart.
Attend a class at a local studio or schedule a private outdoor yoga session.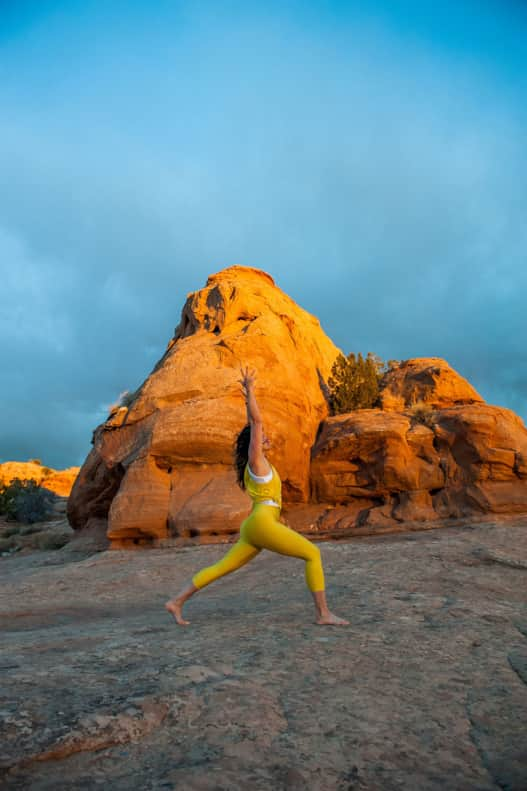 "Whether hiking, biking or practicing yoga, being in a beautiful outdoor space like Arches is a way to connect body and mind, creating clarity and inspiring creativity."
2. Horseback Riding + Bryce Canyon
"There's definitely a connection between horses and wellness," says Lance Syrett, general manager at historic Ruby's Inn just outside Bryce Canyon National Park. Syrett grew up in the Bryce Canyon area and helped lead horseback rides for Ruby's Inn — his family's long-time business — as a summer job during college. "There's just something magical and majestic about a horse," he says, adding that the activity is good, low-impact exercise that provides an "intersection with mental and physical health."
Riding and caring for horses can improve core strength and balance, develop problem-solving skills and reduce stress. Add to that the unparalleled views in Bryce Canyon, and you have a recipe for an invigorating day.
Travel Well Tips:
Stop by the corrals to respectfully look at, pet and connect with the horses.
Schedule a guided horseback ride to suit your experience level.
Seasonal wagon rides — including horse-drawn sleigh rides in the winter — are also available.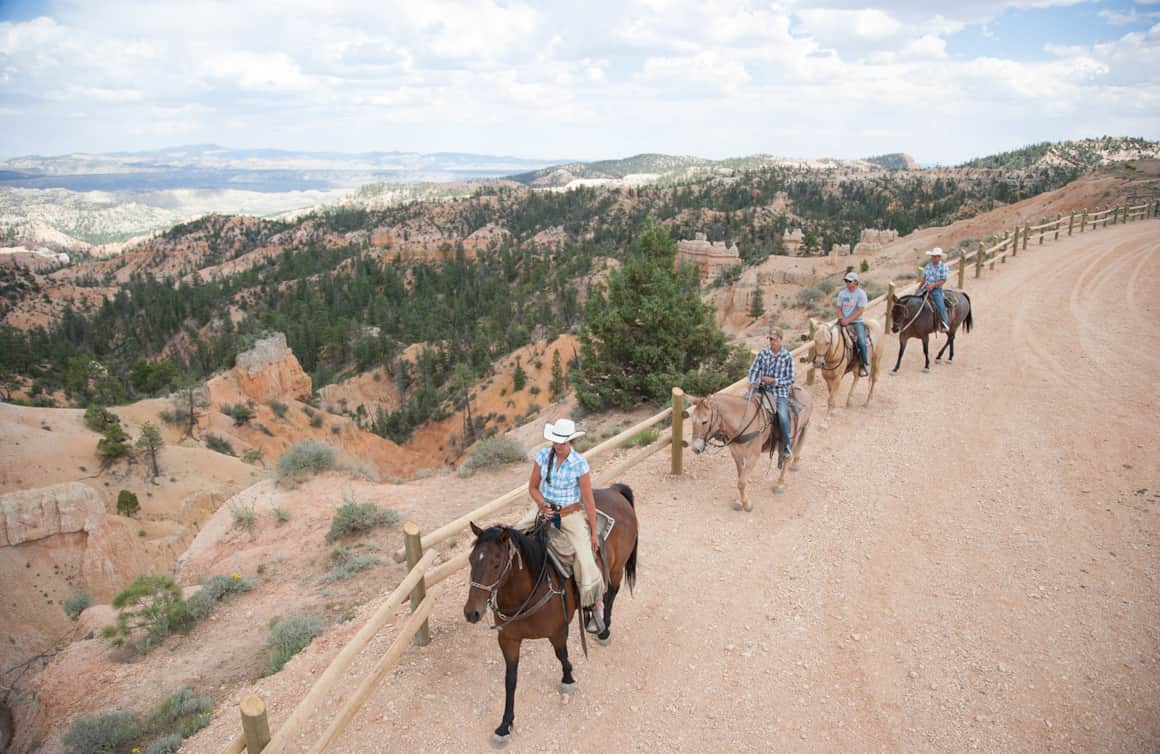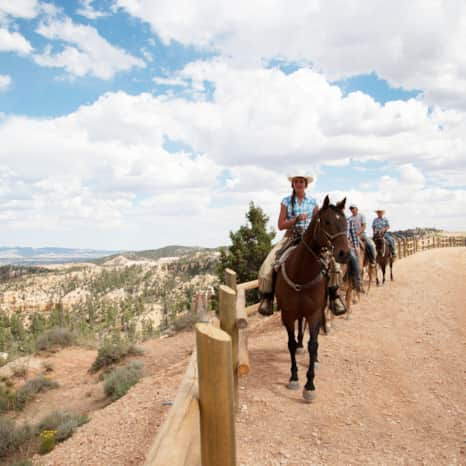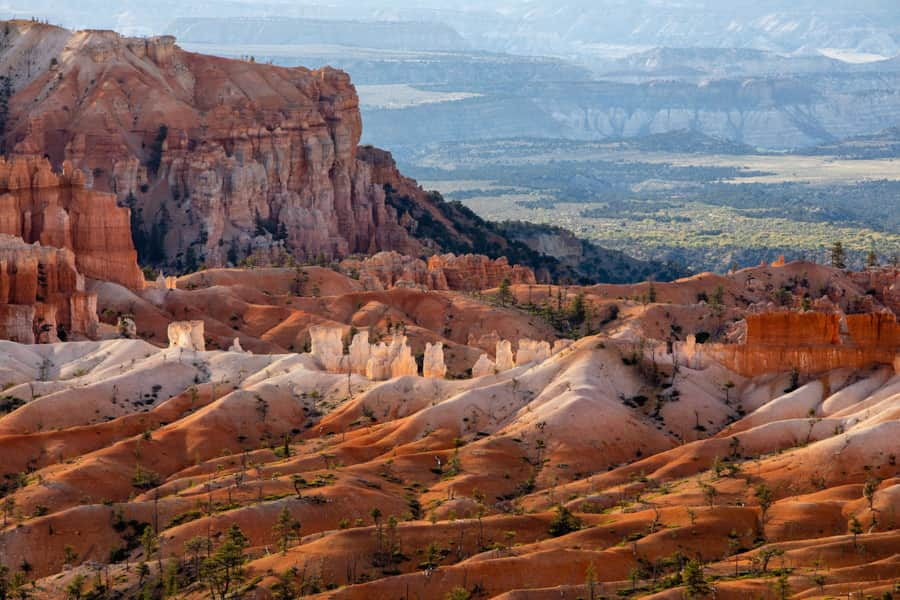 3. Meditation + Journaling + Canyonlands
Finding a quiet place to sit and take in the view is one of the most accessible ways to calm the mind. In addition to her yoga practice and other fitness activities, Angela Houghton suggests cultivating wellness through meditation and journaling. "People don't have to be experienced with meditation," Houghton says. "Often people say, 'my mind is too busy,' but if you just listen to the sounds around you and feel the air on your skin for even a couple of minutes, that can be transformative."
Houghton recommends choosing varied spots to meditate and reflect in and around Canyonlands. "I love expansive views, but there's also something really powerful about being down in a canyon," she says, adding that she often carries a notebook with her while hiking. She writes in a journal every morning and promotes journaling and sketching as "tools to practice self-care, self-awareness and self-love."
Travel Well Tips:
Download a meditation or journaling app for daily guidance and inspiration.
Buy a journal as a souvenir to take with you on future travels.
Search for local workshops and retreats focused on meditation, writing or sketching.
"Often people say, 'my mind is too busy,' but if you just listen to the sounds around you and feel the air on your skin for even a couple of minutes, that can be transformative."
4. Slow Food + Capitol Reef
Nutrition can easily go by the wayside while traveling. But, with a little planning ahead, healthy eating can be one of the most enjoyable aspects of a trip. As the site of the Fruita Rural Historical District, Capitol Reef is a surprising oasis for visitors looking to enjoy local produce. It's a great launching point for seeking out fresh, farm-to-table fare, such as the dishes served at Hunt & Gather Restaurant in nearby Torrey.
"Everything we make is from scratch, which is essential for true fine dining," says Chef Chet Saign, who opened Hunt & Gather with his wife, Nancy, in the summer of 2020. The couple had lived around the United States and ultimately decided to settle in rural Utah where they enjoy an outdoor lifestyle. When asked about his slow-food cooking style, Chef Saign points out it's nothing new: "Hunt and gather is what people have done in this area for thousands of years. Today, families with multi-generational roots in this county still do these things — hunt, farm, ranch and fish. There are also many newer residents and visitors who are seeking this type of cuisine. We are thrilled to be able to continue the tradition and provide for those who seek what we have to offer."
Travel Well Tips:
Look for healthy, locally-sourced ingredients when eating out.
Keep an eye out for seasonal produce and specialties at farmers markets and stands.
Pick your own fresh fruit in the Capitol Reef orchards.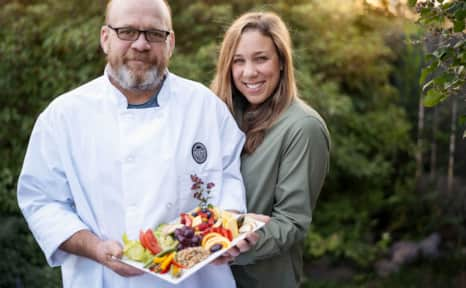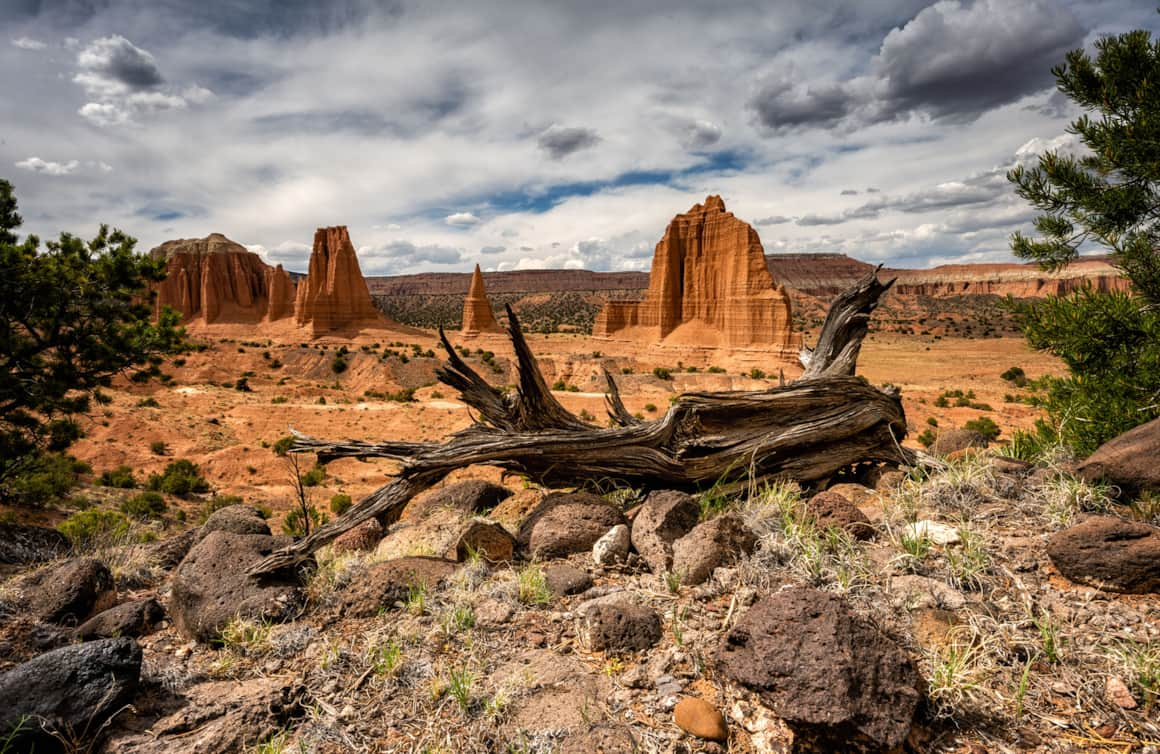 5. Spa + Zion
"The park is such a healing place," says Ellen Darger, a licensed massage therapist and yoga instructor at the Flanigan's Inn Deep Canyon Spa in Springdale. Surrounded by the dramatic cliffs of Zion Canyon, Darger's practice is deeply tied to the outdoors, where she often goes to reflect and renew. As part of the Flanigan's staff, she is dedicated to creating a sanctuary for visitors through the hotel's spa and "Mind/Body/Spirit" program, which includes spiritually-focused canyon adventures, pilates, yoga and an on-site labyrinth for meditative walks.
When it comes to massage, Darger observes that many people hold stress in their bodies, and she considers it her job to help return her clients to a sense of equilibrium. "I hold an intention of bringing back balance to people's lives as I work on them," she explains. "Bringing the body back to balance is key, as that allows the body to heal itself."
Travel Well Tips:
Set aside time for a rejuvenating spa treatment near Zion National Park.
Shop for locally-produced skin and body care products for a do-it-yourself spa experience.
Remember self-care on the trail: hydrate, stretch and self-massage sore muscles.