Highlights
Trailheads
There are two main trailheads people use for hiking the canyon. They are 15 miles apart by car, so be sure to choose your starting point based on your plans.
San Rafael Bridge Campground is a good trailhead for shorter trips.
Fullers Bottom Trailhead is a put-in for people who plan to either hike or float the Little Grand Canyon.
One of the San Rafael Swell's best mountain biking rides is the intermediate-level Good Water Rim trail, which starts at the Little Grand Canyon Overlook and follows 15 miles of curving canyon along breathtaking views of the San Rafael River.
Camping

Enjoy car camping or backcountry camping in The Little Grand Canyon.
San Rafael Bridge Campground is located at 5,100 feet in elevation, includes 17 sites and charges a small fee. It has pit toilets, but drinking water is not available.
Backcountry camping is a popular option. The Little Grand Canyon is located on BLM land, and the BLM notes it is a popular 2-3 day backpacking trip where Leave No Trace practices are required and primitive campsites are available. Be sure to follow BLM guidance for a safe trip, including only attempting to cross the river when flows are low enough (below 50 CFS). Be aware numerous river crossings are required on this 18-mile route.
Floating the San Rafael
Floating the San Rafael is a popular way to explore the canyon. Tour the canyon, with up-close views of canyon walls and beautiful cottonwood groves. The spring runoff season is a popular time to float it as long as the river is high enough. The BLM recommends floating in small crafts only when the river is over 200 CFS, and large crafts only when it is over 500 CFS.
Weather

Located in the San Rafael Swell, the Little Grand Canyon sees hot summers with dangers of flash floods during monsoon season, though drinking water can be scarce. Winters can be cold, and spring and fall are generally more moderate, though the weather can be unpredictable.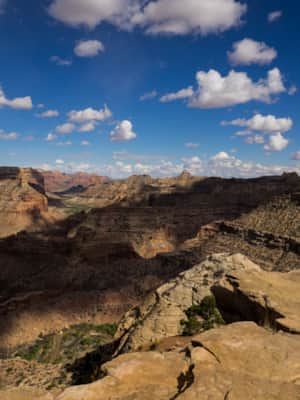 The Undiscovered San Rafael Swell
Circle back to the San Rafael Swell, a gem of public lands in Central Utah you may have missed on your last visit through some of Southern Utah's Mighty 5® national parks. The Little Grand Canyon of the San Rafael Swell is a stunning panorama from above, and an incredible adventure within.
Arches National Park

After the sun sets and the sandstone has cooled you can see countless stars set against a pitch black night sky. See the night sky like you may never have before after dark in Arches National Park.

Buckhorn Draw

Human presence in the Swell goes back thousands of years. Evidence of the Barrier Canyon and Fremont Culture are on display at the Buckhorn Draw Pictograph Panel, which can be seen on your drive or ride down to the river from the Wedge.

Canyonlands National Park

Canyonlands National Park allows for a wide array of recreation experiences, from short and scenic family hikes to rugged backcountry adventures. Find solitude in the backcountry, camp under the stars or explore the Green and Colorado Rivers.

Manti-La Sal National Forest

The Manti-La Sal National Forest consists of three blocks located in central, eastern and southeastern Utah. There are several high elevation lakes, and developed areas for fishing and camping.

San Rafael Swell

The San Rafael Swell, a 70 by 40-mile geologic upheaval located in southeastern UT, has been cut, shaped, and formed over thousands of years into a crazy assembly of sandstone buttresses, canyons, and plateaus. The northern Swell, located north of Interstate 70, offers fantastic hiking, backpacking, biking, and camping at all levels of fun.