Olympic Oval Activities
Cosmic Curling

If you've ever been intrigued by the sport of curling (and who hasn't?), here's your chance to check it out. The Utah OIympic Oval's Cosmic Curling pumps fun into the sport by transforming the ice into a kaleidoscope of black light and neon. Once a visitor takes a Learn to Curl class, they are ready for a date night, girls' night out or guys' night out on the cosmic-colored ice.

Learn to Skate Program

Channel your inner Olympian by leveling up your skate game. The Utah Olympic Oval offers lessons and programs for figure skating, speed skating, curling and hockey — all adhering to the national and international standards set forth by Learn to Skate USA.

Public Skating

The Utah Olympic Oval attracts a variety of figure, speed and hockey skaters from novice to advanced. Visitors can take their pick of 1,200 pairs of figure and hockey skates or bring their own. Work on your Bunny Hop or Hockey Stop on either the speed skating track or the ice sheet without the worry of crowds or nasty winter weather.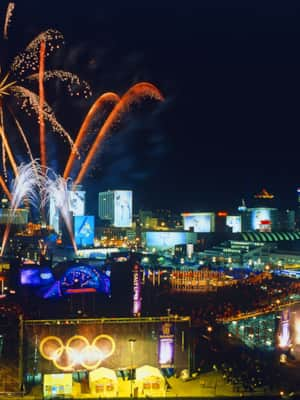 Best Spots to Get Olympic Spirit
Just because the Salt Lake 2002 Olympic Winter Games are in the past doesn't mean that the Utah Olympic spirit is has been snuffed out. Athletes still train here, and ski schools in Utah resorts might be the start of a future Olympian's career.