The Route
Split roughly in half by the Utah/Idaho border, the Utah side is the second largest freshwater body in the state and is an epicenter of summer recreation for boaters, campers, fisherman, and believe it or not, road cyclists. There is a long history of annual cycling events held in the area: competitive road races, charity rides, Grand Fondos, and on one occasion, a Tour of Utah stage. That particular stage started in Logan, taking professional racers up and down Logan Canyon to circle the lake before returning the way they came to the finish line in Logan.
The road around Bear Lake is about 50 miles with not much elevation gain, save for a few rolling hills on the east side and some false flat sections on the west side. Almost all the way around the loop, whether you do it clockwise or counter, you will have nice views of the enticing waters. The road surface ranges from smooth highway-type pavement to paved bike path (specifically, the sections in Garden City, Utah and Laketown, Utah), and rural road with bumpy pavement. The shoulder of the road on the west side can get narrow at times. Given the volume of weekender auto traffic during the peak season, single file riding is a must on these sections. On the east side, it's a little more chill and relaxing. This less-traveled road features secondary/backroad type pavement. Riders should still be on alert for passing RVs or boaters pulling trailers.
Bear Lake is also known for endemic species of fish not found anywhere else in Utah or Idaho, like the the Bonneville Cisco, Bonneville Whitefish, Bear Lake Whitefish, and the Bear Lake Sculpin. Another endemic lake dweller that has never been caught and is seldom seen is the Bear Lake Monster, a legendary beast that has been adopted and celebrated by the local communities. Maybe if you ride two loops around the lake to notch your century and you are a few GUs short of optimal blood sugar, you might catch a glimpse of the monster informally known as Isabella. To date, I have yet to see her, yet always remain optimistic that someday I will.
When you are done with your ride, you'll feel good about heading to one of the popular spots to get a legendary Bear Lake raspberry shake — you've earned it. Unlike the monster, Bear Lake raspberry shakes have been not only seen but verified by the author as legit.
Extra Credit
While circumnavigating the approximately 50-mile loop around Bear Lake, add in the scenic climb to the Minnetonka Cave. This is an out-and-back paved road up Minnetonka Cave Road from the town of St. Charles, Idaho, and is about 10 miles of steady 2 to 4 percent grades, with the last 2 miles being closer to 6 percent. When you get to the top, you will likely see visitors lined up to take a tour of the caves, but unless you happen to bring a change of clothes and shoes, you'll probably skip the tour and head back down to the lake. The caves maintain a 40°F temperature year round and there are 400 plus steps down to the main chambers — not the sort of thing you'll want to stop and do in your cycling shoes and sweaty lycra.
Pro Tips and Accommodations
About Logan Canyon: Climb Logan Canyon from Garden City to add some big-time elevation to your ride. The shoulder is fairly wide all the way to a Forest Service visitor center where you can fill your bottles with cold water and enjoy a spectacular view of the lake and valley below. While Logan Canyon is a beautiful ride down to the city of Logan, it is not recommended as a destination ride because of the narrow roads, slim-to-none shoulder stretches, and high volume of RV and trailer traffic on the weekends during prime season. But if you can hit it early morning on a weekday or during shoulder seasons, it's top-notch road cycling.
Best time to ride: Early May through October. Keep in mind that if you are combining your road riding with lake activities like swimming, kayaking, or stand-up paddleboarding (SUP), the water can be cold well into June.
There are many places to stay around Bear Lake on both the Utah and Idaho sides and the entire area is cooperatively promoted as a tourism destination by both states. Start your research for camping or other lodging options at www.bearlake.org.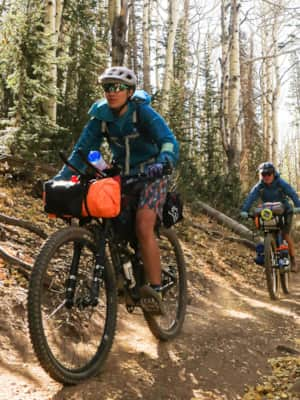 3 Utah Bikepacking Routes for Beginners to Intermediates
Find a route for your next Utah bikepacking trip that promises immersion in history, culture and ridiculous scenic beauty.